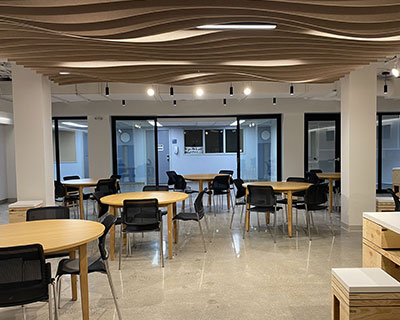 The metamorphosis of Oliver's
Upgrade or renovation are words that do not do justice to the complete metamorphosis of student space Oliver's on the second floor of Dawson in the 2C clubs hallway.
"It is night and day," said Stephanie Chan-Thim, Dawson's in-house architect on our Facilities Management team and project manager of the Oliver's renovation.
Prior to the work, which was carried out from August to December 2021, Oliver's felt like the basement of a 1970s-era home. It was dark, wood-paneled, outdated and uninviting.
Spacious and welcoming
Oliver's is now open, light and welcoming. It features modular furniture that can be easily moved and reconfigured for different uses of the space. Its new high ceilings with exposed ducts make the room feel more spacious and open.
"Raising the ceiling led to us adopting an industrial style for the room, which features large glass sliding doors and a polished concrete floor," Stephanie said. A touch of Nature was injected with the hanging of living moss artwork on the wall.
In 2020, the Campus Life and Leadership team of Student Services was consulted about student needs. Prior to moving forward with construction work, the architect's design was presented to the CLL team.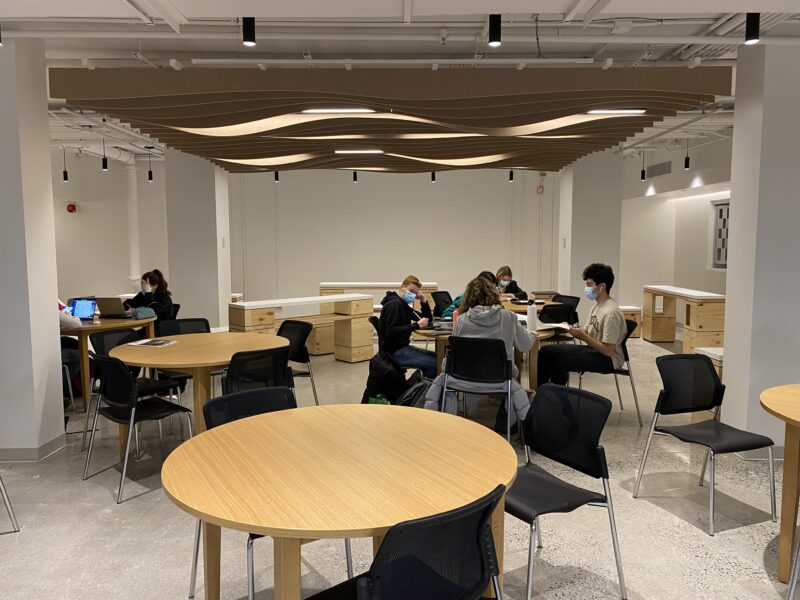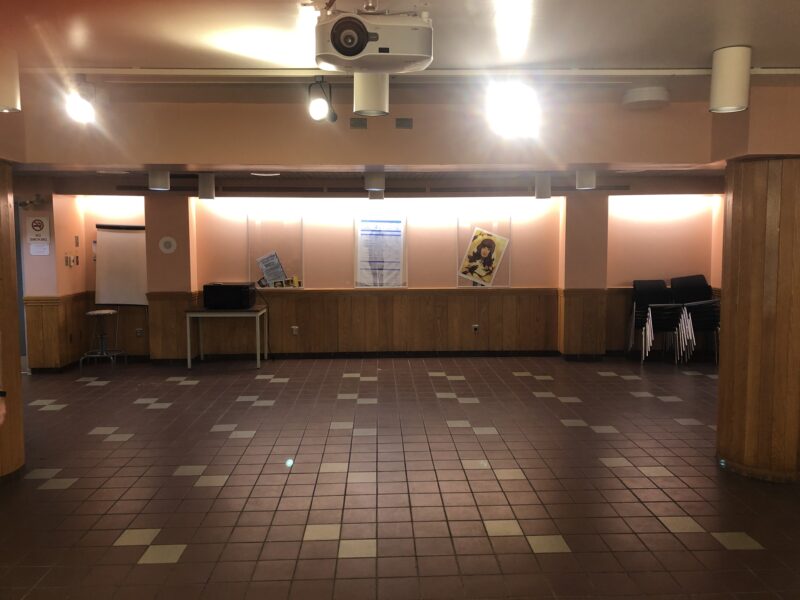 Oliver's before renovations in late 2021.
A space to meet, eat, play and work
"Student Services told us they wished Oliver's to be a neutral space where students can eat, meet, play and work," Stephanie said. "They also wanted it to be accessible and accommodating for a diversity of people."
A new stage has been purchased, which will allow the space to be used for performances and other events.
"As we renovate the College, we want to bring a younger, more modern look that our students appreciate. I am so happy with the final result and it seems like the students are enjoying the new Oliver's," Stephanie said.
Oliver's opened up to students in December just before the Holiday break and has been a beautiful spot for students to hang out at the beginning of the Winter 2022 semester.