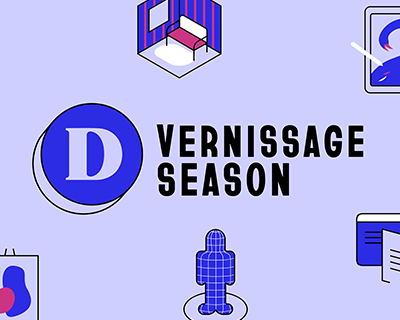 Vernissage Season goes digital
Close to 200 students in six Creative and Applied Arts programs at Dawson College have been looking forward to their vernissage shows for three years.
Vernissage events, often called openings or exhibits outside Quebec, are much more than wonderful celebrations of our talented students' work at the conclusion of their program.
Critical for students' education
"Education at the CEGEP level in Quebec is competency-based and many of those competencies are fully realized in the capstone projects and events that form part of the vernissage process," explained Dean of Creative and Applied Arts Andréa Cole. "The exhibition is only a small part of the work that goes into the actual event, all of which is an integral part of the students' educational program."
The vernissage events also provide an opportunity for students to connect with recruiters and potential employers and to celebrate the end of their program with family and friends.
"The students were devastated by the COVID-19 pandemic that led to the closure of the College," said Pauline Fresco, Illustration Department Co-chair and Program Coordinator. "They were saddened by the fact that they would not be able to have their vernissage experience. So we brainstormed, got creative and started reaching out."
Dawson grad to the rescue
Nick Ladd, a graduate of both Illustration and 3D Animation and Computer-Generated Imagery, came to the rescue with a customized platform that his company Studio Syro has built for Dawson.
"We were building a virtual office for our company and we took that and made it into a custom platform for Dawson that we call Vernissage Season 2020," Nick explained. "It is a multi-player application that our guests, teachers and students will access on a computer, desktop or laptop, PC or MAC."
Dawson's gallery and event space recreated
Nick and his team have recreated the Warren G. Flowers Art Gallery and the 3C.1 event space at Dawson College. Students and teachers will welcome guests, recruiters and employers into virtual rooms.
"There will be colour coding to know who is who and there will also be security to ensure an optimal experience for everyone," Nick said. "Different functionalities will be available to different people depending on their role. For example, teachers will be able to make announcements."
"The social aspect will be as similar as possible to a live vernissage event. There will be decorations, you will be able to get a virtual drink at the bar and toast the graduates," Nick explained.
The virtual visit experience
Guests will be able to zoom in on works that they are particularly interested in, see them up close and read more about them. "You will be able to explore the exhibit, find works by particular students and get around by map with a Google-maps type of experience," Nick said.
As of May 26, participation details were still being worked out since the app is brand new. "If you do not have a computer to participate, there will be a virtual cameraman livestreaming the event and covering it like a news reporter on social media platforms," Nick said.
The details to participate will be on a special page created on the Dawson website at www.dawsoncollege.qc.ca/vernissage
"Building the plane while flying"
Pauline of Illustration is amazed at the way the students, the faculty and staff of the College and of course, Studio Syro, have all come together to make this work. "We are flying and building the plane at the same time," Pauline said. "Even though we're apart, we're coming together like never before!"
Dawson College is especially grateful to Studio Syro for their work in saving the vernissage season with a customized solution for Dawson.
Dean Andréa Cole is inviting everyone to come and enjoy this extraordinary vernissage season: "Art feeds the soul and reminds us of what it is to be part of this great adventure upon which we've all embarked. It's what keeps us going when times get tough.  I urge everyone to come out to see what's new, and to ensure that they get a chance to speak with the grads and faculty, in a safe and healthy environment. It will do you good! It's our way of saying, ça va bien aller !"
Don't miss these extraordinary vernissage events:
June 3: Illustration
June 9: Interior Design
June 10: Professional Photography
June 11: Visual Arts
June 17: Graphic Design
June 18: 3D Animation and Computer-Generated Imagery
To attend the vernissage events and for more info as it becomes available: www.dawsoncollege.qc.ca/vernissage
Get a sneak peek of Dawson's digital Vernissage Season in this video provided by Studio Syro: