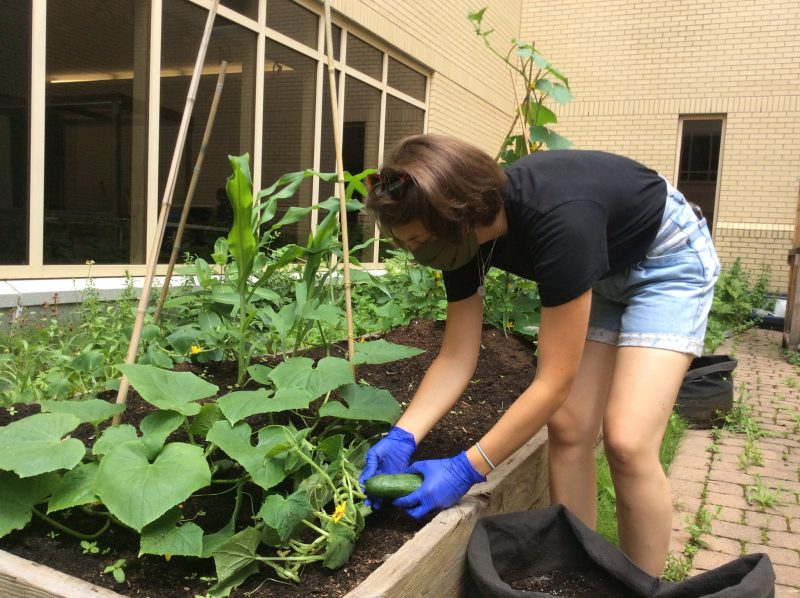 Volunteers kept gardens going and harvest shared with community
Despite the pandemic, the Sustainabili-Team volunteers and the Sustainability Office planted vegetable gardens and distributed the produce throughout the summer.
In June and July, three to six volunteers came in every morning to take care of the gardens. Each week, there was enough food harvested to give to all the volunteers as well as to donate two large trays and many compostable bags full of harvest for the food banks. The team alternated between giving produce to employees who had to come to the College and giving to local food banks, Innovation Jeunes and Resilience Montreal.
Gardens produce food and give sense of normalcy
The Sustainability Office decided to keep the gardening going because "urban agriculture produces food and the Dawson gardens give people a sense of normalcy," said Jennifer de Vera of the Sustainability Office. "I also believe that gardening is a great way for students to get out while maintaining a safe distance outdoors."
"Our gifts from the garden made people super happy!" said Jennifer. "Just recently, someone thanked me for giving them lettuce in the summer and told me how delicious it was! The fresh harvest grown at Dawson lifted people's spirits."
Getting away from screens
Since gardening was deemed an essential activity, it was one of the few things that students could do as a volunteer. Jennifer said many students wanted to come volunteer so they could get away from their screens and do something social yet safe.
"Volunteering in the garden was the one thing that was steady and gave the volunteers a sense of purpose in an organized scheduled time," Jennifer said. "They were smiling underneath their masks! Just another example of Sustainable Happiness, using Nature as a mentor. When you do good, you feel good!"
Learning from each other
The volunteers learned gardening tips and plant care and the Sustainability team learned from them as well. "A volunteer showed me a picture of a vegetable in their family's garden. It is a calabash, also known as a bottle gourd. Years ago, her mother had received the seeds from her country of origin, Bangladesh. Every year she keeps the seeds and plants them the following year. I asked for some seeds and I will give her seeds from my home garden. We are doing a seed swap!"
What the volunteers say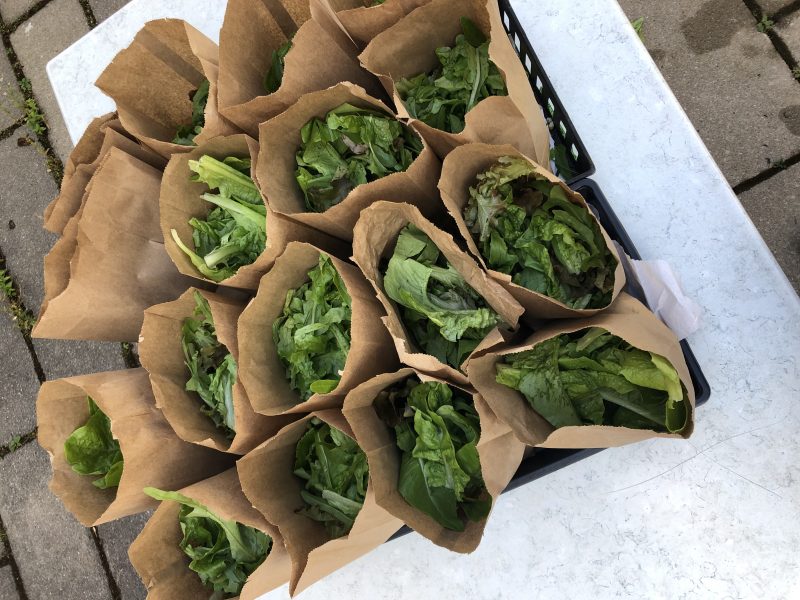 The volunteers get a lot out of the gardening work. Emma, a student in General Social Science, said: "I started volunteering because I wanted to do work that revolved around the environment/sustainability. I continued volunteering because everyone is very welcoming and I've made some great friends!"
Arezoo, a student in Health Science, said that gardening is a great treatment for stress: After a few days of gardening, I realized how much my stress is relieved by working in the gardens and being in touch with the soil and plants. For the last couple of years, I had been suffering from severe insomnia, so I had to take sleeping pills, but after three weeks of working in Nature, I have gotten back to my normal sleeping routine and stopped taking pills. It has been a great achievement for me."
Shamanta, a Continuing Education student, said that gardening gives her so much joy: "Gardening gives me a chance to connect to Nature, and at the same time, I get to learn so much about local produce and foods. I also have my own garden at home with my mom, so volunteering at the Dawson gardens almost feels like an extension of what I already do at home. Volunteering in the gardens gives me a sense of community. Everyone is very warm and friendly to each other as we all work to take care of these living things."