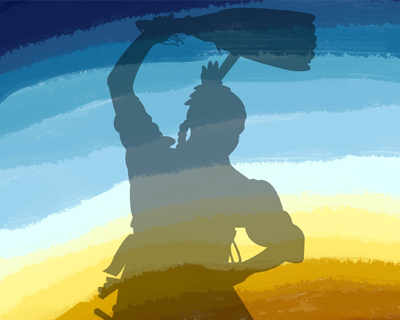 Weekend retreat for Indigenous students sets them up for success
(Artwork by: Skarahkotà:ne Deom)
First Peoples Centre project a beneficiary of Artists in Bloom
The transition from high school to cégep is huge for all students. It is the time of life when a young person goes from being a teenager to becoming an adult, from staying within their community to venturing further away from home, from hanging out with familiar friends to meeting lots of new people. Academically, cégep is a big step up from the high school curriculum.
For a young Indigenous student, arriving at Dawson College can be particularly daunting. The staff at First Peoples Centre try to create winning conditions for students to continue their education despite unique obstacles.
A weekend retreat is a fun activity to kick off the academic year for new Indigenous students. Staff from the First Peoples Centre and Journeys, a college transition program for Indigenous students, as well as mentors and family members attend.
"It is important to be integrated into a community," says Angela Watts of the First Peoples Centre. "The retreat offers students from First Nations, Inuit and Métis communities a chance to meet their fellow students and the team at Dawson," Angela says. Homesickness is common since many students are away from home for the first time. The community built at Dawson, through activities like the retreat, becomes family.
The objective of the weekend is to get students off to a good start. "Some students are very new to city life; they might only know one or two people," Angela says. "The students come back from the retreat with good memories and lots of jokes."
Over the two days in the country, they spend time in nature and get to know one another over shared meals. They also play board games, go on hikes, share their stories, participate in animated activities, do their homework and spend time with the elder assigned to the First Peoples Centre. Angela explained that the elder is a mature person from an Indigenous community who is there to offer opportunities to connect with the culture, tradition and spirituality of Indigenous people.
"An elder is a reassuring person who can offer a wealth of wisdom and support," Angela says. The First Peoples Centre offers support for Indigenous students throughout the year. They receive community support through the First Peoples Centre meeting space, peer support from a mentoring program, professional support through Dawson and elder support through a partnership with an elder who is available one day per week.
"Our students come from a variety of backgrounds," Angela says. "Some excel and some struggle. Many live close by in Kahnawake, but others come from communities all over Quebec. Some speak English as a first language and for others, English is their second or third language. We want to show them that cégep doesn't have to be a scary academic space. We want to make the experience as positive as possible for them."
Angela graduated from Dawson College in 2017 from the Literature Profile and started cégep before the creation of the First Peoples Centre and the Journeys program. "For me as a Cree person, it would have been so much easier to have a place where I can find community, support and people who get me," she says. "Student retention is a key goal of the centre."
Tiawenti:non Canadian, coordinator of the First Peoples Centre, also remembered her own experience as a young Indigenous person at Vanier College as "a culture shock." She sees the role of the centre as facilitating a sense of family among the students, which is "integral for student success."
About 30-40 people regularly use the First Peoples Centre. According to Angela, about 20 students are in the Journeys program and another 60 students at Dawson identify as Indigenous. She was happy to report that there are three Indigenous students graduating with a DEC and two graduating from CRLT. More than 40 Indigenous students have been admitted to Dawson College for the 2019-2020 academic year, most in the Journeys program.
The First Peoples Centre would like to host the next weekend retreat early in the Fall 2019 semester. However, the project requires funding and grants to happen. This year Artists in Bloom will be benefitting the weekend retreat and Youtheatre. The evening event will be held at Dawson College on April 18 beginning at 6 p.m. in the third-floor cafeteria. Student-artists will create works of art live, which will be auctioned for charity.
Tickets are available here:
https://www.dawsoncollege.qc.ca/dawson-foundation/funds-activities/artists-in-bloom/