Witness to humanitarian crisis develops award-winning industrial design to help refugees
Third-year Dawson College Industrial Design student Alejandrina Hernandez returned to her home country in late 2018 to visit family and friends and the experience marked her.
Nightmare experience
"Venezuela was a nightmare," she said. "I could not recognize my city. It had changed for the worse."
Alejandrina and her family had immigrated to Canada in 2015 because things were deteriorating in their country. The return visit was a shock and made Alejandrina a witness to a great humanitarian crisis: the flight of 4.8 million Venezualans and one of the world's biggest migrations.
"Near the Venezuelan/Colombian border I watched many people walking on the highway trying to cross the border into Colombia, looking for a better future for their family," Alejandrina recalled.
Carrying everything and sleeping on any surface
"It was shocking to see each member of the family, including children and old people, carrying their belongings, then resting and sleeping on any surface," she said. "Most of them seemed tired, sad, and confused, but determined to leave their country."
Alejandrina, who is now 23 years old, kept a record of her observations with the hope of coming up with some solutions.
Helping the poor and people with disabilities: life objective
"As an Industrial Design student, I thought I should be able to find a solution and fulfil one of my life objectives, which is to help the poor and people with disabilities," she said.
The opportunity came during the Fall 2019 semester. Teacher Michael Santella presented the opportunity to participate in the Extrusion Technology for Aluminum Profiles Foundation Competition to the students in his Product Usage and Demographics class.
Opportunity to help and share reality of refugees
This was the opportunity for Alejandrina to come up with a solution to diminish some of the suffering of refugees she had witnessed almost a year ago.  "I also had the opportunity to show the real life of refugees," Alejandrina said.
Her award-winning idea was to develop a cart/bed for refugees that could be distributed by the UNHCR, NGOs and UNICEF. "The cart can be used for carrying their belongings and, after walking long distances all day, it can transform into a bed. This allows people to rest and minimizes their suffering," she explained.
Award-winning cart/bed
Alejandrina explained her invention: "I applied three main principles: a social solution to partially reduce the suffering of refugees, the use of eco-friendly, recyclable materials, and economical principles in design and manufacturing, using a low-cost aluminum extrusion process, reducing the number of parts and facilitating the maintenance, repair, and durability of the product. As we know, aluminum is 100% recyclable, lightweight and low cost."
Alejandrina's design won first place in the Bonnell Sustainable Design Category and a cash prize of $3,500 U.S. It is the third time that a Dawson student wins in this category.
In the email notifying Alejandrina of her win, the contest organizers wrote: "The winning entries will be announced in a news release sent to aluminum industry, design and engineering publications around the world, and posted on the Aluminum Extruders Council's website in the Design Competition section, which has a dedicated web address at www.ETFdesign.org."
Winning this contest will open doors and the next step will, hopefully, be to make a prototype. Alejandrina explained further:  "Then it would be tested with different users, and tested in the field with several types of roads. This would allow us to improve the product and promote the usability. I would also like to add a roof as a temporary tent to protect the refugees from insects and weather."
Thanks to family and teachers
"I want to thank everybody who helped me in my studies and achievements, especially my family who has always motivated me, strongly supported me in my objectives and looked after my health and safety," said Alejandrina.
"I did not feel that I was working too hard or more than I should because I had an objective. I was confident and I also knew I could get help from my teachers at Dawson College, especially from Michael Santella, who was my tutor and helped me very much to achieve this project."
Alejandrina will graduate at the end of this semester.
Note
You can see more about Alejandrina's winning cart/bed for refugees in the following photos: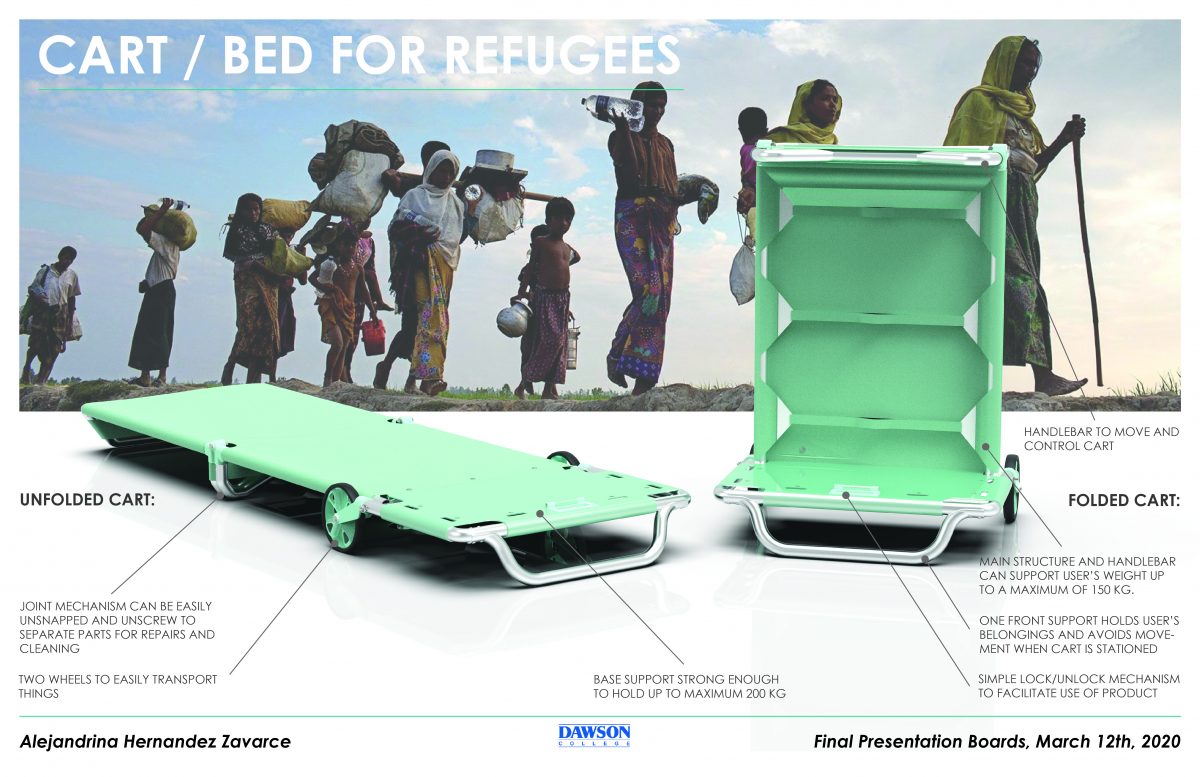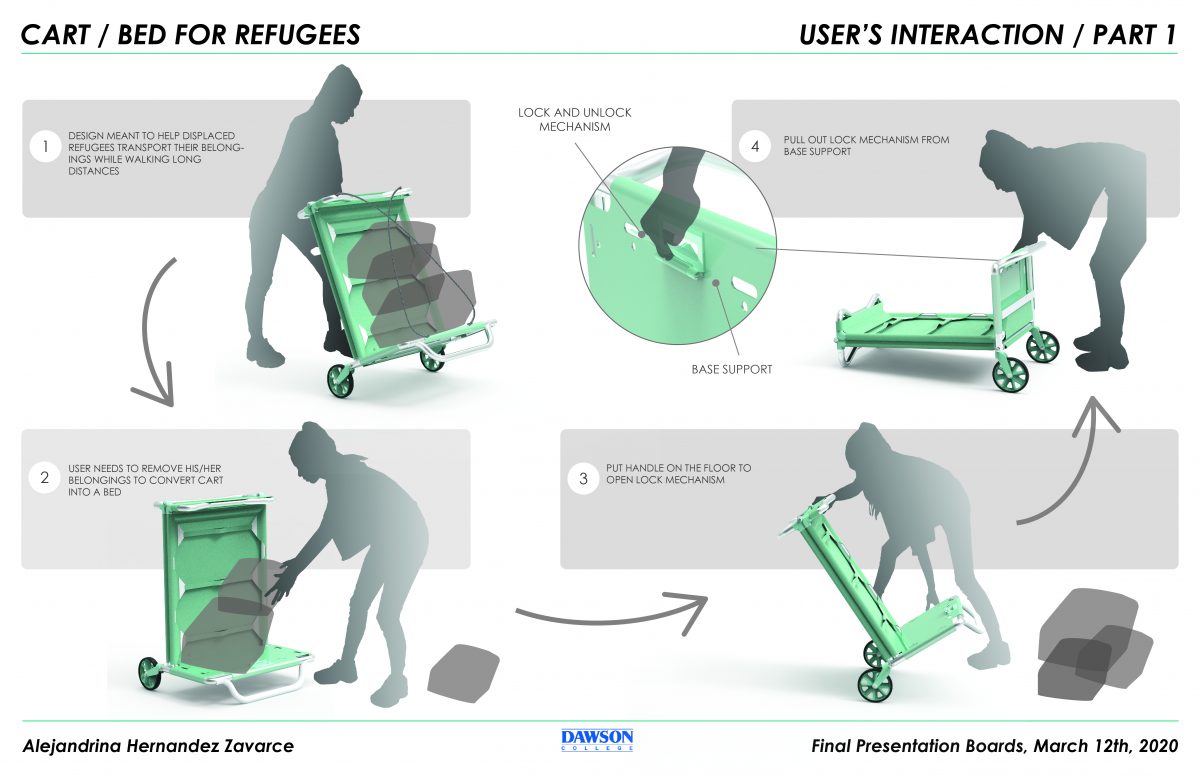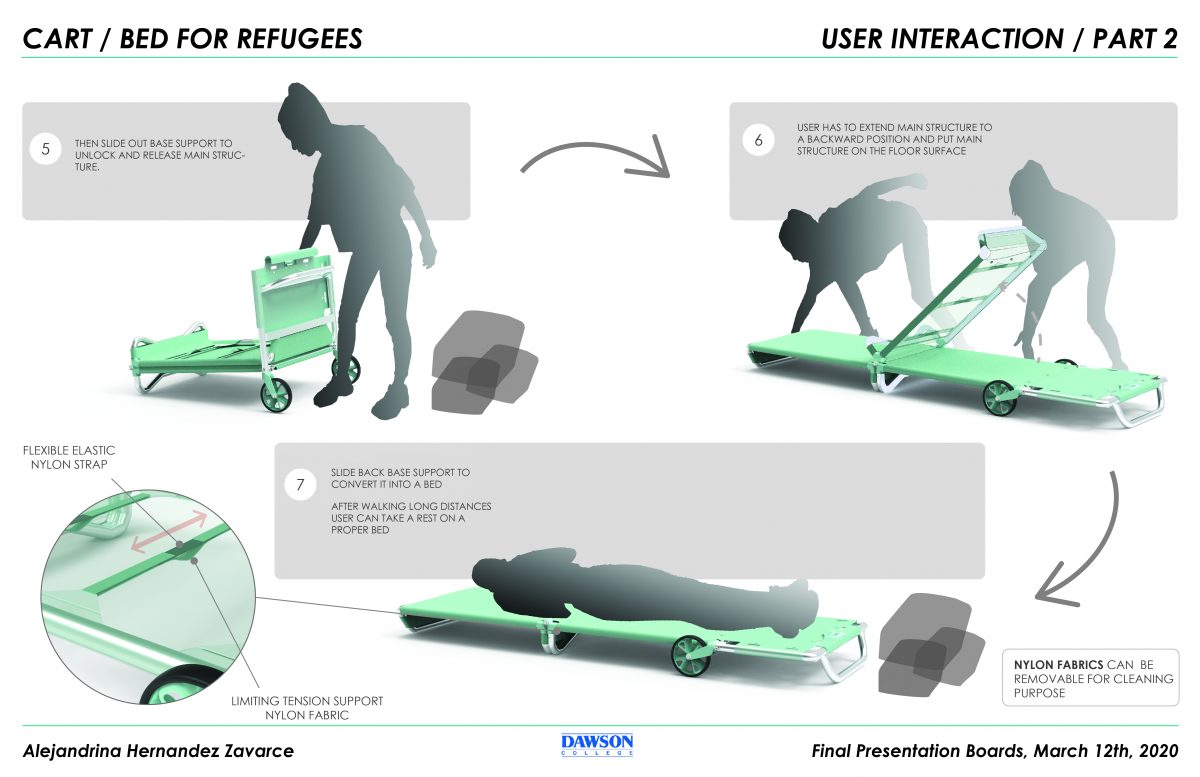 Alejandrina wishes to credit © K M Asad/LightRocket/Getty Images for the line-up of refugees photo used in the product overview image.