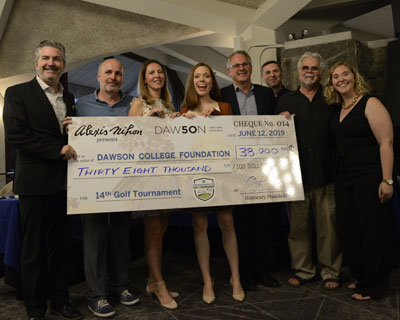 $38,000 raised at 14th Annual Dawson College Foundation Golf Tournament
Presented by Alexis-Nihon, the major annual fundraising event took place June 12 at Summerlea Golf and Country Club in Vaudreuil.
Over 140 golfers from Dawson College and the larger community served by the cegep enjoyed perfect weather conditions and a lovely day of golf and camaraderie that benefited students. The funds raised will go toward supporting student success, assisting students in need, working toward sustainability and well-being for all, and special projects.
The day began with brunch for the players followed by 18 holes of golf and a banquet dinner. Actress Catherine Bérubé (Theatre, Class of 2004) served as Honourary chair.
The winners of the tournament were Serge Lasry, Patrick Lennon, Gordon Milner and Kirk Salonikidis.
Marc Pelletier had the longest drive for men, and Krista Bullow had the longest drive for women.
Francis Lessard had closest to the pin for men, and Darlene Tucker had closest to the pin for women.
Dawson College and its Foundation would like to extend a special thank you to all sponsors, beginning with title sponsor Alexis Nihon.
Other sponsors include TD, Forum de Montréal, Incotel ISQ, Molson Coors, Fervel, FAXINATING SOLUTIONS, Groupe Unigensco, Chartwells Higher Education Dining Services, Johnson Controls, Ascenseur Indépendent, Garland Canada Inc., Hydro Westmount, Newad/Astral, Blü Electrique, TELUS, Copicom Solutions, divisions de KYOCERA Document Solutions Canada, Ltée, Play It Again Sports, Precise ParkLink, Bouthillette Parizeau, C-Techno, IT2GO.