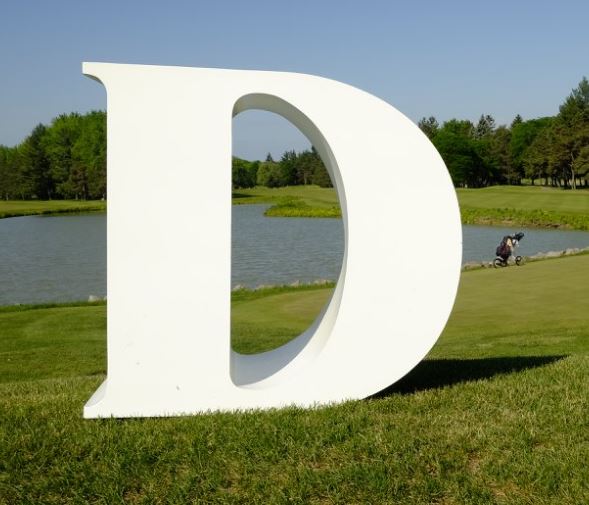 $40,000 raised by Golf Tournament to support students
The 13th edition of the Dawson College Foundation Golf Tournament, presented by Alexis Nihon, took place on June 13 at the Summerlea Golf and Country Club in Vaudreuil-Dorion. The rain held off until the last few holes, making for a good day on the course among friends, colleagues and partners. At the end of the day, when all was said and done and tallied up, more than $40,000 was raised to increase the capacity of the Dawson Foundation to ensure that every student at Dawson College is given a real opportunity to thrive, whether through awards and scholarships, financial aid or in the long-term, by supporting new initiatives that benefit students.
Some 130 participants enjoyed the event, from playing the course to the cocktail and dinner at the end of the day. There were some standout performances, including 2018 Tournament winners Mary Di Liello (Campus Life and Leadership), Jesse Hunter (Cinema-Communications), friend Brian O'Connell, and fearless leader, Simeon Pompey (Community Recreation and Leadership Training). The longest drive, male and female, was posted by Cathy Nickson (Physical Education) and Simeon Pompey. Closest to the hole was achieved by Dawson student Sarah-Lena Grogg and retired Information Systems and Technology employee Joe Sawoszczuk.
Dawson attendee, former Women's Blues hockey player, Olympic gold and silver medallist and captain of Les Canadiennes, Marie-Philip Poulin, honorary president of the Tournament was gracious in participating in the day, both as a golfer and posing for photos, catching up with old acquaintances and in a heartfelt speech at the dinner, paying tribute to Dawson for expanding her horizons on the way to a remarkable career, and for her mentors at the College, especially retired academic adviser Paddie Chiara.
Dawson values the partnerships with sponsors that have developed over the years in support of the Golf Tournament to make it a success. With this year's Tournament proceeds, nearly a half a million dollars has been raised over the past 13 years. In gratitude and acknowledgment, Dawson wishes to recognize the following sponsors:
Tournament sponsors
Alexis Nihon (Title Sponsor)
TD Bank (Banquet Sponsor)
Forum de Montréal (Brunch Sponsor)
Incotel iSQ communications unifiés (Golf Ball Sponsor)
Molson-Coors (Beer Sponsor)
Gold Sponsors
TELUS Quebec
Johnson Controls
Newad
Mouvement Desjardins
Westmount Hydro
Faxinating Solutions
Garland Canada
Les Entreprises Fervel
Copicom Solutions
Silver Sponsor
Bronze Sponsors
Play It Again Sports
Lignes-Fit inc.
Precise ParkLink
Driving Range Sponsor
Gift and Prize Sponsors
Big Kahuna
Club Med
Club de hockey Canadien
Chartwells
Damy & Pat Landscaping
Dawson College Bookstore
Evenko
Hometree Services
Hopkins Restaurant
Inso
IT2-Go
Logiflex
Opéra de Montréal
Roasters
We thank Summerlea Golf and Country Club for its hospitality and service!
Lastly, but certainly not least, a huge thank you to the Golf Tournament Committee (Dan Boyer, Ursula Cabral, Jennifer De Vera, Kieran Huxley, Geoff Kloos, Francis Lessard, Jorge Sanchez and Lucy Segal) and to the volunteers who worked long hours to make sure everything went off perfectly: Gianna Di Giacomo Smith, Dana Dragomir, Jean Nagy, Natalie Paiva, Janet Pakulis, and Donna Varrica.
The photo album of the event can be seen on the Golf Tournament page.