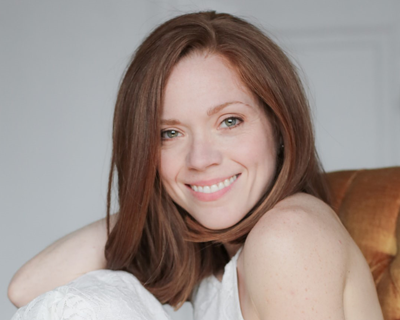 Actress Catherine Bérubé is Honourary Chair of Dawson's 14th annual Golf Tournament
Most Quebecers who watch television would recognize Dawson theatre grad Catherine Bérubé (Class of 2004) from the hit shows she has appeared in, such as 19-2, District 31, and Toute la Verité.  She is also known to fans of the video game Assassin's Creed Unity, in which she played one of the main characters.
TL;DR (Too long don't read): Enjoy a day of golf and support Dawson College with Quebec actress Catherine Bérubé, Honourary Chair of the Dawson College Foundation's 14th Annual Golf Tournament presented by Alexis Nihon on June 12 at Summerlea Golf & Country Club in Vaudreuil-Dorion. You may know Catherine from Quebec's most popular television series, 19-2, or from Dawson Theatre (Class of 2004).  
Catherine is enthusiastic about coming back to Dawson College as the Honourary Chair for the Dawson College Foundation's 14th Annual Golf Tournament presented by Alexis Nihon on June 12. "I was thrilled by the invitation! It honours my past and who I am."
Catherine is looking forward to seeing some familiar faces from back in the day and meeting new people at the Summerlea Golf & Country Club for the major annual fundraising event of the Dawson Foundation.
"Dawson shaped my life," she said. "It feels like my adult life started here. I learned so much. As theatre students, we were involved in every aspect of building a production. I gained an appreciation of all the various roles, behind the scenes and on stage."
Catherine calls herself a "Domie," from the time when theatre students would rehearse and perform at the old Dome Theatre on Notre-Dame Street. She appeared in several Dawson productions: The Good Woman of Szechuan, The Coronation Voyage, A Midsummer Night's Dream, Pride and Prejudice, and The Country Wife.
Catherine still uses the tools she learned at Dawson: text analysis, warming up and more. "I had my basic training in acting at Dawson and every teacher had their moment," she said. "I kept learning the whole way through. I loved movement class with Cynthia Hendrickson, combat with Kimberley Barfuss, acting in all the plays  ̶   especially playing Mademoiselle Lavallée in The Coronation Voyage directed by Jude Beny and Puck in A Midsummer Night's Dream directed by Victor Knight. Those two plays hold a special place in my heart."
On the English side, you may have seen her in the show Sophie on CBC Television. "My career on the French side was really launched with the hit Quebec television series 19-2. It was an amazing experience working with extraordinary actors, such as Claude Legault and Réal Bossé, and being directed by Podz."
On the homefront, Catherine has some interesting projects with her partner, video producer and director Gabriel Allard. They are parents of a three-year-old daughter named Marie-Jane, and are both taking a McGill University Professional Development Certificate in Executive Production in Creative Industries. They have written and are self-producing a feature film in English called Snow Angel, a psychological thriller set in Gaspésie starring Catherine in the lead role.
"You have to keep challenging yourself and learning new things," she said. "My advice is to decide where you want to go and then take the first step. You don't have to know all the steps, but you have to start walking."