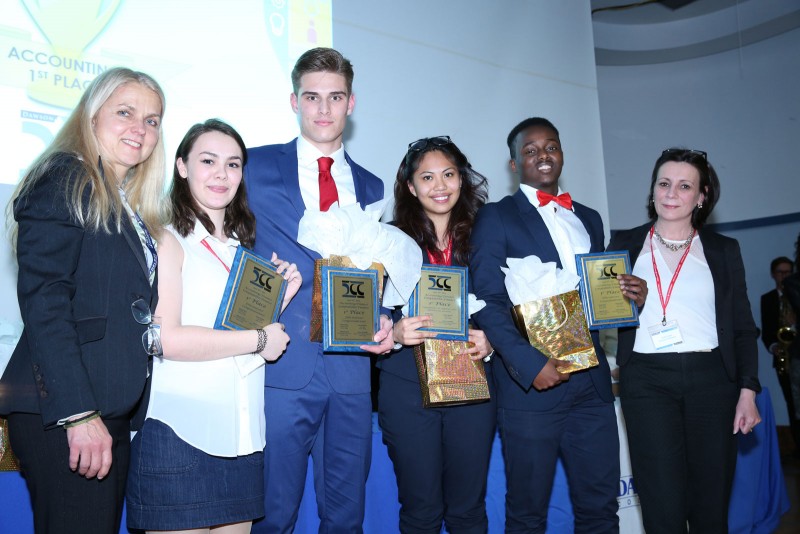 Dawson takes top honours at CASE Competition
The annual Dawson College Bilingual Business Administration CASE Competition took place on April 10 and Dawson took some of the top honours. This unique competition offered teams from participating CEGEPs across Quebec the opportunity to demonstrate their presentation skills and business acumen by analyzing, assessing and solving complex business cases.
The event featured three streams: one with an Accounting/Finance focus, one with a Marketing focus and one with an Entrepreneurship focus.
Under the coaching supervision of Maria Blazkiewicz, the energetic team consisting of Vincenzo Calloccia, Jean-Paul Ngezigihe and Danica Sanchez won 1st place in the Accounting/Finance division (see picture above). Dawson's team in the newly-minted Entrepreneurial division also brought home an impressive second place finish. Members of the above teams, Vincenzo Calloccia and Zachary Therrien-Watts also received Best Presenter awards.
This pressure-cooker of a competition had teams arriving on the morning of the event and proceeding directly to their isolation rooms, equipped only with a computer. Students had three hours in which to examine the case, develop a strategy and create a 20-minute Power Point presentation analyzing the case and outlining their chosen strategy.
One by one, teams presented to a panel of bilingual judges, who scored the presentations based on a point system. Teams with the highest overall scores were declared the winners and presented with their trophies at the afternoon awards ceremony. As in previous years, the event continues to draw the most promising of tomorrow's business leaders. Dawson's success in the 2016 edition has established its teams as strong contenders for upcoming competitions throughout the network.