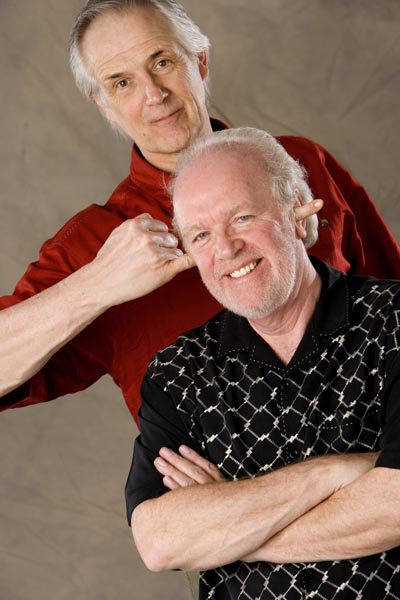 "Colorectal Surgeon" stars Bowser and Blue, Dawson's own Rodney Ramsey @Dawson March 30
Comedian, actor and Virtual Reality entrepreneur Rodney Ramsey had a defining moment in his life at Dawson College. When he was studying in the Cinema-Communication program in the early 2000s, he remembers thinking "wow, this is me – this is exactly who I am."
Rodney recalled his Dawson experience in an interview a few weeks before the special and intimate Dawson Comedy Night, taking place March 30 as one of the official celebrations of the 50th anniversary of Dawson College.
Rodney had worked for a few years after graduating from Riverdale High School and then decided he needed to continue his education. First, he tried Social Science and then he found Cinema-Communication, which set him on the path to being a multi-faceted performance artist and Virtual Reality entrepreneur.
"Dawson College offered me the basic skills of writing scripts and editing video and I also learned how to do movie analysis," he said.
Establishing himself as an artist took about 10 years. Now Rodney mostly works for himself. On the comedy front, he recently organized the Underground Comedy Railroad Show, a cross-Canada tour featuring black comedians. He has also written for CBC shows This Hour Has 22 Minutes and The Debaters.
Rodney developed his VR project on the side. His advice to young people is to "use your free time wisely to figure things out. Set goals and work hard," he says.
Rodney will be opening for Canada's favorite comedy duo Bowser and Blue on March 30. "We did a lot of shows at Dawson, especially for teachers," Rick Blue said in a pre-show interview. "We played the Selby cafeteria, the Viger cafeteria and at Lafontaine too."
"Back then, the teachers weren't much older than the students," he remembered. "We played music and told jokes between the songs. The Dawson crowd was a good audience and we would recalibrate our act after a Dawson show."
"We were like folk singers," Rick explained, "we sang about our folks and the things that concerned Quebec anglos. …we became the voice of the anglos."
In the mid-1980s, Bowser and Blue travelled across Canada as the opening act for Katrina and The Waves, whose single Walking on Sunshine went to #1, and they continued playing at colleges through the 80s and 90s. More recently, their song Colorectal Surgeon has given them YouTube fame (with almost 2.5 million views) and "rock star status" among the rectal surgeon community. "They (rectal surgeons association) flew us out to their conference in Vancouver and the doctors flocked around us taking selfies."
"It is touching to be invited back to Dawson for the 50th anniversary. We feel we are part of the school," he said.
Acknowledging that many former students have moved away from Montreal, Rick quipped: "We're not leaving Montreal; we're colonizing the rest of the world."
At the show, the audience can expect to hear old favourites and new ones too. As Quebec anglos have adapted to changing times and the threat of separation seems to be dormant, their material now tackles new themes, like traffic and construction and other concerns that unite all kinds of Montrealers.
Amanda McQueen, an up-and-coming comedian, will be the first act of the night.
Dawson Comedy Night is March 30 at 7:30 p.m. in the Dawson College Theatre, 2000 Atwater, Montreal.
Limited tickets available:  www.dawson.college/DAW50N-comedy
Link to Colorectal Surgeon Song: https://www.youtube.com/watch?v=_43f9RzAqMM