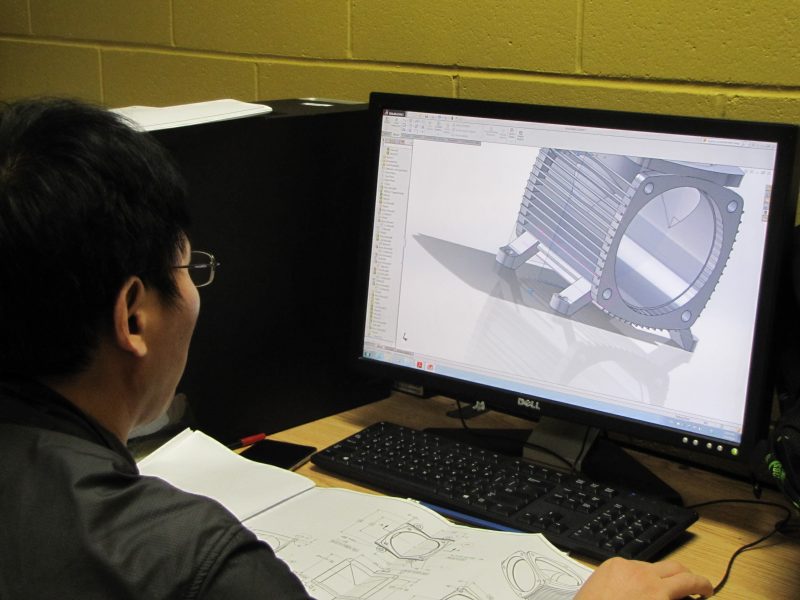 Dawson welcomes partners to first Sino-Canada skills competition in Montreal
Dawson played host to students and faculty from Cegep Limoilou in Quebec City and Nanjing Polytechnic Institute in Nanjing, China for the first edition of the Sino-Canada Skills Competition to be held in Montreal from June 7 – 10, 2016. The friendly competition was comprised of two CNC modules: a CNC Milling competition and a CNC Lathe Competition, as well as a Design Competition.
Though the students from Nanjing Polytechnic were unable to join the competition due to visa issues, their teachers were eager to participate in the competition in their place. Professor Qikai Yu put his skills to the test in the Design competition but was surpassed by Dawson students, Alex Boivin and David Vinitski, who invented a unique part to successfully complete the Design module! Professor Wu had to negotiate software that he was not very familiar with, but was successful in his modelling and won second place in the competition. Professor Xiaoyan Wu competed in the CNC Mill competition, and was very successful in securing 3rd place in the competition.
William Minville of Cegep Limoulou eked out Dawson's Jonathan Roy-Fullum in the Mill Competition and Reginald Cambia-Pascual of Dawson took second place in the CNC Lathe competition behind Limoilou student Etienne Savard.
Though the third edition of the Sino-Canada Mechanical Engineering Skills Competition was an abridged version of the contest that Dawson College and Cegep Limoilou attended in Nanjing, China in past years, the competitors and teachers were pleased to exchange with and learn from one another. Skills Competition judge Jean Bouchard of Cegep Limoilou and organizer Bryn Hughes of Dawson both look forward to participating in the next Sino-Canada competition in China and to expanding the competition in Quebec in the future.
We thank all of the judges, competition volunteers and the students for their hard work and applaud their success!