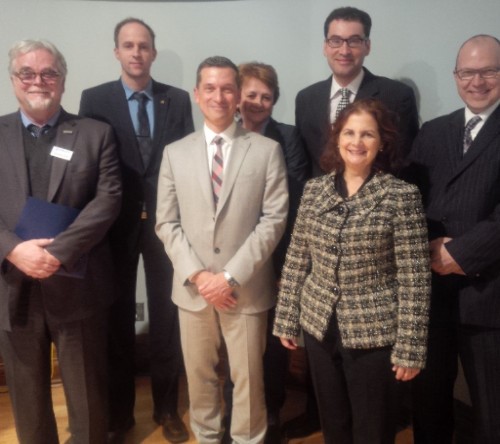 First-Ever U.S. Community College & Quebec CEGEP Meet-Up at Dawson
Dawson College played host to nearly 100 participants attending the first-ever workshop held for international recruitment representatives from U.S. Community Colleges and Quebec CEGEPs on Wednesday, February 24th, 2016.  This historic event was organized jointly by the U.S. Consulate General in Montreal and the Direction des Affaires International of the Fédération des Cegeps and in the context of the annual Association of International Education Administrators Conference (AIEA), the first to be held in Montreal. 
Representatives from 17 Cegeps, 11 community colleges and 2 American universities from nine different states took part in this event that highlighted the educational systems, immigration procedures relevant to exchange and a discussion of best practices in international education.
This event was an important step toward creating links with our neighbors across the border.  In her introductory address, Ms. Nina Fite, Consul General of the United States in Montreal, was quick to point out that international student exchange opportunities, particularly in Canada, Latin America and the Carribean, are high priorities for the U.S., whose goal it is to generate 100 000 agreements by 2020.  Ms. Fite extolled the benefits of partnerships with Cegeps, underlining the compatibility of the system with that of community colleges in their accessibility, affordability and equal emphasis on preparing students for university and the workforce.
Other participants included M. Bernard Tremblay, Director General of the Fédération des Cegeps, M. Jean-Stéphane Bernard, deputy minister, Ministère des Relations Internationales et de la Francophonie, Mme. Sylvie Thériault, Director, Direction des affaires International of the Fédération des Cegeps as well as Dawson's own Director General, M. Richard Filion. Participants echoed the importance of creating strong and lasting connections between Canada and the United States through educational partnerships.
Presentations were followed by a lively networking session consisting of promising connections and opportunities for exchange.