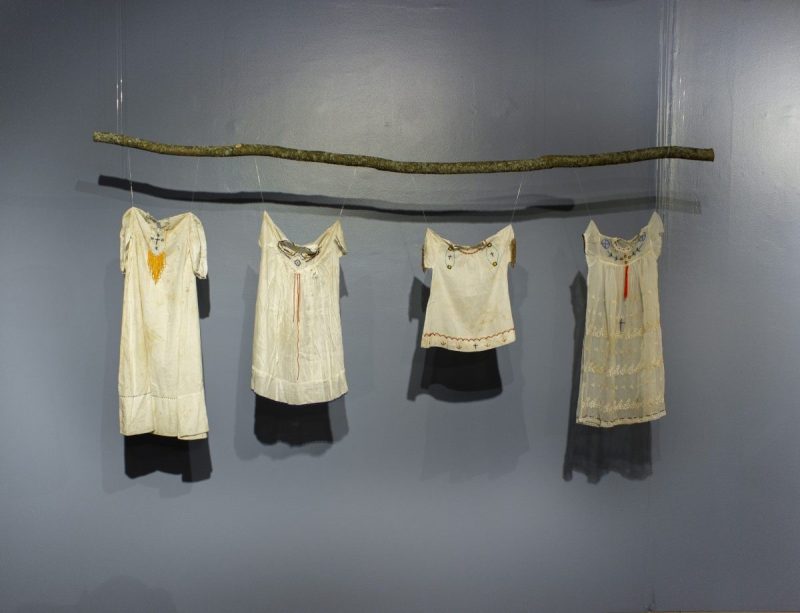 Jobena Petonoquot: The Rebellion of my Ancestors
By Chelsea Moore, The Plant

The Warren G. Flowers Art Gallery recently showcased the work of renowned Fabric artist Jobena Petonoquot. She refers to this specific collection of works as an "ode to my grandfather and his resilience" which is the inspiration behind the title "The Rebellion of my Ancestors." Her exhibit, curated by Lori Beavis, was held from August 29th to September 18th. Individuals were encouraged to interact with the physical elements along with the religious and political undertones that were weaved throughout the pieces.
No corner was left untouched or wall unpainted. From the earthy colour scheme in contrast to the navy wall, to the carefully hung frames that greeted you upon your entrance, Petonoquot was meticulous in the way she presented her first exhibit. "The massiveness of other locations in comparison to my art limited me, this space really taught me how to place my art and paint the walls," explains Petonoquot.
This gallery is separated into three sections, allowing Petonoquot to organize her pieces by theme. The first section was dedicated to what the artist explained to be an "interactive art piece meant to represent the distortion of identity and the ever remaining distortion of their identity" as indigenous people.
The second and third sections were dedicated to exploring colonialism and its lasting effects on Petonoquot's Algonquin community. There was an intentional Victorian-esque aesthetic that was carried throughout these two sections."It's something that I encountered often, as I hold onto the stories my grandfather told me and now I am trying to tell them through my point of view," Petonoquot stated. One example of this aesthetic was executed through the delicate beading on the hanging baptism dresses, intending to represent the weaponization of Christianity towards the indigenous communities during the Victorian period. Another example was the small decorated containers of dirt, representing the importance of land to the indigenous community and how it was taken from them.
"I'm using my art in a beautiful sarcastic way," says Petonoquot. She chose the route of Fabric art in order to show the fabricated identity thrusted upon her as an indigenous woman. "My main goal as an artist is to become a human. People are interested in a fabricated identity and selling you an idea and during my residency I had to get very real and get people to know me as a person, not just this indigenous commodity," she elaborates.
After winning the 5th Edition of the residency impressions at the Montreal Museum of Fine Arts, Petonoquot wanted to take advantage of her newfound recognition. Currently, Petonoquot is collaborating with an artist on the board of Aborel Gallery on a project that addresses the indigenous relationship with slavery. She will continue to use her art to share her point of view and stay connected with her Algonquin community.
Upcoming exhibits at the Warren G. Flowers Art Gallery:
Edwin Janzen: Remotes – October 3rd
Reclaiming My Place: Sharon Norwood, Shannon Strauss, Cedar-Eve Peters – October 31
3rd Year Photo Grad Student – December 5th
AEC Graduating Students – December 17
Note
Dawson College is proud to highlight the work of our students. This article is published in the Oct. 17, 2019 edition of The Plant, the student-run newspaper of Dawson College since 1969. Pick up your print copy of The Plant in the Upper Atrium on Thursday, Oct. 17. The newspaper is also released digitally at https://www.theplantnews.com/