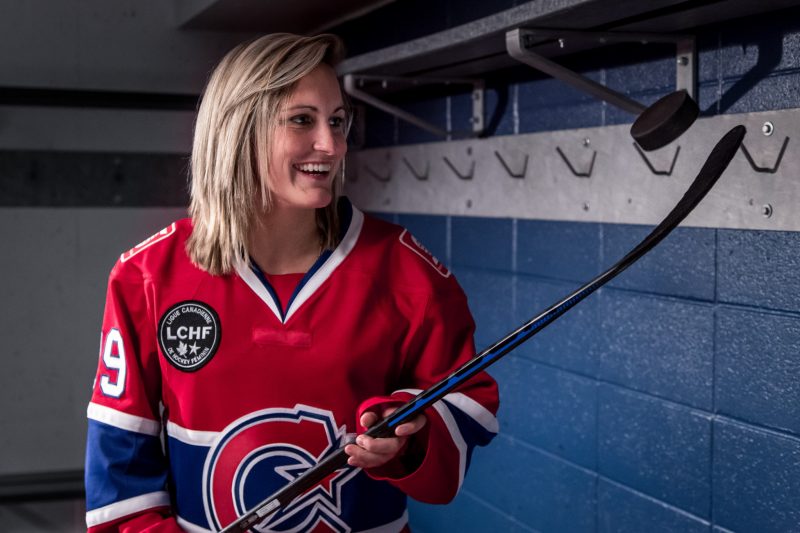 Marie-Philip Poulin is Honorary Chair of Dawson's Golf Tournament
Three-time Olympic medalist and seven-time IIHF World Championship winner Marie-Philip Poulin has accepted to serve as Honorary Chair of the 13th edition of the Dawson College Foundation Golf Tournament, presented by partners Alexis-Nihon. Marie-Philip began her varsity hockey career at Dawson and maintains a deep connection to the College. It will be her second time at the golf tournament.
Over the past 12 years of the golf tournament, the generosity of players and sponsors has raised more than $450,000 for students in financial need and to support the awards and scholarship program.
As Dawson gears up for the year-long celebrations of its 50th anniversary, this edition of the golf tournament will take place at another historical location, Summerlea Golf and Country Club.
An avid golfer, Marie-Philip will be joining players on the course after Tournament participants have an opportunity to meet and take pictures with her and her Olympic medals during brunch. Some lucky participants will also be taking home an autographed hockey stick or an autographed jersey that will be auctioned off during the cocktail and the banquet.
Marie-Philip is a distinguished member of Dawson's athletic community. In her 2008-2009 year with the Dawson Blues, she won both the Rookie of the Year and Player of the Year award. She was the youngest team member to win Gold at the 2010 Vancouver Olympics, where she scored both goals in the 2-0 win over the U.S. At the Sotchi Games in 2014, she did it again and scored the game-tying goal in the final minute, before scoring the game-winning goal in overtime of the Gold medal game against the U.S. As team captain in PyeongChang, she led Canada to a Silver medal in a heartbreaker against the U.S. She is currently the captain of  Les Canadiennes de Montréal of the Canadian Women's Hockey League (CWHL).
Despite her international success, she is always ready to express her gratitude for her time at Dawson that launched her hockey career on a winning trajectory, and where, she likes to say, she learned to speak English.
For more information, visit the Golf Tournament page.