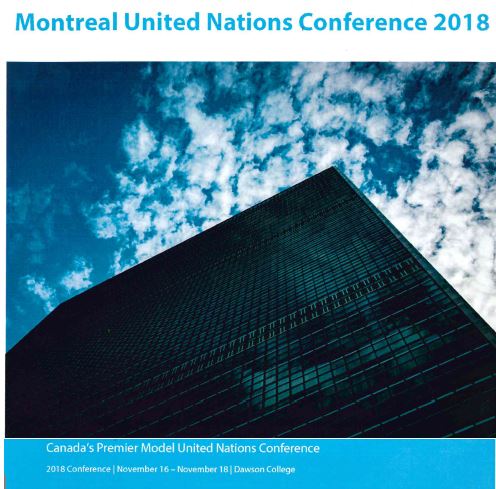 Montreal United Nations Conference (MUNC)
Dawson College hosted the 6th edition of the Montreal United Nations Conference (MUNC) the weekend of November 16-18, welcoming over 400 participants, including significant international participation from Ghana, Germany, Belgium, the United States, Mexico, India, Haiti, and the People's Republic of China, as well as students from Ontario and Alberta. This is in addition to many participants from schools in Montreal, including Concordia University, Université de Montréal, Faculté de droit, McGill University, Collège Jean-de-Brébeuf, The Study, Trafalgar School for Girls, The Sacred Heart School of Montreal, Villa Maria High School, Loyola High School, Marianopolis College, Vanier College, John Abbott College, Champlain College, and robust participation from Dawson College students and alumni.
A rigorous Model UN Conference focused on authenticity and realism with participants engaged in debate across 10 committees.
Example topics and committees included:
Cybersecurity in the Disarmament and International Security Committee
A Global Compact on Refugees in the UN High Commission for Refugees
Global Partnership in Space Exploration and Innovation
UN Security Council Reform
The International Court of Justice
As well as simulating the Suez Crisis of 1956 that led to the genesis of UN Peacekeeping and garnered the 1957 Nobel Peace Prize for Lester B. Pearson for helping to resolve the crisis in his role as Secretary of State for External Affairs under then Prime Minister Louis St. Laurent. Pearson went on to serve as the Prime Minister of Canada from 1963 to 1968.
Delegates heard from keynote speaker Paul Clarke, Executive Director of Action Réfugiés Montréal (photo attached) who spoke about his organization's critical work with refugees, as well as the current international context.
MUNC also marks the beginning of conference season for the Dawson College Model UN (delegation photo attached). DCMUN offers our students an opportunity to study diplomacy and debate, and to develop the values of global citizenship so critical in today's world. This year, over 50 Dawson students are involved, along with a team of three faculty advisors: Christopher Bourne (Political Science), Caroline Chochol (Psychology), and Julie Johnson (History)and we look forward to sending delegations to compete at conferences at McGill, as well as the North American Model UN at the University of Toronto, and Harvard WorldMUN, this year held in Madrid. Stay tuned for updates in the New Year!