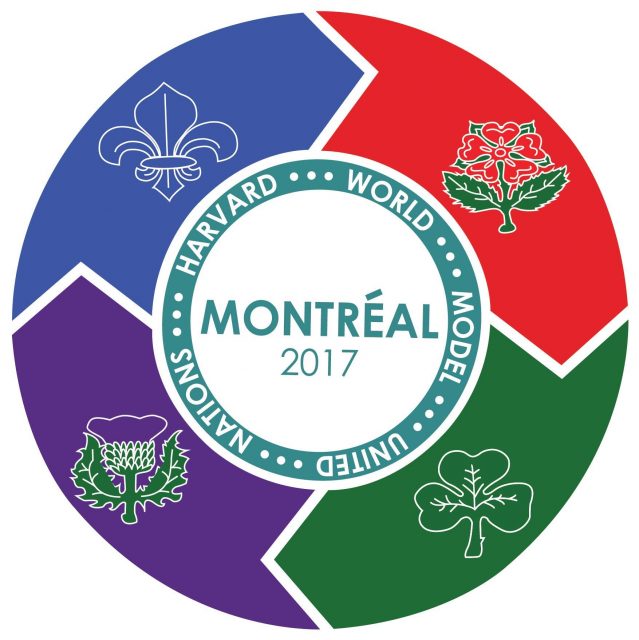 World's smartest young people to descend upon Montreal for World Model UN
Starting Monday, March 13, more than 2,000 young people from around the globe will be in Montreal seeking solutions to the world's problems using a combination of diplomacy, conflict resolution, negotiation and sheer will. They will be accompanied by a few hundred coaches and observers to participate in the Harvard World Model United Nations being held in the city for the first time.
The bid to host the 26th session of World Model UN was mounted by Dawson College Model UN (DCMUN), Tourisme Montréal, and the Palais des Congrès, and was endorsed by all three levels of government. Announced last May, a dedicated group of organizers made up of Dawson alumni and students has been working around the clock to build the program of the event which takes place at the Palais des Congrès between March 13 and 17, 2017.
The organizing group, led by Dawson graduate Jonathan Sasson, who is now studying law at Université de Montréal, is confident that delegates participating in simulations and activities within the Model United Nations conference will succeed in building greater awareness of the work of the United Nations and multilateral diplomacy, and in seeking solutions to pressing international challenges.
Hosting World Model UN is a first for Montreal and coincides with celebrations of both the city's 375th anniversary and with Canada's 150th anniversary since Confederation.
Over the last eight years, DCMUN has developed a reputation for excellence, professionalism, and diplomacy, having sent hundreds of students to dozens of Model UN competitions across Montreal, Canada, and the United States, and has competed at Harvard WorldMUN in Brussels, Seoul, and Rome.
"Dawson's bid to host WorldMUN in 2017 demonstrates not only the College's dedication to its academic mission, but its belief that good citizenry extends beyond our borders, by building a community of global citizens, creating a centre of both local and global excellence, and doing its part to position Montreal as a global city," said Richard Filion, Dawson College Director General.
Quebec schools are well-represented in the competition with participation confirmed from Concordia Model United Nations (CONMUN), McGill University, Faculty of Law, Vanier Model United Nations, Université de Montréal, Faculté de droit, Marianopolis College, John Abbott Model United Nations Club, HEC Montréal, François-Xavier Garneau College and Université de Montréal.
And who puts the World in World MUN? With registration for World Model UN MMXVI officially closed, no less an impressive list is expected in Montreal in 2017.
The following countries participated in last year's simulations in Rome: Afghanistan, Albania, Algeria, Argentina, Armenia, Australia, Austria, Azerbaijan, Bangladesh, Belarus, Belgium, Bolivia, Pluri-national State of Bosnia and Herzegovina, Botswana, Brazil, Bulgaria, Burkina Faso, Burundi, Canada, Cape Verde, Chad, China, Colombia, Costa Rica, Croatia, Curaçao, Cyprus, Czech Republic, Denmark, Dominican Republic, Ecuador, Egypt, Estonia, Finland, France, Georgia, Germany, Ghana, Greece, Honduras, Hong Kong, Hungary, India, Indonesia, Iran, Islamic Republic of Iraq, Ireland, Israel, Italy, Jamaica, Japan, Jordan, Kazakhstan, Kenya, Korea, Republic of Kuwait, Kyrgyzstan, Latvia, Lebanon, Libya, Lithuania, Luxembourg, Macedonia, Republic of Malaysia, Maldives, Malta, Mexico, Mongolia, Morocco, Nepal, the Netherlands, New Zealand, Nigeria, Norway, Pakistan, State of Palestine, Panama, Papua New Guinea, Peru, the Philippines, Poland, Portugal, Qatar, Romania, Russian Federation, Saint Lucia, Saudi Arabia, Serbia, Singapore, Slovakia, Slovenia, South Africa, South Sudan, Spain, Sri Lanka, Sweden, Switzerland, Syrian Arab Republic, Taiwan (Chinese Taipei), Tanzania, United Republic of Thailand, Tunisia, Turkey, Uganda, Ukraine, United Arab Emirates, United Kingdom and the United States.
Shehr Bano Jamali Niazi
Ommu-Kulsoom Abdul-Rahman
Jonathan Sasson
Jessica Condemi
George Stoyanov
Feodora Chouakri
Esther Kang
Dr. David Benrimoh
Denise Mely
Christelle Tessono
Andrea Baptiste
Charline Côté-Lessard