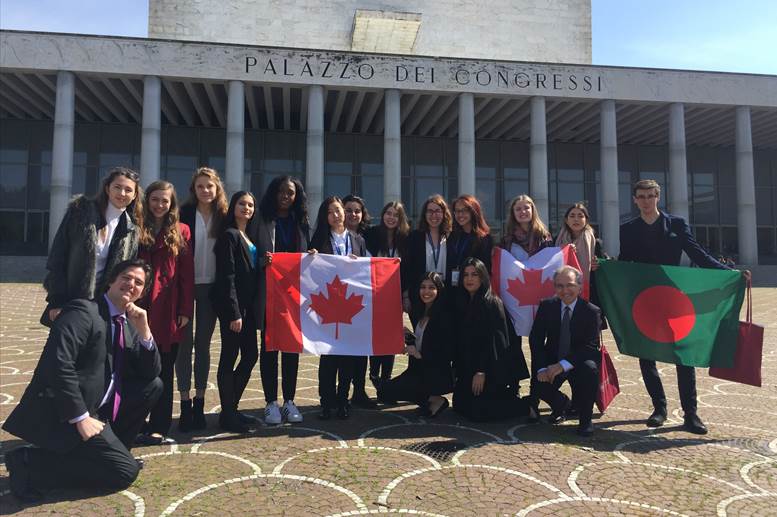 Dawson College at Harvard's World Model UN in Rome
During the Study Break, 15 members of the Dawson College Model United Nations, and two members of the faculty, attended Harvard's World Model United Nations in Rome. WorldMUN is considered the Olympics of the Model UN circuit, bringing together over 2400 delegates from 110 countries for this event. A central purpose of Model UN is to develop students' consciousness as global citizens, and having the opportunity to engage in intense discussion, negotiation, and social interaction with such a broad diversity of humanity certainly helps to fulfil this goal. Our participation comes at an opportune time as Canada seeks to meaningfully reengage with the United Nations and the world community. For example, while we were in Rome, Prime Minister Trudeau announced from New York that Canada would be seeking a seat on the UN Security Council for 2021.
Our delegates represented the state of Bangladesh on a number of committees, and addressed a range of topics including violent non-state military actors, skills development and education in developing states, sustainable energy, and how to counter the funding of terrorism. As usual, our delegates were active, professional, and diplomatic participants in their committees, and represented Dawson College very well.
Throughout the conference, our delegates had the opportunity to hear from two heads of government, Italian Prime Minister Matteo Renzi, and His Holiness Pope Francis. Renzi spoke strongly against the current trends in Europe and North America to close borders to refugees in an effort to protect against terrorism. He asked how a wall could protect against terrorists born in a particular country. Pope Francis blessed the conference, and challenged delegates to consider the human face of suffering, and our common humanity.
Putting together a delegation of this size for an international event such as this is a challenging and complex undertaking, and brings Dawson College's excellent educational reputation to the world stage. Thank you to everyone who supports and has supported the Model United Nations at Dawson. In particular, we would like to recognize the assistance of Michael Del Balso who attended as a faculty advisor. We are still planning to attend two more conferences this academic year, albeit a little closer to home. In April our delegates will be participating in the John Abbott College Model UN, and in June we will be joining the inaugural Model International Civil Aviation Organization, organized by UQAM at ICAO headquarters in downtown Montreal.