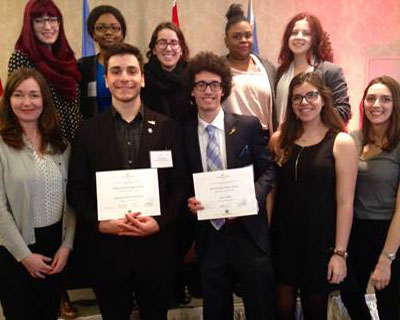 Dawson College at the Canadian International Model United Nations in Ottawa
Last weekend, 9 members of the Dawson College Model United Nations society (DCMUN) represented Dawson College at the CANIMUN Model UN, organized by the United Nations Association in Canada, held in Ottawa. CANIMUN is one of Canada's premier Model United Nations competitions, and we can be proud to count a number of Dawson alumni among the organizers of this year's conference.
Our delegates attended diplomatic briefings at a variety of Embassies and High Commissions, notably those of Malaysia, Norway, the United States, and Argentina, and also met with two senior Canadian diplomats, who spoke on the practice of diplomacy and the current exigencies of climate change facing the international community.
As usual, our delegates were heavily engaged in committee work throughout the conference. They discussed global partnerships and financing for the world's sustainable development in the UN General Assembly, adapting to climate change on the UN Framework Convention on Climate Change, evolving situations in North Korea and Syria in the UN Security Council, and maritime law enforcement and the drug trade in the International Court of Justice. All of our delegates distinguished themselves through their perseverance, professionalism and diplomacy. We would also like to salute two delegates, Alec Sader (Law, Society, and Justice) who won Best Position Paper and Micko Benrimoh (Liberal Arts) who won Outstanding Delegate.
Thank you to everyone who supports and has supported the Model United Nations at Dawson. In particular we would like to underscore the support of Julie Johnson from the Department of History who attended CANIMUN as faculty advisor. Her work is very much appreciated.
– Ted Irwin and Chris Bourne, Dawson College Model UN Faculty Advisors​