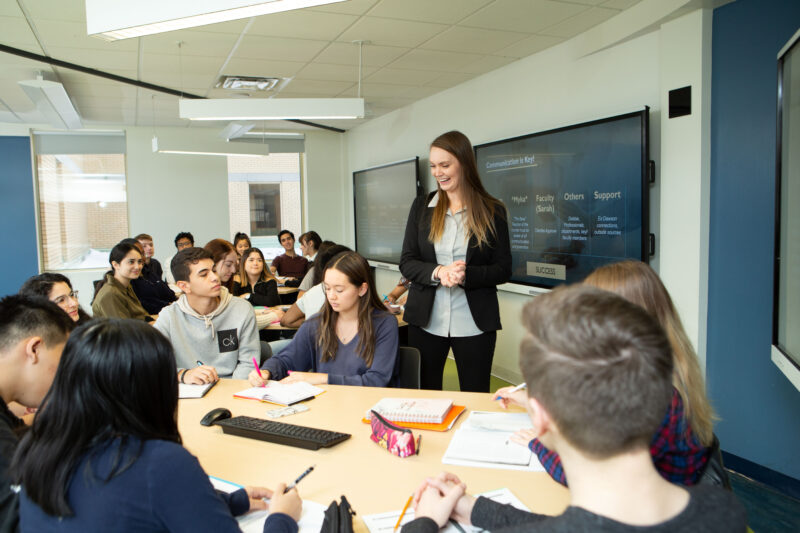 Brand New Social Science Program launching in Fall 2023
Dawson has a brand new Social Science Program! After three years of work, the input of more than 100 teachers and professionals, and consultation with universities and other stakeholders and partners, the new program was approved by Dawson's Board of Governors on Oct. 12. Dawson will welcome its first cohort in the Fall of 2023.
"Dawson's new Social Science Program offers profiles of study that respond to the interests of today's young people," said Cynthia J. Martin, Program Coordinator, faculty member of the Political Science Department and member of the Program Revision Writing Committee.
Renovating our most popular program
Social Science is the most popular pre-university program at Dawson and in Quebec. The last time it was updated was about 20 years ago.
CEGEPs were mandated by the Ministry of Higher Education of Quebec to update the program. The competencies are set by the Ministry but each CEGEP can deliver the program in their own way.
Dawson's program and profiles have all been thoroughly rethought and refreshed to form a new generation of social scientists.
Major changes include:
an increase in the total hours of instruction (45-60 additional hours depending on the profile),
a deeper dive into history with a 60-hour Introduction to Global History course for all students
and a greater emphasis on research with the addition of a fourth research course entitled Introduction to Social Science Research.
All social science disciplines available at Dawson

The new program is intended to allow students to explore the disciplines as much as possible and there is no better place than Dawson for that. "All 11 social science disciplines are available at Dawson and students can take courses in a minimum of five different disciplines and a maximum of seven depending on the profile they have chosen," Cynthia said.
A total of eight profiles will be offered, including the brand new Society and Technology Profile, which is unique in Quebec. Profile Coordinator Brian Redekopp says that Society and Technology is for students who want to look toward the future and be ready for it. Students will explore the impact of technology on society, culture and policy and they will develop their critical thinking skills.
Profiles of Dawson's 2023 Social Science Program:
General Studies
Commerce
Education, Family and Childhood (formerly known as Child Studies)
International Business Studies
Law, Society and Justice
Psychology
Social Change and Solidarity (formerly known as North-South Studies)
*NEW* Society and Technology
The profiles were tightened up to be more cohesive yet allow choices. There will be a focus on experiential learning and students will be immersed in the real world. Examples could include recording an oral history project in a neighbourhood or learning about the issues in an election campaign by watching a debate of local candidates. "Learning communities are growing and these are where some of the most interesting learning activities take place," Cynthia said.
Learning communities are team-taught courses that allow students to remain in a cohort as they journey together through two or more integrated courses. Two examples are: Race, Ethnicity and Migration, which integrates Western Civilization, General Psychology and Introduction to Anthropology and How Can I Know Who I Am? that brings together General Psychology and Introduction to Philosophy.
Social Science students can also enhance their learning by taking a certificate in a thematic area of concentration:
Decolonization and Indigenization Studies
Environment and Sustainability
Hellenic Studies
Peace Studies
SPACE: Arts and Science
Women's/Gender Studies
All students in the new Social Science will learn:
To conduct an interdisciplinary, individual research project
To explain social problems and human behaviour using theories, perspectives and approaches specific to the disciplines of social science
To integrate perspectives and approaches of de-colonization and anti-oppression when analyzing social problems and human behaviour
To choose an appropriate Social Science methodology when conducting a research project
To evaluate the reliability of data
To integrate responsible environmental practices as citizens
To communicate effectively in English, both orally and in writing, using appropriate vocabulary, form, and style
À communiquer en français sur un objet d'étude en utilisant le vocabulaire, la forme et le style appropriés
Website updated now

Dawson has updated our website to present the new Social Science Program and its eight profiles. Students who are interested in learning more are invited to online Open House on Oct. 25, which will include a webinar at 5 p.m. dedicated to the new Social Science Program and chat sessions with program and profile coordinators from 7 – 9 p.m. All info will be here: https://www.dawsoncollege.qc.ca/open-house/