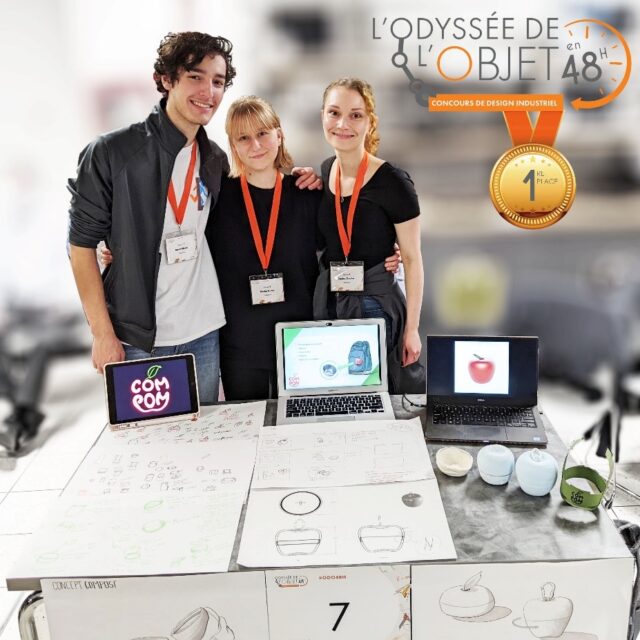 Dawson students win gold & silver at industrial design competition
Twenty-eight Dawson students in various programs participated in the very first industrial design contest entitled L'Odyssée de L'Objet en 48h, which took place Nov. 4-6 at Cégep de Vieux Montréal. Dawson students won five of the eight categories on composting, a theme that was only revealed on day one of the competition.
Dawson's gold medalists, 3rd-year Industrial Design students Jessica Cloutier and Émilie Fortin along with Jason Kirsch (Pure & Applied Science), created ComPom, an insulated apple-shaped double-wall stainless steel container that slows decomposition and prevents smells when taking lunch compost home instead of throwing it in the garbage. Each received a cash prize of $1,000 and a trophy.
Dawson's silver medalists, first-year Industrial Design students, Élodie Ste-Marie, Annabelle Mailhot and Elena Fortier along with Donovan Hughes (Psychology Profile, Social Science), created Cani le Canard, a rotomolded composting bin to introduce preschoolers and elementary students to the habit of composting. A kid-friendly silent mechanism was integrated into the design to prevent children from being startled when opening and closing the bin. They each received a cash prize of $750.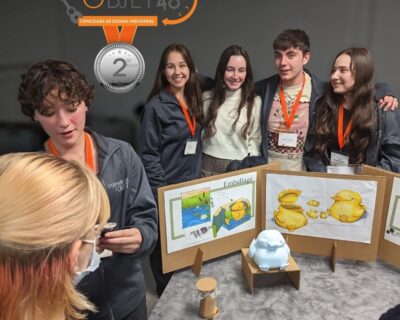 Other Dawson teams won in other categories: Écoresponsable, Meilleure présentation au jury, and Coup de coeur.
Industrial Design faculty member and L'Odyssée de L'Objet en 48h committee organizer, Véronique Bibeau-Poissant and fellow Industrial Design faculty members, Carlos Carpintero and Kim Webb, acted as mentors providing support to all students from dozens of CEGEPs.
"Our Dawson students expressed how much they have enjoyed working in teams with different perspectives from students outside of Industrial Design," Kim said. "Sharing their design knowledge enabled them to gain a deeper understanding of design and by scaffolding their creative ideas together, produced excellent projects worthy of recognition."
The five winning Dawson designs are currently on display in Dawson's metro tunnel entrance showcase until Dec. 9.