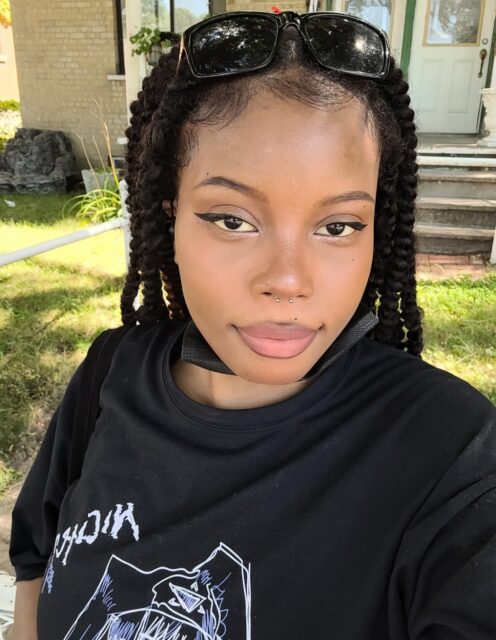 DTU Award goes to student with don't-give-up message
The Dawson Teachers' Union Polytechnique Memorial Scholarship is given to a student who has shown a commitment to persevering and overcoming obstacles within their field.
This year, the award was given to Fred-Dgennie Louis, a student in Computer Science, who said: "It means a lot and I am very grateful. It was the least thing I expected since figuring out my path and where I wanted to go has been a struggle. You know after high school, you're thrown into a completely new environment, and you're just expected to go on, graduate and then go to university."
​Fred-Dgennie had a rough time because of illness requiring hospitalization and a learning challenge only recently discovered. "This award really was a sign that my hard work is starting to pay off!"
What she loves about Computer Science
Fred-Dgennie loves the Computer Science Program at Dawson, which she switched into after trying Pure & Applied Science. "I love how this field has a firm structure but isn't rigid enough to compromise my creative side. My creativity is one of my stronger traits! I'm an artist first and foremost, I first started with writing, then I went on with traditional art to finally settle with digital art. I really love drawing but mainly as a hobby. With Computer Science, I can create anything! I'm mainly into the front-end part but I also like understanding the logic and how everything runs in the background. It's perfect!"
Future plans include pursuing a Bachelor's in Computer Science while working.
Message for other students
Fred-Dgennie has a message for those who have been struggling at school and also for women and gender minorities in male dominated fields:
"I had a rocky start and I'm sure I'm not alone, things don't always go the way you plan, and you can have setbacks. Before, I honestly didn't think I had a future in studying. I considered dropping out a few times and university was barely considered. All that to say, if you're in that position, don't beat yourself up over it or compare yourself to others. It's not easy, life happens, and people have a different pace. So don't worry, things work out at the end! Setbacks are not the end of all.
"And for women and other gender minorities studying in technology or any male-dominated field, you all have a place and a future in this field! It can be intimidating but don't give up and don't tone down anything, be unapologetically you! And, if you need a safe place, join the Dawson ADA Society. Everyone deserves a safe space and I'm very glad space this exists for us."
The Dawson Teachers' Union Polytechnique Memorial Scholarship was created as a memorial scholarship following the massacre of women at the École Polytechnique in Montreal in December 1989, in order to provide support and encourage women and gender minorities to enter and complete Engineering Technology programs. The recipient of this scholarship may be eligible to receive a renewal, provided they continue in the same program and continue to fulfill the criteria.