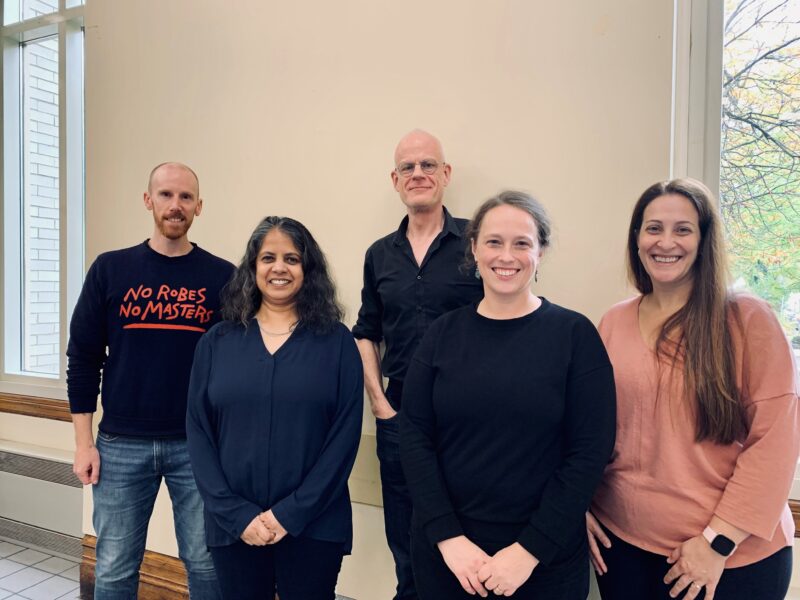 Meet the 2022 cohort of Teaching Excellence recipients
Dónal Gill (Political Science), Angela Rose Lapierre (Biology), Jaya Nilakantan (Computer Science), Gregory Polakoff (Humanities) and Emilie Richer (Mathematics) were honoured on Oct. 14 when they each received a Teaching Excellence Award from Dawson's Director General Diane Gauvin.
They all teach different subjects but what their students have to say about them is quite similar: passionate about their subject, caring, empathetic, committed to their students understanding, and involving students in their learning. Dawson College received nominations and then vetted each teacher with a survey of their recent students.
Dónal: Always there for students
Dónal Gill is "always there for his students. The last thing he wants is for his students to be stressed, according to one of his students. Another student said that "he makes all material interesting, and makes me excited about waking up at 6 a.m. to be in class by 8 a.m. to learn about methodology!"
Dónal Gill has taught political science at Dawson since 2016 and became profile coordinator of Law, Society and Justice (Social Science) this semester. Originally from Cork, Ireland, Dónal has a PhD in Political Science from Concordia University and a BA in History and Politics and MA in Politics from University College Cork. Dónal has been in Canada for 12 years and has become "a hopeless Canadian politics junkie." He is grateful "to earn a living indulging this passion by teaching the wonderful social science students at Dawson."
Of his teaching approach, Dónal says: "My aim is to treat students with maximum respect and to give the benefit of the doubt whenever possible. I fell very ill when I was an undergraduate student and needed extensive accommodations in order to complete my studies on time. All but one of my professors were generous and compassionate toward my situation, but the one that condescended to me and made me feel like a burden broke my spirit in ways that still resonate years later. I never want a student to feel any shade of that experience in my classes. I work hard to be understanding, and to provide a space for students' lives outside the classroom to constructively coexist alongside their responsibilities in completing their coursework."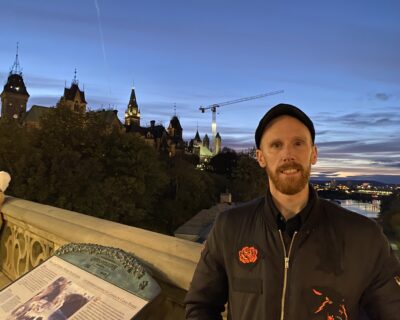 Angela: making material accessible
Angela Rose Lapierre sets the bar high for her students, while making sure they are able to meet it. According to one student, "… her strength in the classroom is knowing how to make learning fun. She goes out of her way to make sure we're all following along with her before she moves on to another topic. She encourages questions and is glad to answer them."
Another student goes on to say that approach extends beyond the classroom: "This teacher makes her class accessible by her vocabulary, anecdotes, and dynamic teaching style. She also helps students and encourages us to understand things more than simply for the academic value of the class, but also for the practical and deeper usage in 'regular' life."
Angela holds a PhD in Biology with a specialization in parasitology from Concordia University and has taught Biology at Dawson since 2012.
Angela has a passion for teaching others the diverse and fascinating world of the biological sciences. She says she has developed "a teaching philosophy focusing on student learning through participation. Learning is a complex process and I believe that to be an effective teacher, it is essential to have an active classroom. I aim to have diverse teaching techniques as I feel it is important to present material in different formats to help students with different learning styles build memories and understanding of the new material. Lectures are often divided into periods of review, presentation of new material, followed by classroom activities to allow for time to discuss the new material, digest it, and teach each other. Peer learning is a vital aspect in my teaching techniques, and I incorporate this into the lecture sessions through group activities."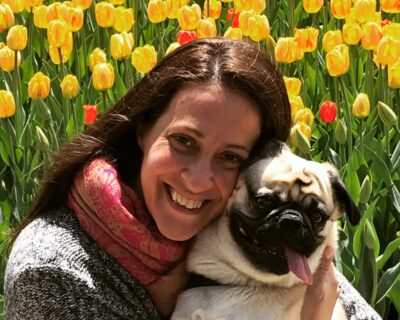 Jaya: a teacher "to take again"
"One of the most caring and understanding teachers," Jaya Nilakantan's "efforts to include so many topics while balancing student educational loads have made this course incredibly fun to learn without the stress," said one of her students.
Another student said that Jaya's "willingness and kindness to add more work on her side in order to have students focus on what matters was a game changer for any courses she has been my teacher. I would love to take her again and recommend her to anyone."
Jaya teaches in the Computer Science department and is currently a co-coordinator of
the department and program. She holds a BSc in Computer Science and an MBA, both from McGill University. Prior to embarking upon a second career in education, she held a variety of roles in industry, ranging from software developer to development manager to solution architect and finally product marketing. A common thread throughout her career path has been a propensity to innovate and prototype. She is involved in the DawsonAI initiative and helped with the Coffee & Code programming workshops open to the Dawson community.
Jaya says "student engagement starts with fun or meaningful activities, and motivation builds once students gain confidence. Beyond pedagogy, teachers play a critical role in being approachable and available for feedback and help." Jaya finds teaching truly rewarding and really appreciates those "aha" moments.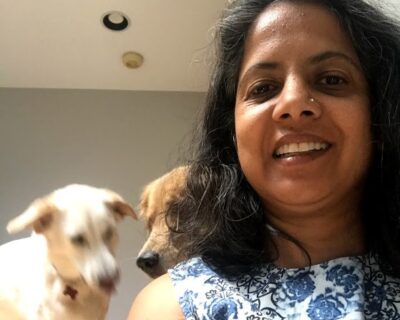 Gregory: Creating a comfortable place for learning
Gregory Polakoff "creates a very comfortable learning place for everyone," says one of his students. "He encourages people to participate, but he does not force those who are not comfortable. He incorporates humour and students' interests in his way of teaching to make it easier for us to be interested and understand the material."
Other students called Gregory a favourite teacher and "the best." Some students explained that he is funny or that they appreciate his enthusiasm and knowledge. One said they "always look forward to attend his lectures as they always leave me with something interesting to think about."
Greg decided to become a teacher when he began his postsecondary adventures at the New School for Social Research and then at Sarah Lawrence College. Greg studied with remarkable teachers at these quirky liberal arts colleges and developed a fascination for intellectual history, languages, music, and mathematics. Greg earned his MA in Comparative Literature from San Francisco State University, an MA in Asian Studies, and a PhD in Comparative Literature from the University of British Columbia. After an exciting career teaching literature and humanities at Simon Fraser University, he moved to Montreal, where he currently teaches Humanities at Dawson College and part-time at Concordia University. Although his specialty is Nietzsche and Modernism, he also enjoys teaching science fiction, critical theory, drama, and world literature.
Gregory's favourite thing about teaching is learning alongside his students. Of his approach, he says: "To teach is to show students how to teach themselves and that they are one of their best teachers. This skill can be taught in any course and is transferrable to any profession or personal pursuit. I employ "traditional" and modern pedagogical approaches, including creative and collaborative assignments, to create a diverse and comprehensive educational experience."
Gregory chose to be a humanities teacher because he believes literature, philosophy, and the liberal arts are the most effective way to achieve these goals, as they represent a dialogue between disciplines and points of view. "My goal is to foster a sense of intellectual community in the classroom and inspire, engage and motivate students to see their postsecondary education as the beginning of a life-long commitment to learning and membership in a diverse and dynamic community of human beings and a fragile planet," he said.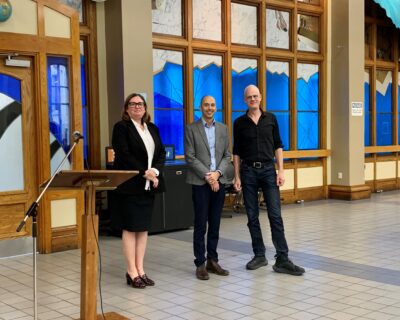 Emilie: Making math fun
Emilie Richer "actually makes learning calculus fun," her student said. Ensuring everyone understands a concept before moving on is critical for her. Another student said that she is "very engaging and makes complicated subjects less intimidating by teaching material in a way that is easy to understand."
One of her students noted that she teaches using a variety of methods so that all her students have a chance to understand a concept.
Another student wrote: "My favourite teacher I've ever had. She explains the material so well and enthusiastically I've honestly never understood math so quickly. Love her, she definitely deserves this award!"
Emilie holds a Master of Science in Mathematics (with Honours) from McGill University and has been teaching at Dawson since 2008. Emilie is quite involved in the Dawson community. She is the coach of our Reach for the Top team, an executive member on the Dawson Teachers Union, and a member of the Board of Governors.
Emilie's approach: "I try to treat my students in the way that I wanted to be treated when I was a student. It's easy to forget how consequential everything feels when you are trying to figure out what you want to do with your life. Students deserve our respect and our empathy."