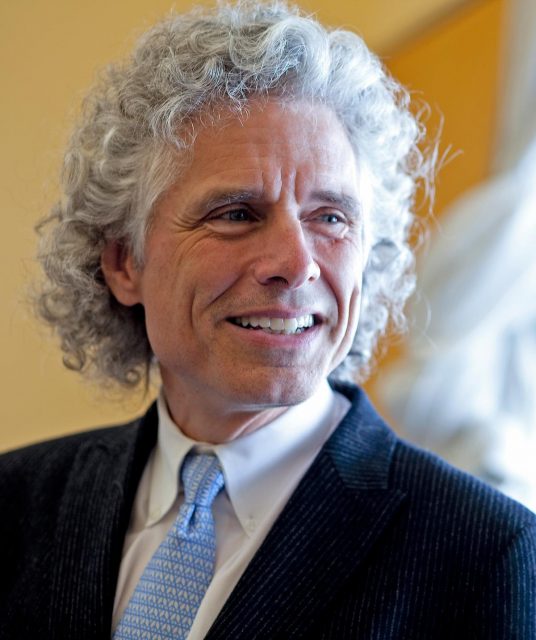 Popular author and Harvard Prof. Steven Pinker comes home to Dawson for Social Science Week Feb. 6 to celebrate 50th
Sign up on Dawson's Connect page to view a complete video of his Dawson lecture.
One of Time magazine's "100 Most Influential People in the World Today."
Author of Bill Gates' favourite book, Enlightenment Now: The Case for Reason, Science, Humanism, and Progress (Viking 2018).
Professor of Psychology at Harvard University. And graduate of Dawson College, Social Science, 1973. Steven Pinker is certainly among the most famous alumni of the first 50 years of Dawson.
Prof. Pinker's 50thanniversary gift to Dawson is a talk on Feb. 6 during Social Science Week.
Pinker believes that our world is actually improving and he will share his hope with us during his talk. It will include some of the ideas and discoveries he's written about in the 46 years since leaving Dawson, including the nature of language, how the mind works, the psychology and history of violence, and the reality of human progress. Of course, he will also reminisce about his time at Dawson, 1971-'73.
Social Science teachers Vivien Watson and Nancy Rebelo, organizers of Social Science Week, invited Dr. Pinker to share his knowledge and meet Dawson students, faculty, staff and special guests.
One of the special guests is retired Psychology teacher Lillian Fox, whom he especially wished to invite. "He was not in my class, but I remember him as a very bright student and I remember having a conversation with him about how language acquisition would be an interesting field of study," Lillian recalled.
In those early days of Dawson, it was common for students and faculty to hang out. "The faculty was young," said Catherine Fichten, a Psychology teacher and former head of the department when Prof. Pinker was a student. "I was 22 and the students were 17-18," she said. "My office was hangout central. Lots of really bright students were floating around then. We would have amazing conversations."
"The access to teachers would have helped cultivate his interest in psychology, but he was our star student!" Catherine affirmed. "I remember Steven as being thoroughly nice, even though he was smart as a whip."
Retired Dawson psychology teacher Gary Clemence taught Prof. Pinker. "When Steven completed his class, I remember Gary told me: 'Now that he's finished my course, he can teach it.' I had never heard a teacher say that before and have never heard anyone say it after," Catherine said.
The student-focused lecture on Feb. 6 will be videotaped in order to give a chance to our former students, staff and friends of the College to view it in its entirety. To get access to the video link, please sign up on our Connect page.
Please share this with your contacts who are connected to Dawson and would like to view this video of Steven Pinker's talk and reconnect during our 50thanniversary year to learn about special events, news and campaigns.