Steven Pinker remembers Dawson years, shares discoveries, ideas
Eminent Harvard Prof. Steven Pinker (Class of 1973) came back to Dawson College on Feb. 6 to deliver a very personal lecture titled Reminiscences, Ideas and Discoveries as his gift to the College for the 50th anniversary. Dr. Pinker, professor and author, is celebrated as one of the most influential people in the world. His visit was a highlight of Social Science Week, organized by Vivien Watson and Nancy Rebelo.
"I chose Dawson in 1971, which was the honourary 1960s," said Dr. Pinker. "I saw my choices as attending CEGEP at Dawson, McGill or Sir George Williams. The straights went to McGill and the freaks went to Dawson." It was a free-spirited time and "Dawson was not stodgy. They had all these amazing programs like Mosaic, Perspectives, Reflections, Spectrum."
Some of his former teachers at Dawson College joined a hall full of current students, teachers and special guests, including his mother Roslyn and his sister Susan (also a Dawson graduate, 1977), an author and columnist with The Wall Street Journal. "Ken Milkman, Lilian Fox, Catherine Fichten are possibly grading me as I speak," he quipped.
Prof. Pinker gave credit to his old teacher Ken Milkman for helping him develop "different habits of the mind and the way one should argue." You cannot just base your arguments on intuition, you have to justify your position, he said.
Great intellectual debates shaped beliefs
Prof. Pinker took two classes in psychology at Dawson College, both taught by Gary Clemence. "Psychology seemed to be a sweet spot. You can explore deep profound questions."
At the time Steven Pinker was at Dawson, there was student parity on all committees. "It was exhilarating to be with teachers and observe them hash things out," he said. "There were great intellectual debates. I acquired my foundational beliefs at Dawson."
Before the lecture, Dr. Pinker was asked via email, what advice he would give to students interested in pursuing psychology and he offered this response: "Psychology sits at the centre of intellectual life. Looking in one direction, toward biology, we see that our mental life is made possible by our brains, which were organized by our genomes, which were selected by the process of evolution. Looking in the other, we can appreciate that the arts are a product of our visual, auditory, and linguistic brains, and that, as James Madison said, "What is government but the greatest of all reflections on human nature"? I hope that students will apply psychology to everything else they do — their personal decisions, their appreciation of the arts, their political participation."
He also had great memories of Dawson, which he also shared ahead of his visit: "Perhaps my favorite pedagogical memory comes from an early lecture in a course on Human Biology. I can remember the instructor's face and voice, but sadly not his name. At one point he drew seven circles on the blackboard, with arrows from each to a number of the others, and said these were neurons connected by synapses, and that some of them fired in patterns that caused other sets to fire. I instantly saw the implications. If just seven neurons could either fire or not fire, there were 128 possibilities, each of which could trigger a different possible combination, and so on. That was with just seven neurons —and the human brain has 10 billion!
"Brain cells fire in patterns"
"It dawned on me: thoughts consist of patterns of neural activity, thinking consists of one pattern triggering another, and we can, in theory, explain the complexity of thought with no need for a soul or anything spiritual or mystical. This was a moment of amazement for my 17-year-old self, and has been the basis of my world view ever since. Decades later, when I appeared on The Colbert Report, the television program whose host pretended to be a simpleton, he asked me to explain how the brain worked in just five words. I replied, "Brain cells fire in patterns."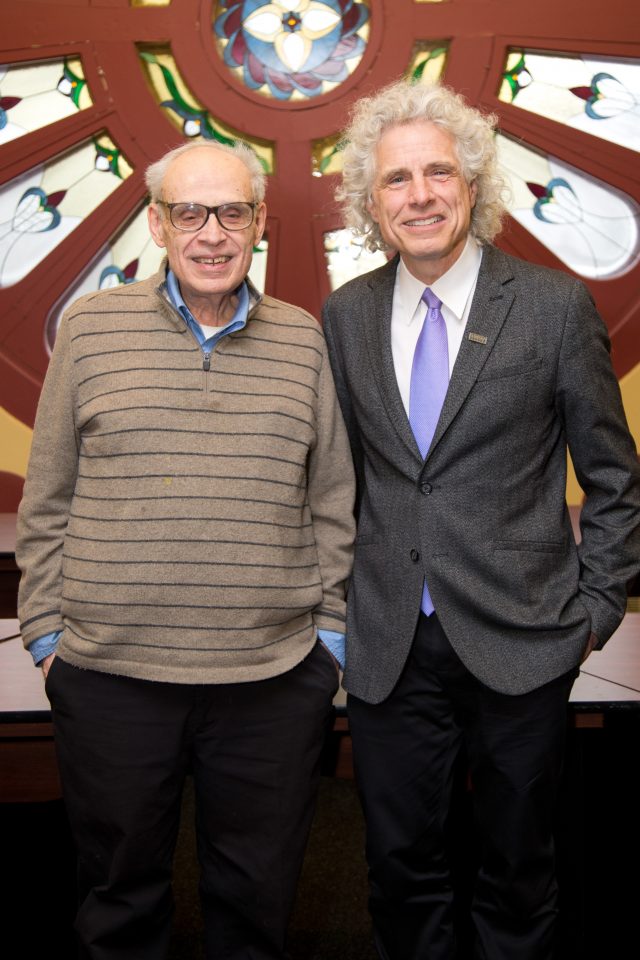 "A more personal memory comes from the Dawson policy of including students as fully participating members of departments. The Psychology Department had a weekend retreat at a cabin on a lake in the Laurentians. It was thrilling to hang out with my teachers and relax with them and their spouses, the conversation easily switching from personal to scientific topics. One afternoon a fellow student and I skated across the frozen lake, probably a couple of miles, a truly exhilarating experience, though tinged with terror as the ice groaned and cracked beneath our skates. By the time we reached the opposite shore, it was dark and we were afraid we would not find our way back. There were no cell phones in those days and we also knew that our teacher friends would be worried about us. Fortunately, a kindly store owner drove us back across the frozen lake in his Pontiac station wagon. Our teachers were indeed worried that we may have fallen through the ice and were relieved to see the car drive up onto the shore and disgorge us."
The lecture was videotaped and a video will be posted online shortly for alumni, former students, teachers, staff and friends of Dawson. To get access to this exclusive 50th anniversary content, we are requesting sign-up's on our Connect page. Please share with your contacts who would be interested.
The Montreal Gazette interviewed Dr. Pinker and ran an article Feb. 7:https://montrealgazette.com/news/local-news/dawsons-50th-anniversary-harvard-prof-recalls-colleges-wild-days