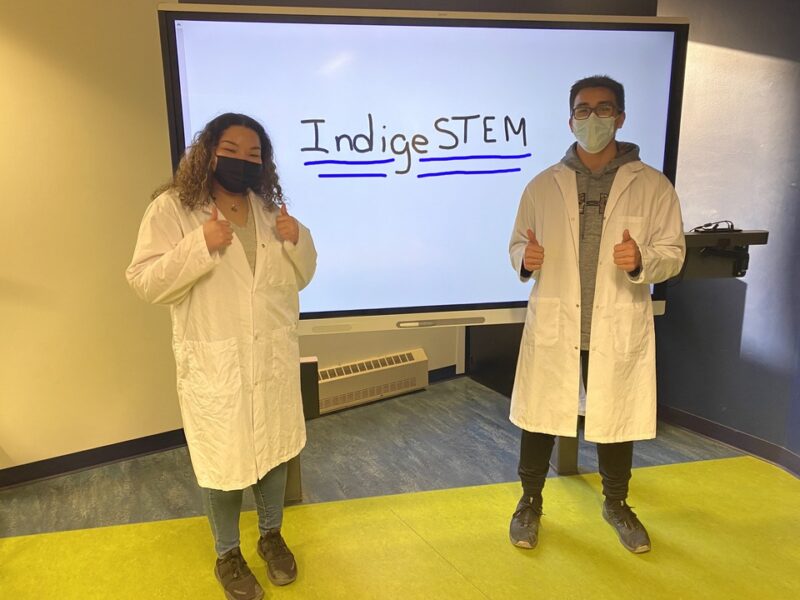 Students who founded IndigeSTEM peer tutoring project recognized by Forces Avenir
Rotshennón:ni Two-Axe and Kayla Spencer-Young are two of a handful of Indigenous students in Dawson's Science Program.
Rotshennón:ni and Kayla wanted to encourage and support their fellow Indigenous students who may be interested in Science. They came up with an idea last semester that has won them the local Forces Avenir award and put them in the running for the provincial award, which will be announced at an event in Quebec City in September.
Their IndigeSTEM peer tutoring project tackles discrepancies in the access to resources between Indigenous and non-Indigenous students. The experiences between the two student bodies can be vastly different. The end goals of the project are for students to succeed within their own capacity, develop an overall appreciation of what they are studying, and be exposed to the vast career opportunities in STEM fields.
Weekly meetings and learning experiences
Students have been meeting weekly since the beginning of the winter semester. "In conjunction with the tutoring, I plan different student activities that connect culture and science, such as a hands-on trout dissection and cleaning where I taught students about fish anatomy," said Rotshennón:ni.
"The students keep coming back to our weekly tutoring sessions, we have consistent numbers and they are starting to get the grades they are hoping for," Kayla told the Communications Office in an interview.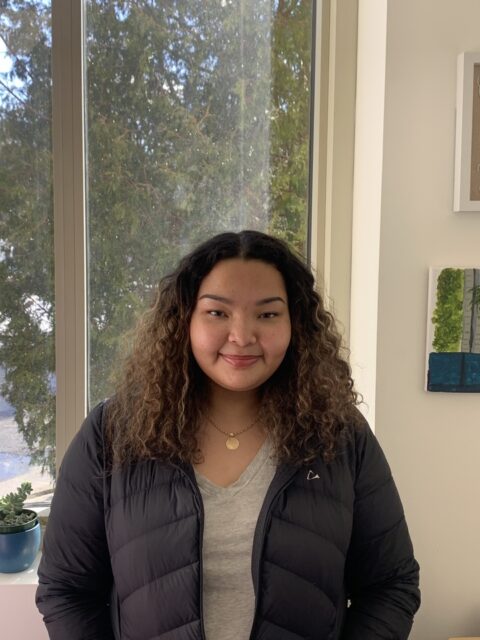 About a dozen students have benefited from the service in its first semester of operation. They come from a variety of backgrounds and are all working on entering Science programs. Some are doing prerequisites through Continuing Education, others are in the Journeys transition program and a variety of other programs at Dawson.
How it got started
Rotshennón:ni, who is in his second semester in Health Science, and Kayla, who is in her first semester of Pure and Applied Science after completing the Journeys Program, met through a meeting organized by Charlie O'Connor, who works with Dawson's Academic Skills Centre to support students from Journeys and the First Peoples' Centre. It became clear from this meeting that there is a need for math support. Physics teacher Joel Trudeau offered to support the students as a mentor.
"Kayla and Rotshennón:ni are so inspirational and dedicated," Joel told the Communications Office. "It is such a privilege to collaborate with them as they implement their vision for IndigeSTEM. I am excited to see how the project will evolve with both of them returning to Dawson in the fall."
Receiving the Forces Avenir recognition made the two IndigeSTEM founders realize the potential impact of their project. They are thinking about how to ensure continuity for the project and are hoping there will be more funding and institutional support to continue. "This could perhaps be a model for other colleges," Rotshennón:ni said.

This fall, they would like to have a speaker series of Indigenous scientists. Representation is important and helps students see themselves as scientists, the students said.
Another future dream would be to create a student network, beginning with outreach to high schools and continuing through university.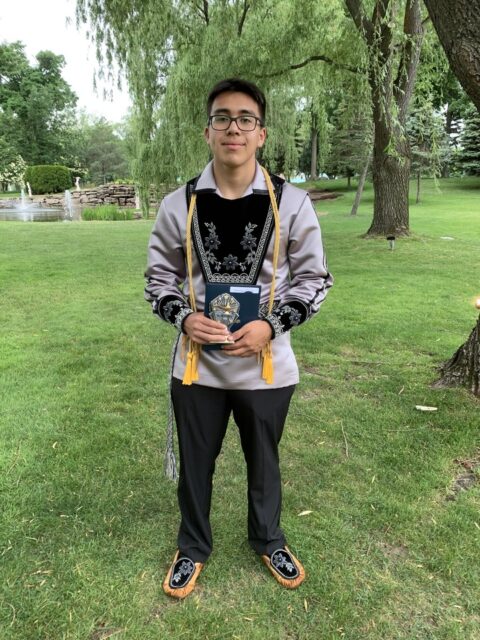 Success strategies
Both students have developed strategies to help keep them on track at school. Kayla is committed to walking as a way to stay healthy. "Walking for an hour or two is really grounding for me. I de-stress with walks," she said.
Rotshennón:ni is prioritizing physical and mental health. In his first semester, he cut back on extracurricular activities to focus on school work. Last semester, he added more activities when he felt comfortable that he had a good study routine established.
At the end of this semester, he aims to change things up for the fall. "I am working on improving my sleep schedule," he said. "I am rewarding myself for little successes and finding ways to renew my passion for learning. Things get difficult when I focus too much on tests."
Rotshennón:ni is Kanien'kehá:ka and comes from Kahnawake. His dream is to become an emergency or family doctor serving his community. Kayla is from the Cree Nation and her home community is Chisasibi. She is interested in Astrophysics because since she was little, she has appreciated the beauty and grandeur of the super clear night sky up north.
Kayla enjoys tutoring and wants to kindle an interest in science. "I have natural motivation and feel the need to share it and show that learning can be interesting," she said.
Rotshennón:ni has always felt inclined to help others. He grew up with the desire to lend a helping hand. "We are all in this world together," he said.
Anything's possible
Kayla says: "anything's possible. That's what my Mom told me. We should not be discouraged even when things are scary or intimidating. …Go after your big goals. Hard work does pay off," she said.
Rotshennón:ni and Kayla will be celebrated at a local Forces Avenir event at Dawson on May 4.