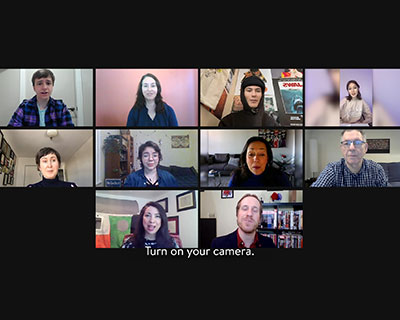 Turn on your camera for a better learning experience
In a joint statement issued Jan. 13, the federations representing all CEGEP students, faculty and colleges urged students to turn on their cameras.
Dawson shares the concern raised in this statement, namely that "offering pedagogical activities when cameras are deactivated is an issue that affects the learning experience for both students and teachers."
Dawson has launched an awareness campaign, featuring a short video and social media posts, to make students aware of the importance of having their cameras activated during online classes.
There are many reasons for students to activate their cameras, such as:
Helping create a video experience that is the closest to an in-person classroom experience;
Signaling their commitment to learning;
Helping alleviate mental stress by creating a healthy routine of getting up, getting dressed and presenting themselves as if they were going to the college;
Encouraging teachers, who need to feel that they are teaching a real class to real students;
Allowing teachers, through non-verbal communication, to see if they are interested, bored, distracted or not understanding the material;
Fostering a sense of belonging to the class;
Helping teachers and students know each other beyond a name on the screen;
Establishing a higher level of engagement that is connected to better grades and feeling better about school.
Students who do not have an adequate connection to the internet or access to a space conducive to learning at home can come to the College and use designated spaces in the library and Conrod's.