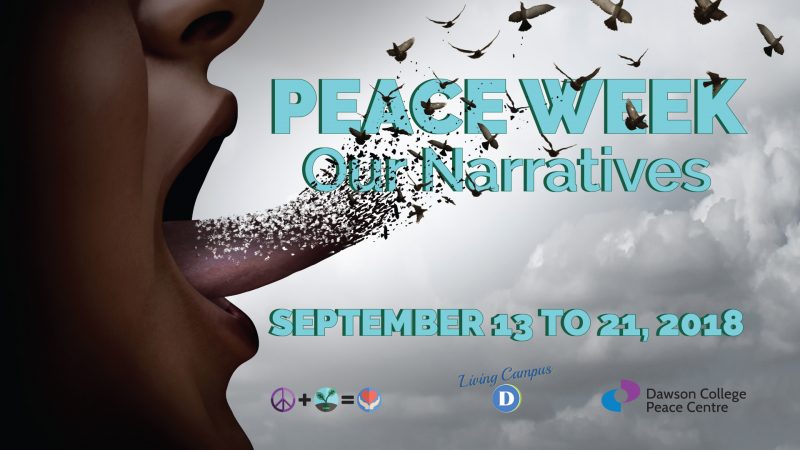 Peace Week 2018
Dawson College is located on land which is the unceded traditional territory of the Kanien'kehá:ka. This land has also served as a gathering place for Abenaki, Anishinaabe and other nations. As uninvited guests, it is our responsibility to honour the stewards of this land by educating ourselves about the histories and contemporary realities of First Peoples, and by contributing to the important work of reconciliation and decolonization.
It is that time of year. Gear up! Get your calendars out!
The 3rd Annual Dawson College Peace Week, presented by the Dawson College Peace Centre, offers you a variety of activities, panels, speakers, workshops and projects based on the Peace Centre theme this year, Our Narratives.
Daily Activities
---
September 13th – 21st 
Meditation – 12:15-12:45, New School Lounge (8B)
Giving Tree – ALL WEEK, Upper Atrium
Giving Tree is out early this year! Throughout Peace Week we encourage you to give the Financial Aid Food Bank an amazing start to the year to make sure our students have full bellies and focused minds when they are in class. Look for it in the Upper Atrium
---
September 17th- 21st
Yoga – 1:00- 2:00, 5B.16 (All Students, faculty & staff are invited)
Dawson Dinnin' – ALL WEEK, Conrod's (All Students, faculty & staff are invited)
In collaboration with the DSU we are proud to give you 1 full week of free Vegan lunches. Staff, faculty & students, drop off your containers in Conrod's in the morning and return later to find it filled with homemade, ethical and sustainable munchables!! Drop off your identified containers in Conrod's prior to 11am and come pick it up after 12 pm.
Speakers
---
September 13th, 6:30 pm, 5B.16
Memory, Narrative & Oral History
This panel will explore the intersections of identity, memory & narrative. Story-telling and oral histories are special, unique and grounded in people's cultural/familial roots and can be a place of cultural resurgence. Panelists will explore how does the preservation of oral history or story telling in a digital format change the telling of history? Is it one of many ways to preserve family histories and potentially expand how we tell history? Who has access to their own history and who teaches us history? Does digitally recording narrative change the nature and purpose of story telling? Why they have been often dismissed by white western academics?
---
September 14th, 8:30 am, 5B.16
Who gets a say? Rudayna Bahubeshi
How does civic engagement really work in democracies like Canada? A crucial part of our own Canadian narrative and memory should be about who wrote the rules for civic engagement and who enforces policy. How have the memories and narratives of previously disenfranchised generations affected the current situation?  Who gets to participate? What narratives are told to include or exclude particular segments of the population from civic engagement? Why do we cling to the idea that political participation is open and available to all, when it is not? Why do such narratives hold power? Why are they relevant, how do you combat them? What organizations exist within our country that help to combat systemic oppression and disenfranchisement and how can you help.
---
September 14th, 10:00 am, 5B.16
Keynote Speaker Robyn Maynard, Policing Black Lives
Working within the Peace Centre's 2018-19 theme of Our Narratives, Robyn will address the vital themes in her latest book Policing Black Lives such as deeply embedded institutional racism, the false narrative of the benevolent Canadian state, historical and continued culture of anti-blackness in Canada and violence against women and LGBTQ+ POC.
---
September 19th, 6:00 pm, 5B.16
Alternative Narratives: The Myth of Benevolence
DO not miss this powerhouse panel! Join us for the insights of Dr. Uzma Jamil, McGill University Researcher, Executive Director of the Native Women's Shelter Nakuset Sohkisiwin, Executive Director of the Centre for Research Action on Race Relations Fo Neimi with facilitator Dr. Rachel Zellars who will dissect the myth of the Benevolent Canadian state, how this narrative has been promulgated and how it hurts vulnerable populations living on this land.
---
September 20th, 1:00 pm, 5B.16
Theresa McCarthy, Indigenous Identities & Reclamation
Theresa McCarthy's work focuses on the continuity of Haudenosaunee traditionalism and languages within contemporary Six Nations/Haudenosaunee communities, especially Six Nations of Grand River in Ontario, Canada. Her first book: Divided Unity: Haudenosaunee Reclamation at Grand River was published in spring 2016 by University of Arizona Press. Her scholarly, teaching, and activist interests reside in the areas of Haudenosaunee citizenship/clans, the social meanings of Haudenosaunee unity and diversity, Six Nations/Haudenosaunee land rights, the historiography of anthropological research on the Iroquois, Iroquois factionalism, Indigenous women and anti-violence initiatives, linguistic research methodologies, and community-based/applied research initiatives. Professor McCarthy has worked as a consultant for research projects broadly addressing issues of health (Aboriginal Healing and Wellness Strategy, IHRDP), education (Native University Access Program Evaluation), and the environment (EAGLE Project, NRDA-Akwesasne) in numerous First Nations communities. She is a citizen (Beaver clan) of the Onondaga nation of Six Nations of Grand River.
Workshops
---
September 17th, Colab 3F.43, 2:45-4:45
Anti-bias in institutions and the classroom, Session II with Shanice Yarde.
This is a session open to all employees at Dawson College, regardless of whether or not you attended the first session last May. This interactive workshop will address how bias manifests in our learning and working spaces and can lead to harm. Participants will be encouraged to engage in discussion and share strategies and best practices for better understanding and challenging bias. Participants will also leave with tools and resources to apply and continue their learning. All knowledge levels are welcome and valued.
---
September 17th– 19th the Dawson Gardens
Urban Restoration Part III
Come on Dawson! Join the Dawson Sustainability Team & Peace Centre to get dirty in the gardens! Comfy closed toed shoes and clothes you don't mind getting muddy along with a reusable water bottle is all you need! NO prior gardening experience needed! Drop in from 10 am – 3:30 pm daily one of our garden sites to learn through doing, get some exercise, and keep our campus looking like a beautiful urban oasis!
Garden sites: Theatre Garden (behind upper atrium eating area); Conrod's gardens: Three Sisters and the Microhabitat site; Peace Garden (Westmount side, near entrance to Maisonneuve)
---
September 21st 
International Day of Peace
Join us for a ceremonial planting of a Ginko tree whose seed originates from a surviving tree from Hiroshima after the bombing in 1945 by the United States of America, as well as a White Pine to symbolize an additional commitment by Dawson College to not only Indigenize our curriculum and extracurricular offerings but also the land.
Dawson Dinnin' Community Meal, Conrod's at 12:00 pm
Join the DSU & Dawson College Peace Centre on Friday September 21st for the Dawson Dinnin' Community Meal. Bring your container, be served a delicious meal and then choose a seat in Conrod's. Free! ALL DAWSON COMMUNITY WELCOME!