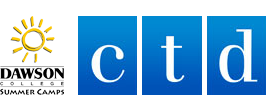 This summer, The Centre for Training & Development will be offering three summer camps.
The f/Start Photo Camp is for teenagers between the ages of 12 and 17. The f/start Photo Camp offers digital photography at the beginner, intermediate and advanced levels.
The Video Game Design Camp is for teenagers between the ages of 15 and 17. The Game Design Boot Camp introduces fundamental concepts of game design with both physical and digital tools. Over the course of the two weeks, campers will learn how to design a game, create a prototype, use player feedback, and make their own game using the Construct 3 Game Engine.
The Naturehood Camp is for campers between the ages of 8 and 12. Naturehood inspires urban residents to connect with Nature through interpretive walks, games, art activities, and exploration.
The f/Start Photo Camp, Video Game Design Camp and Naturehood Camp include hands-on activities, time in computer labs, on site creative opportunities and outings in the Montreal area. They offer a unique opportunity for a fun-filled and high quality summer camp experience for kids and teenagers.
For more information, you may also contact us at 514-933-0047.
For teenagers between the ages of 12 and 17
For teenagers between the ages of 15 and 17
For campers between the ages of 8 and 12