UDL@Dawson is more than a concept! It's also a research team and a lively learning community.
UDL@Dawson: The Research Team
The UDL@Dawson team, previously known as Équipe CLÉ, is a team made up of two teachers in the French department (Catherine Soleil and Laure Galipeau) and a professional in the Student AccessAbility Centre (Effie Konstantinopoulos). This team was created in Winter 2011, thanks to institutional funding, in an effort to create an inclusive learning environment at the college level.
In their research on inclusion, they came across the UDL model, a model they soon embraced as a means to respond to the needs of all students from the perspective of inclusive pedagogy. After much reflection on the course delivery, evaluation of student competencies and student engagement, Laure Galipeau and Catherine Soleil have been implementing the model in their classrooms since Winter 2012. The team has since received a PAREA research grant (2014 – 2017) to measure "Impacts de la conception universelle de l'apprentissage (CUA) en salle de classe sur le français écrit en FLS".
The results of the research project are now available and a report has been published and made available on the site of the Centre de documentation collégiale (CDC).
Further, since its creation, the team has actively participated in Dawson's Ped Days.
Since Winter 2016, the team has also been invited by a number of colleges and agencies in the network to present workshops within the scope of its research on pedagogical applications of the UDL model.
Montmorency
Champlain St-Lawrence
RASCALS Colloquium 2016/Keynote speakers
Saint-Jean-sur-Richelieu
Drummondville
Victoriaville
AQPC
CCSI
ACFAS
UDL@Dawson: a Lively Learning Community
The research team began to lead this learning community and launched UDL@Dawson in 2015.
Every winter semester, a new UDL@Dawson group is formed. Members meet on a regular basis throughout the semester to further their understanding of the model and to reflect on inclusive pedagogy.
Since its creation, it has brought together 27 members, including faculty members in various disciplines within general education and career programs, as well as professionals.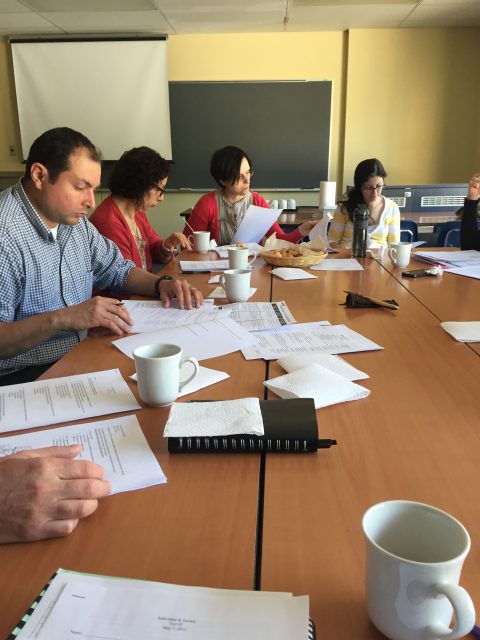 In Fall, UDL@Dawson community members who want to implement the model in one of their courses are given the opportunity to do so, with the pedagogical support of the UDL@Dawson research team and thanks to the release time that the College grants each of the members involved.
The ultimate objective of the community is to become the leading advocate of the UDL paradigm and to provide support to its members in their journey towards inclusion.
2019 Cohort


Economics, Humanities, Philosophy, Physical Education.

2018 Cohort


E-Learning, French, History, Physics.

2017 Cohort




English, History, Journeys, Physics, Physiotherapy, Student AccessAbility Centre.

2016 Cohort

English, Library, PhysEd, French, Humanities.

2015 Cohort

Spanish, Philosophy, Psychology, Sociology, Student AccessAbility Centre.
©Photo Credit for banner: Sarah de Guzman