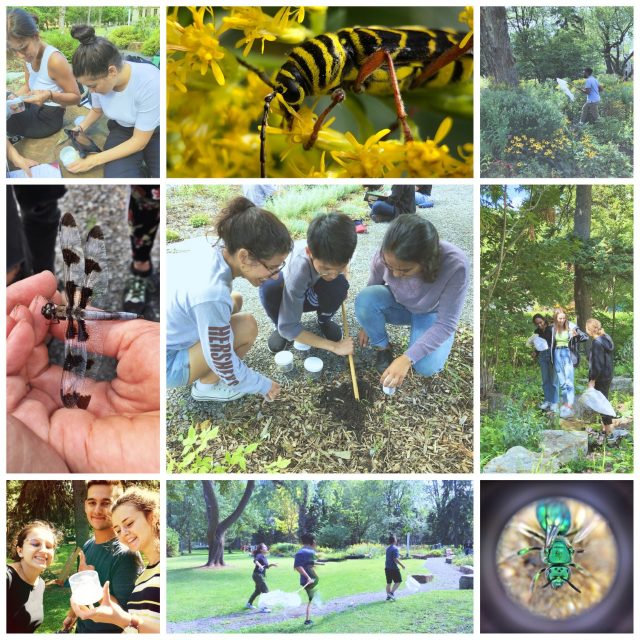 Breaking Down Walls: Using Outdoor Classrooms to Stimulate Learning
Introduction
One might think that having a college campus in an urban setting would be isolating from nature, but at Dawson we are surrounded by green spaces and locations specifically designed to be used as outdoor teaching platforms. In this article, we will explore some of the benefits of outdoor pedagogical practices from a theoretical standpoint, dig deeper into the concept of a Living Campus and describe how we can use these outdoor spaces.
The value of outdoor pedagogical practices
A growing concern, especially in the field of Biology, is that outdoor education is in decline. Yet, there is an increasing amount of research suggesting that outdoor pedagogical practices can have lasting, positive effects including cognitive, social and physical benefits (Rickinson et al. 2004). For example, students who learn in an outdoor setting have demonstrated an increased ability to think creatively as well as critically, and have shown improved performance on standardized tests (Dyment 2005). Using our Living Campus model for teaching, we have also observed that students generally demonstrate high levels of engagement and enthusiasm.
Student learning that is linked to awareness and interaction with nature, including in urban environments or on local campus grounds, has shown a variety of benefits for learning and well-being, such as fostering systems thinking, promoting sustainable healthy living, encouraging change-makers and choice-makers, and creating models for adaptation in other contexts (O'Brien & Adam, 2016). Fleischner and his colleagues (2017) examine both the pedagogical and personal benefits of outdoor learning. Among these are:
Transforming abstract concepts into reality. This can lead to increased links between affective and cognitive brain functions and provide a stepping stone to higher-order learning.
Creating better scientists, citizens and people, by affecting the human-nature relationships that form the basis for sustainability. This can lead to a lifelong commitment to careers in natural, environmental and medical science.
Our students are usually unaware of the multitude of living organisms that surround them and of the role these organisms play in the ecosystem. We use our downtown campus as a showcase to present the various species found in an urban setting. We discuss how they interact with each other and how they provide us with essential elements such as food, clean air and water, as well as providing other free services, such as cooling our streets in the summertime and pollinating vegetable gardens.
Outdoor campus "classrooms"
With increasing urbanization, and with most Canadian children growing up in cities (UNICEF 2018), outdoor education becomes essential for establishing awareness of biodiversity. Even a city is an ecosystem, and learning how an urban ecosystem functions is critical in our time.
The Living Campus is a concept that integrates educational approaches and views the entire campus as a learning laboratory.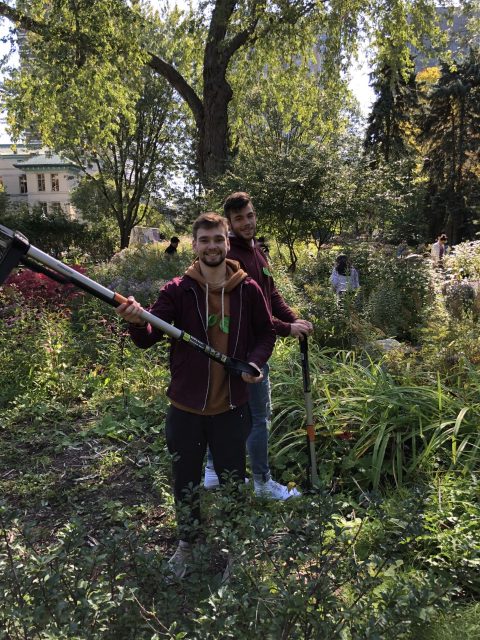 The Living Campus is a concept that integrates educational approaches and views the entire campus as a learning laboratory. This model promotes the use of high-impact educational learning practices and enables teaching, learning and research to occur anywhere within Dawson's block of buildings and 12 acres of green space. Living Campus curricular and co-curricular activities are guided by sustainability principles and utilize portions of the campus (Living Campus Report). Fundamentally, the Living Campus model supports the development of the Graduate Profile outcomes[1] and embraces the strategic value of well-being for all in a sustainable way.
Putting it into practice
Our experience with outdoor learning is in Biology, and therefore the examples listed below involve courses and co-curricular projects in Biology. Biology is a discipline that naturally lends itself to field-based education, and, as such, our teaching strategies have benefited from Dawson's strategic investment in greening our campus and creating locations conducive to outdoor learning. Outdoor education should not, however, be limited to fields that lend themselves well to this pedagogical practice. If we hope to follow a strong model of sustainability, nature should be considered in everything we do (see Figure 1).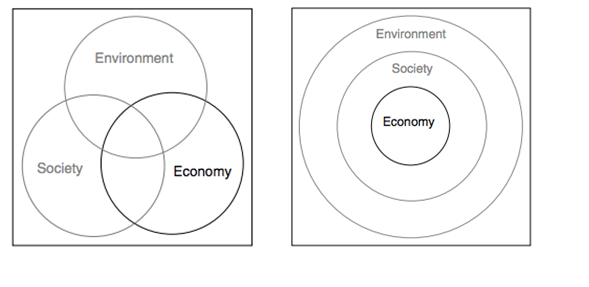 Below, we will present some examples of how outdoor learning has been used in some courses, and discuss some of the challenges we faced and how we met them.
Entomology Laboratory in Environmental Biology
Environmental Biology is a second-year option course for pre-university science students. Before it was created, we were informed that there would not be any laboratory space available for the course, since the biology laboratories are the bottleneck for the entire Science Program and all available space had been allocated to existing courses. Rather than view this as a setback, we accepted it as a challenge. We created Living Campus activities that aligned with the competencies of the course, and now the course is offered with all laboratories occurring outside.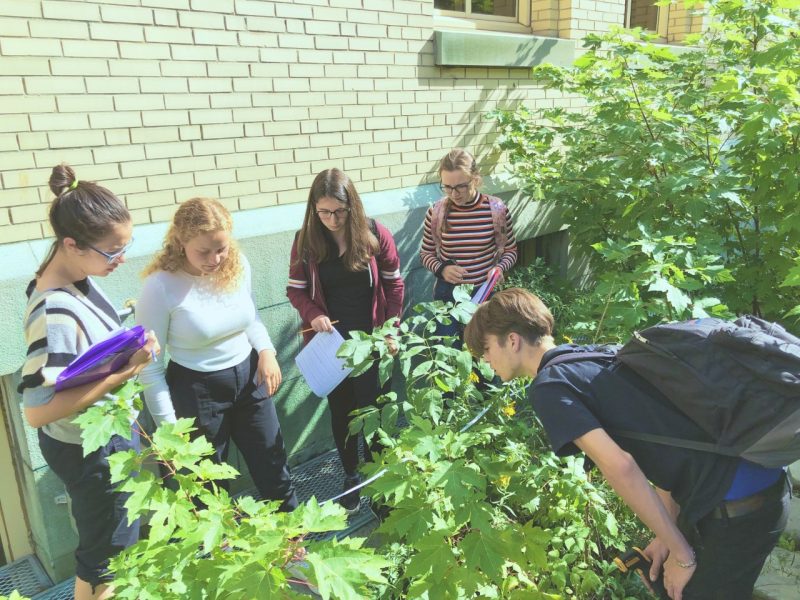 In the first week of classes, students in this course are given insect nets, portable microscopes, field guides and containers, and are then sent into the Peace Garden to catch as many different insect orders as they can find and identify. Several insect traps are set up beforehand to demonstrate how insects are typically caught during actual field experiments.
Through this activity, students are immediately immersed in nature. This contact ignites their curiosity and many say it reminds them of similar childhood experiences. These "lab" activities go beyond the simple act of collecting interesting insects and allow students to develop a new understanding of scientific classification and ecology.
Comprehensive Examination – Independent Study component
The Independent Study is a project that all science students must complete in order to graduate. This project is often integrated into a science option course and can be quite structured and guided. However, the term "independent" can be taken quite literally and students are free to build an entire project of their choice, outside any listed course, as long as a faculty member is available to offer guidance and evaluate the project. When students are looking for ideas, we often encourage them to use the campus as a laboratory. We have supervised dozens of projects involving the campus grounds, including the following examples:
Evaluating invertebrate diversity in Dawson's nurse log. For this project, students used microscopes and keen eyes to identify and document the biodiversity in a dead log over the course of a full semester. As winter approached, the log was colonized by, and provided an essential habitat for, 43 different species. This project also contributed to a second biodiversity study in the same semester.
Quantifying biodiversity on Dawson Campus. A group of keen students decided to count all the different species found on campus, including plants, insects, fungi and animals. Their total was 407 species. Considering the college's downtown location, this is an impressive number.
Chemical analysis and its effect on biodiversity in Dawson's rooftop pond. This project investigated whether the sprinkler system had an impact on the biodiversity of our pond (yes, Dawson has a pond – it is located in the Conrod's garden).
All of the above projects were not only completed as a requirement for graduation, but the students chose to present their work as part of Earth Week and ScienceFest, going well beyond the classroom to share their knowledge and passion.
Comprehensive Examination – General Biology I component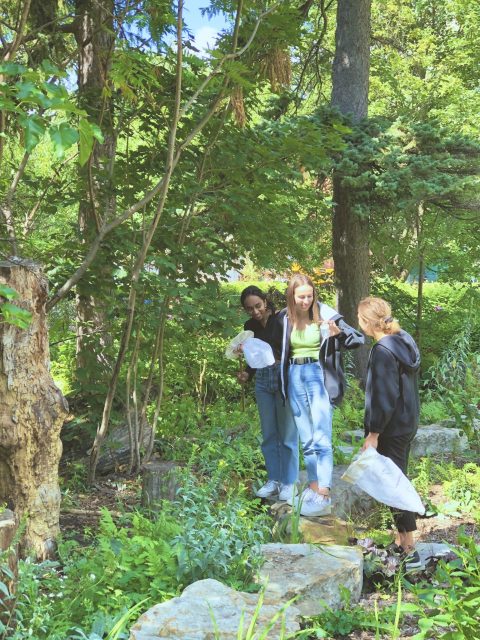 Understanding and applying the scientific method regarding fundamental competencies in the Science Program. In the fall of 2019, the first-year Environmental Science students assessed whether the Peace Garden – the area with the highest plant richness on campus – is associated with increased invertebrate species richness. This study was modeled after methods used in a study published in Science (Roslin et al. 2017). Students learned and applied relevant, current techniques in ecological research and the setting for this was right on our campus.
Conclusion
As with any type of pedagogical practice, teaching in an outdoor environment comes with its own set of challenges. Some things, such as materials and equipment, can be prepared in advance, while others, such as the weather, may force a complete re-organization of the activity. Much more so than in a physical classroom, planning and preparations need to take into account what might go wrong. Carefully organizing an activity and how it will be taught are critical for successful execution, especially when material is being presented in an unfamiliar environment. A test run using the equipment and materials, preferably with a colleague, will help ensure that everything is functioning properly and, equally important, that the activity will work in the selected space. Students who have had the opportunity to complete preparatory readings or assignments will be much better prepared and motivated to undertake the activity in the new environment. Given the possibility that inclement weather or another unforeseen circumstance might force you to cancel the activity, your organization and planning must include a backup plan.
The rewards of seeing the students' excitement and watching their success more than make up for the extra planning that is required to hold a class outdoors.
Teaching can frequently feel isolating. Educators get so involved with researching, preparing lesson plans, correcting and test writing, that we often forget to share our experiences and projects with our colleagues. However, teachers at Dawson are doing amazing things with their students and we know this because we have seen it. That transparency is an added benefit of using an outdoor classroom: it breaks down the walls of your classroom and allows you to share what you are doing with others. Teaching outside makes pedagogical practices visible. The positive responses of students are palpable. Seeing this firsthand in other courses has inspired us, and we hope that outdoor pedagogical practices will continue to grow though our Living Campus.
Upcoming Events
If this article has caught your interest, consider registering for the workshop "Pedagogies of the Living Campus: Experiential Learning and the Sciences." This hands-on workshop will take place Friday, February 28, 2020, at 2:30-4:00. Registration will follow shortly.
Endnotes
[1] Learning to learn, health and well-being, teamwork and leadership skills, critical thinking and problem solving skills, mastery of program competencies among others (Dawson College Strategic Plan 2016-2021)
References
Dyment, J.E. (2005). Green school grounds as sites for outdoor learning: Barriers and opportunities. International Research in Geographical and Environmental Education 14(1): 28-45.
Fleischner, T.L. et al. (2017). Teaching biology in the field: importance, challenges, and solutions. BioScience 67(6): 558-567.
Giddings, B., Hopwood, B., and O'Brien, G. (2002). Environment, economy and society: Fitting them together into sustainable development. Sustainable Development 10: 187-196.
O'Brien, C. and Adam, C. (2016). Sustainable happiness, living campus and wellbeing for all. International Journal of Innovation, Creativity and Change 2(3): 57-70.
Rickinson, W., Dillon, J., Teamy, K., Morris, M., Choi, M.Y., Sanders, D., and Benefield, P. (2004). A review of research on outdoor learning. National Foundation for Educational Research and King's College London.
Roslin, T. et al. (2017). Higher predation risk for insect prey at low latitudes and elevations. Science 356(6339): 742-744.
United Nations Children's Fund (UNICEF). (2018). Advantage or Paradox? The challenge for children and young people of growing up urban. ISBN: 978-92-806-4977-2