Dawson College Homepage
This is the place
Dawson College, located on 12 acres of green space in downtown Montreal, is one of the largest CEGEPs in Quebec. Dawson students are enrolled in full-time and part-time studies in 26 programs and take part in various activities, including student social clubs, Model UN, S.P.A.C.E., Sustainable Dawson green projects, BBQs, talent shows, and intramural sports. This video will give you an idea of campus life at Dawson.
Request Information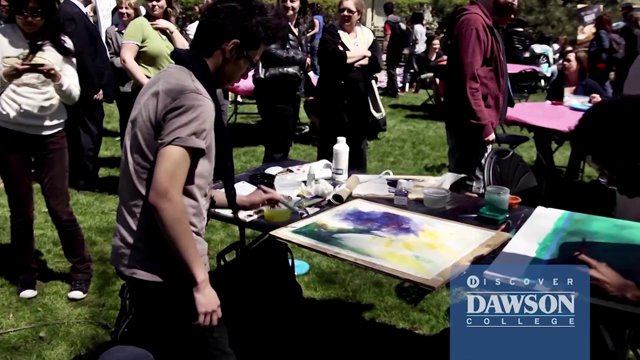 The Dawson Advantage
Dawson College was the first anglophone college to be established in the CEGEP network. Since 1969, more than 70,000 people have received a college diploma from any one of the 5 pre-university programs or 21 career/technical programs offered at Dawson. Graduates have gone on to make their mark in every field, from the arts and law, to medicine and business, politics and academia.
As an academic leader in college education, Dawson is responsible for ensuring program quality, the delivery of pedagogical services and ultimately, student success. The Dawson community is committed to the pursuit of academic excellence, producing graduates who are informed, responsible, and fully engaged individuals. The College supports an impressive number of innovative projects that enhance the academic experience of students and fosters a greater commitment to the larger community.
Built in 1908 as the Mother House of the Congregation of Notre-Dame for a teaching order of sisters, Dawson College took up residence in 1988 after major renovations and expansion.
Founded In 1968, Dawson received its charter to become the first English-language CEGEP in the Quebec network. In September 1969, the College and its 111 teachers welcomed the first incoming class of 1,655 students. Today, Dawson College has a student population of 10,000 with 600 teachers and 400 non-teaching staff.
Dedicated teachers offer students an innovative and stimulating learning experience both inside the classroom and laboratory environment and within their community.
Professional and support staff offers Dawson students every opportunity to succeed in their studies and extracurricular activities with specialized services tailored to their individual needs.
Superior facilities are available to students, faculty and staff, from interactive classrooms and labs to sports installations in the Tony Proudfoot Gym to living classrooms on rooftop gardens and the Ecological Peace Garden, 20,000 square foot testament to perseverance and courage.