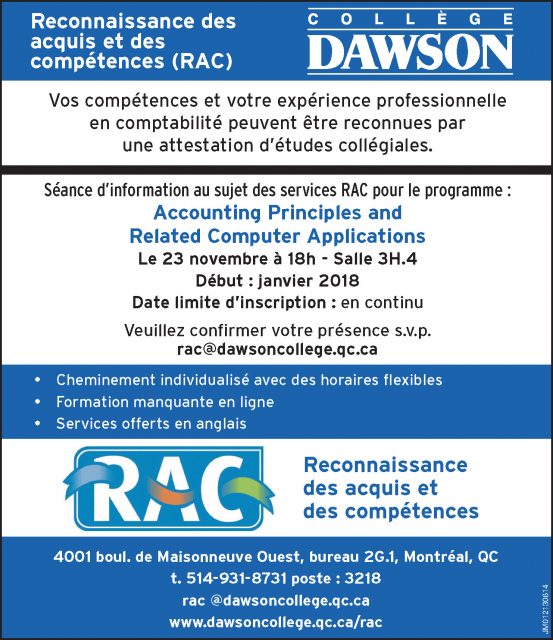 What is a RAC process?
The Recognition of Acquired Competencies (RAC) process provides individuals with the opportunity to have their experience and competencies acquired in the workplace, recognized and accredited. A RAC process will allow you to work at your own pace and according to your schedule. It is also rigorous process based on the program of studies and involves a significant effort and commitment of time.
Who is eligible for RAC?
RAC is for adults who have a significant experience in a specific field and wish to have this experience officially recognized. To be eligible for a  RAC process, you must be admissible to our AEC program. The requirements for admission are listed under the admissions tab.
For more general information about RAC, check out Qualification Montréal's website. Please note this site is only in French.
What are the steps involved in the RAC process?
Information Session (Initial Contact)
If you feel that you have the skills and knowledge that are included in the competencies of the program for which RAC services are offered at Dawson College, you should attend an information session or make an appointment with the RAC advisor. We will answer any questions you might have about the process and help you to determine whether or not you have sufficient experience to be eligible for a RAC process.
Candidate Application and Self-Assessment
After the initial contact you must prepare an application for admission to the College. The following documents must be included in your application package:
the AEC application form;
your official transcripts (including High School, College and University – if applicable);
a copy of your birth certificate if born in Quebec or any other province in Canada;
a copy of both sides of your Canadian citizenship card or Permanent Resident card if born outside of Canada;
an up to date curriculum vitae;
a $60 fee ($30 application fee and $30 RAC file opening and analysis fee).
You will also be required to complete detailed self-assessment forms which will help you ensure that RAC is right for you, and will serve to support your application for admission to the RAC process.
File Analysis
The College will review your application to determine whether or not you are eligible for admission to the AEC program and a suitable candidate for the RAC process. We will ensure that you file is complete and if you are eligible, contact you in order to schedule a validation interview.
Validation Interview
During the interview, you will meet with a content specialist who will review the information in your CV and self-assessment forms and with a RAC advisor, will make a final decision about your admissibility to the RAC process. The content specialist will also prepare recommendations regarding the assessment options available to you for each of the competencies in the program.
Evaluation of Competencies
The College will evaluate your skills and knowledge in order to gather the proof required to recognize your competencies. The RAC advisor will discuss the assessment options that are available to you and help you to develop a plan to prepare for your evaluations. With the support of a content specialist, you will complete the documentation necessary to assess your mastery of each competency in the program.
Recognition of Competencies or Training/Upgrading Activities
Once you have completed your evaluations, your competencies will be officially recognized. If there are any elements missing, the content specialist will also develop a plan to help you fill the gaps in your learning. This might involve anything from completing brief assignments or on-line modules to, in certain cases, taking courses at the College.
Please Contact CTD Reception for more information:
ctd@dawsoncollege.qc.ca