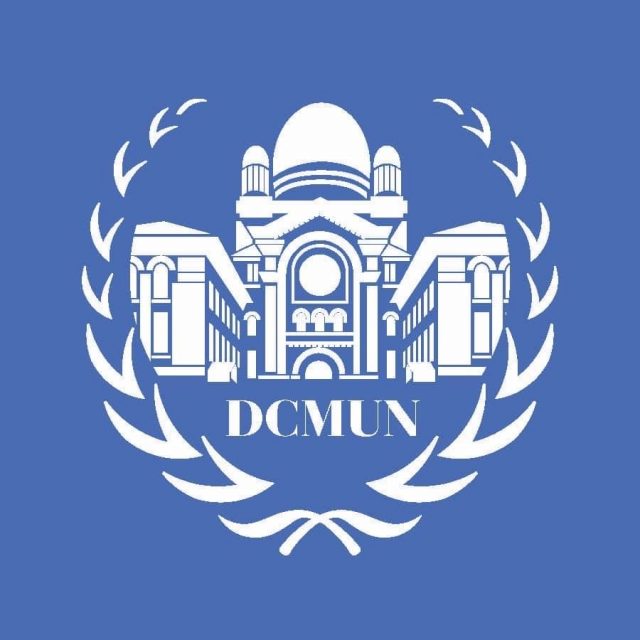 The Dawson College Model United Nations (DCMUN) has attracted a large number of new and returning students ever since its inaugural 2010-2011 season. Last year alone, we had approximately 60 active members.
DCMUN is a recognized and valued para-academic activity at Dawson, and students, who work in conjunction with Faculty Advisors, are part of all aspects of recruitment, training, and social engagement. The strong sense of community and camaraderie, as well as a robust training programme, have allowed students to develop lasting friendships, connections, and valuable skills in diplomacy, research, leadership, and communication.
Our student delegates and delegations have impressed conferences with their preparation, professionalism, and performance – whether they win awards (as they regularly do) or not. DCMUN is also known for its tight, well-organized activities; we value professionalism at all levels of our organization.
DCMUN is not immune to the interesting circumstances in which Dawson and the global Model UN community finds itself, and therefore all of DCMUN's 2020-2021 activities will be held online. To that end, we are organizing a revamped training schedule that will be focused on online and hybrid Model UN conferences, and we are creating safe online spaces (e.g., Discord, Facebook, etc) for our students to connect and interact.
We are an inclusive organization; we invite all students to participate in Model UN to the limits of their interests and abilities, and we ​usually offer students the opportunity to attend conferences locally (MUNC, McMUN, etc), nationally (NAMUN), and internationally (NMUN, WorldMUN).
Although we will not ​be travelling to in-person conferences this year due to the pandemic, the unique opportunity to attend more national and international conferences online is now possible. We are also excited by the number of speakers and panels we can offer our students virtually, which would have been inaccessible under normal circumstances.
DCMUN is ready to welcome its new cohort of students and get the 2020-2021 season off ​to a great start!
​Feel free to contact the Faculty Advisors for more information and visit our official DCMUN Facebook page.