Department Co-Chairperson
Department Co-Chairperson
Explore creativity and imagination in action.
This three-year career program will train you to work as a professional actor, exploring a wide range of acting techniques for theatre and film, with performances both in-studio, and in full-scale theatrical productions staged in Dawson's new theatre. Our training comprises conservatory style, in-studio classes in acting, voice, movement, improvisation, stage combat (including sword-fighting), dance, and acting for camera. We also provide a well-rounded theatrical education with classes in technical theatre, classical and contemporary text, and theatre history.

What's On?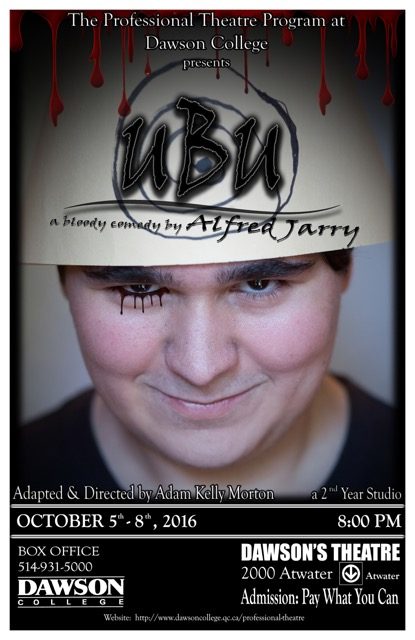 Ubu
By: Alfred Jarry, adapted and directed by Adam Kelly Morton
Students: Second Studio, Year 2, Group 2
Dates: Wednesday, October 5th to Saturday, October 8th, at 8pm
Tickets: 514-931-5000
In 1896, young Alfred Jarry's brutal comedy "Ubu Roi" opened and closed the same night, spurring riots in the streets of Paris; this ridiculous play—about a king and queen who slaughter everyone and get away with it—overwhelmed the cultured audience. For the few years left in his drug-and-booze-addled life, Jarry became obsessed with Père Ubu, writing more works about the violent, boorish, ineffably stupid and gluttonous king, and his murderous wife.
More than a century later, in this new adaptation of all three Ubu plays, the vicious creation of Jarry not only holds up—it is appallingly current.
Career Opportunities
Graduates of this program typically work with professional theatre companies, and in film, television, radio, voice-over, and motion capture. Our department helps prepare graduates for the world of professional acting with information about agents and their requirements (including headshot photos, demo reels, and online self-promotion); audition preparation, including general auditions for the Quebec Drama Federation; and Montreal film/theatre production info.