Engaging students by design
Note
Supporting Active Learning and Technological Innovation
in Studies of Education
SALTISE
If you engage students in preparing ahead of class, help them practise what they are learning during class, provide opportunities for students to use concepts and content while you coach them to think deeply… you are using active learning instruction.
Essentially, this approach places students at the centre of the classroom activity by designing ways for them to do and think about what they are doing.1 This means they will engage in cognitive, metacognitive, social and motivational tasks. This approach to teaching promotes critical thinking and the development of self-regulation.
Elizabeth Charles (Photography)
Would you like your students to connect more often, more deeply and more consistently with what you are teaching?  Meet SALTISE.
SALTISE is a professional learning community of over 1000 college and university faculty, researchers, professionals and graduate students. They support, develop, test (through research) and promote innovations in pedagogy and educational technology in an effort to increase student engagement and improve learning.
Educators from all disciplines are welcome in this community where the sharing of successes, failures, resources, strategies and information helps teachers learn from one another.
Activities and services provided by SALTISE are varied and offer educators multiple ways to connect. For example, SALTISE hosts an annual conference in June (this year at Dawson), curates a website loaded with resources for teachers, offers mini-grants that fund a variety of projects and administers a subsidized PhD program in conjunction with the Université de Montréal. Local communities associated with SALTISE, such as the Dawson Active Learning Community (DALC), are another way for educators to connect.
How do we achieve change? We do so by coming together and supporting each other as a community. Community allows us to find others who care about the same things, which in turn provides us with a way of moving change forward.
                                                                    Elizabeth Charles (Photography)

SALTISE was started in 2011 by Dawson teacher and learning sciences researcher Elizabeth Charles and John Abbott teacher and researcher Nathanial Lasry, with a Chantier 3 grant awarded to Dawson College, Vanier College, John Abbott College and McGill University. The community has grown to include faculty and professionals from colleges and universities in Quebec and elsewhere in North America. SALTISE is currently funded by an Entente Canada-Quebec (ECQ) grant, with additional support from partner institutions.
Annual conference – you are invited!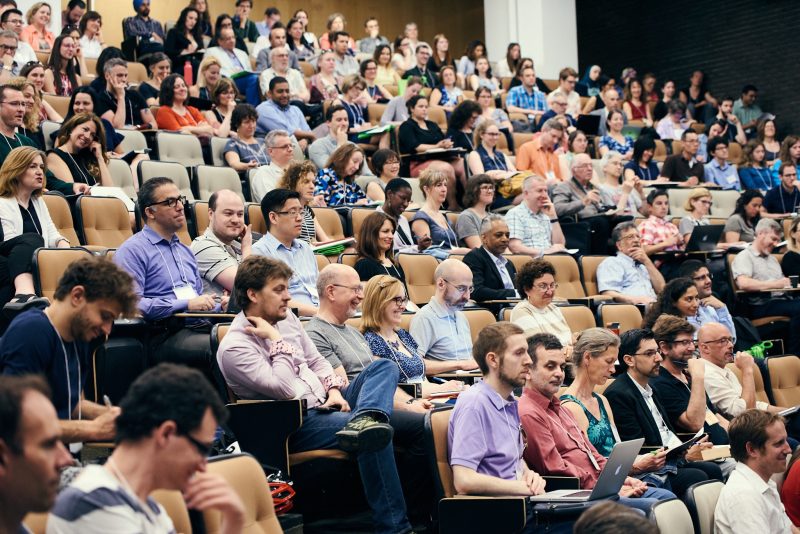 On June 3rd and 4th, the eighth annual SALTISE Conference will take place at Dawson College. This year's theme, Promoting Deeper Learning: From Analytics to New Strategies, will be addressed by keynote speakers David Usher (Reimagine AI), Alyssa Wise (New York University) and Oliver Palmieri (Ubisoft). The conference registration is free for Dawson faculty and staff.
Over the years, the SALTISE Conference has attracted close to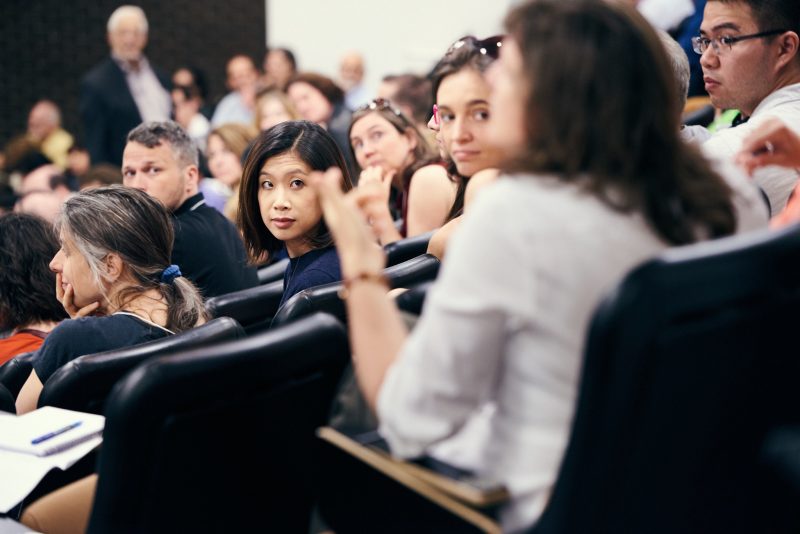 2000 faculty and graduate students from disciplines in the sciences, social sciences, arts and technologies. Attendees have come from almost every post-secondary institution in the province — English and French colleges and universities. The conference gives educators an opportunity to learn, network and build community. As Yann Brouillette from the Dawson Chemistry department explained, "As a Dawson chemistry educator, at a SALTISE conference, I was exchanging with a physics educator I had just met. He was developing the free, online peer-instruction platform called myDALITE. Not only did I use it and like it, I also contributed to improve the tool. A year later, I was the one giving a talk about myDALITE at the SALTISE conference, inspiring other teachers to adopt and benefit from this new tool."
At SALTISE conferences, you realize your colleague is developing tools and methodologies you didn't know about, but are exactly what you need.                                                        Yann Brouillette (Chemistry)
In addition to conference sessions on a wide variety of topics, awards are given to one college and one university educator for best practices and pedagogical innovation. Past awards have recognized excellence in teaching and contribution to the community.
Website and resources
In order to support innovative, evidence-based pedagogical approaches that work, SALTISE has developed resources and created a website that connects teachers and tools. There are two types of pedagogical tools available on the SALTISE website.

Strategies and Approaches are a collection of the most frequently used methods for engaging students. They are based in educational research and address the question of how to sequence tasks to create better opportunities for learning, including how to get students to ask meaningful questions.

The Activities section of the website offers a curated collection of teacher-produced applications that use instructional strategies and/or approaches with embedded content. They are tried and successful practices and are presented in "workflows" that clearly demonstrate the ways teachers have brought together both content and strategies.
These collections are easy to browse and navigate using multiple filters — discipline, class size, purpose. The organization of the website promotes networking by identifying teachers who have extensive experience using innovative pedagogies and "soft tools," such as the workflows that facilitate understanding, adaptations and trials. To see examples of teachers who use a particular strategy or approach, simply click on the "who's using it" section of the site.
Note
I use the iPad Pro to do a number of things in the classroom, and in preparation for the classroom. I organize courses on my desktop at home and upload them to the iPad so that when I get into the classroom I have access to the research material as well as to any lectures I've written. I also use it for highlighting and annotating text. I find that it is very useful for students to see how I interact with texts when I read them — it provides them with a model of what that looks like when they see me referring to a text I've written all over, as I'm looking for answers to a specific question. It's a way for me to model an active type of "listening" to the text, and then to expect it from them in our conversations. Because I do all my reading this way, it means that even the outside research I do can easily be brought into the classroom conversation because I do this all on the iPad.
Beyond that, I use the iPad functions to let me annotate students' assignments and write comments that I can then easily upload to Moodle. It's not unlike giving paper feedback, except that this way there is always a record of what I've said, and fewer trees go down in the process. I use the Excel spreadsheets app to create lectures using a web-based platform called Timeline. These timelines are all embedded in my Moodles, but because I can access them through the Excel spreadsheets app, I can always edit them in real time, which means it's very easy to continually improve them.
Jocelyn Parr (History)    
Mini-grants program
SALTISE has awarded more than $75,000 in mini-grants. Over 100 educators, representing 14 institutions, have benefited from this program, which has existed since 2013. The aim of the mini-grants is to support efforts to develop materials and tools that enrich students' learning experiences and promote the use of active learning instruction at the post-secondary level. Eligible individuals include faculty, instructional designers and professionals, as well as post-doctoral and graduate students working with eligible faculty members.
One recipient of a mini-grant, Dawson History teacher Jocelyn Parr, used the funds to purchase an iPad Pro. Using this technology, she was able to enrich her students' learning experiences by, among other things, providing more feedback and modeling how to learn from historical texts. In doing so, Jocelyn has created opportunities for them to develop deeper thinking and self-regulation skills.
Note
I am in the 4th year of my PhD at the Université de Montréal in the Faculty of Education's Didactique program. While it's a challenge to balance work and studies, the structure of the research team I work with at Dawson, along with the financial support that pays for tuition, makes it a deeply satisfying and manageable process. Undoubtedly, the PhD program has impacted my teaching by allowing me to better connect practice with pedagogy and link it all to evidence.
Chris Whittaker (Physics)
SALTISE PhD program funding
The SALTISE PhD funding program provides a great opportunity for teachers to extend their understanding of evidence-based pedagogies by becoming practitioner-researchers. The program is part of an ongoing effort to promote a model of faculty development that recognizes the importance of a true partnership between educational researcher and practitioner. In doing so, it provides a way to develop deep expertise and pedagogical capacity within the CEGEP system, thereby enriching our understanding of teaching and learning. SALTISE has supported the pedagogical development of five college faculty members through this PhD program.
The Dawson Active Learning Community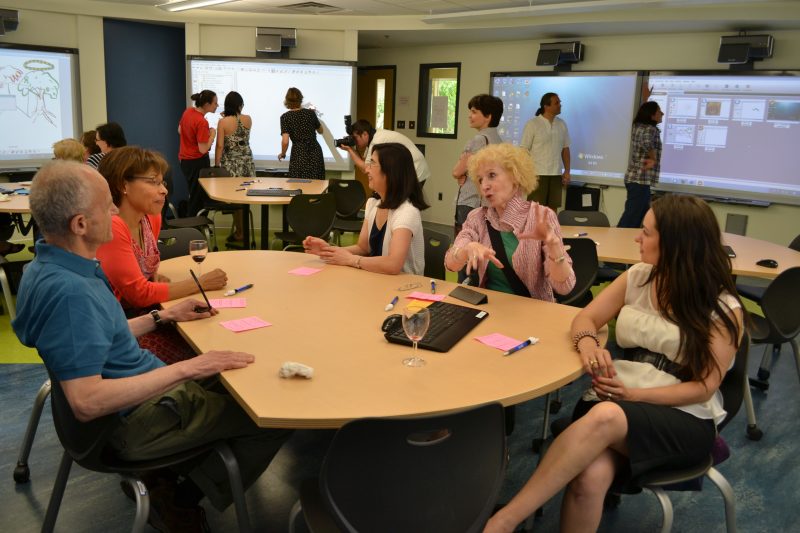 An easy way for Dawson faculty to connect with SALTISE is through the Dawson Active Learning Community (DALC). This collaborative group of peers meets regularly to explore and build capacity in the Active Learning approach.
DALC holds meetings and workshops that are open to all Dawson faculty, operates a Fellows Program that provides full-time Dawson faculty members with support to develop knowledge and discipline-specific activities to be used in the active learning (AL) environments and coordinates the scheduling of the Dawson active learning classrooms.
To learn more about the SALTISE community, check out the website and attend the conference.
Footnotes
[1] C.C. Bonwell and J.A. Eison,
Active learning: creating excitement in the classroom
, ASHE-ERIC Higher Education Report, 1991; A.W. Chickering and Z.F. Gamson, "Seven principles for good practice in undergraduate education"
AAHE Bulletin
(March 1987): 3-7.