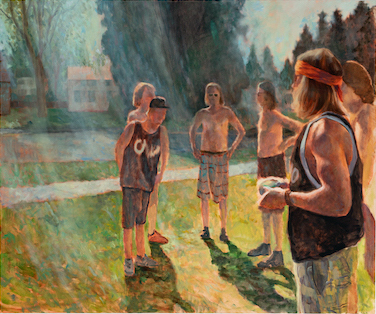 David Stewart: Cuts from PoCo
My painting practice has an ambivalent relationship with the history of Canadian landscape painting. I am interested in how romantic notions of nature that correspond with popular modernist Canadian painters often fall apart in a contemporary context.
I use photographs of my suburban hometown of Port Coquitlam as the basis for many of my paintings. While these photographs have a connection to my own history, they also connect to a larger history of Canada and the legacy of colonialism in our country. The suburbs are a place where conformity and appearance have more importance than truth or inquiry. Uncomfortable questions are to be avoided, which I find disturbing as a citizen but intriguing as an artist.
How can contemporary landscape painting in Canada confront its problematic legacy of celebrated Canadian landscape painters? As an artist of European settler heritage raised in the suburbs of Vancouver, I continue to ask this question in my own work presently, and moving forward. (David Stewart)
BIO
Born in Saskatoon and raised in Port Coquitlam, B.C., David Stewart has completed a BFA at Emily Carr University and an MFA at Concordia. He has shown his work in Vancouver's Phoenix and South Main Galleries (2018), as well as in Fresh Paint, New Perspectives at Galerie Art Mûr (2020), and Domestic at Cache Gallery (2022). He is the recipient of the Jackson's Painting Prize (Landscape) and two Elizabeth Greenshields grants. Stewart lives and works in Montreal.
Featured artists:
David Stewart