Important
In order to participate, please register using the following link: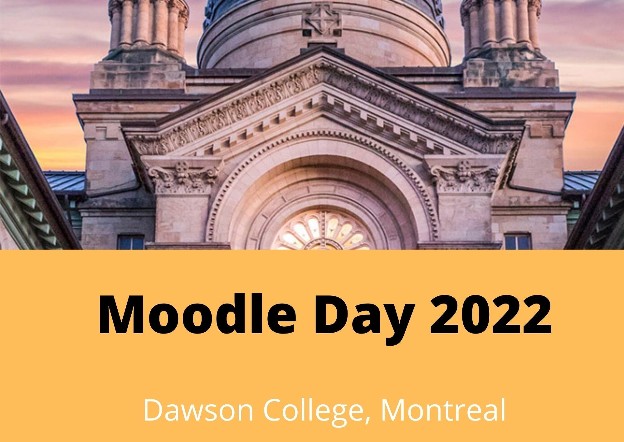 May 27th, 2022 (Friday) –  Online through Zoom & BBB
Presentations Schedule
8:30 AM   
Let's Bring this to the Sandbox! Learning Pros Playing Together with Moodle
Presenter: Alexandre Enkerli, Technopedagogical Advisor, Eductive
Video (27 min)
Sometimes, the best way to make Moodle work for more people is to experiment with it. From teachers and pedagogical counsellors to librarians and technopedagogues, learning professionals can achieve a lot through online collaboration. Using recent examples from projects supported by the Eductive team, this discussion will focus on how we might leverage a Moodle instance to bring learning pros to collaborate thoughtfully on the platform. 
---
9:00 AM
Integrating

V

ideo in Moodle with Panopto
Presenter: Marc Couture, Université de Sherbrooke

Video (31 min)
As a result of the Covid-19 pandemic, many in-person activities were rapidly transposed to an online format. Teachers needed to adapt quickly and used Microsoft Teams or Adobe Connect to communicate with students, while continuing to rely on Moodle to manage asynchronous communications (using forums) and activities such as online assignments and quizzes. The use of video as a course content delivery medium as well as source material for assessments exploded during this period. This presentation will focus on how our team successfully integrated Panopto's cloud-based video recording and hosting services into Moodle, developed a new assignment plugin to help students submit their work and steps that will soon be taken to limit direct uploading of video to a course site to encourage teachers to use Panopto. 
---
9:30 AM
Holding Effective Virtual Classes with

Bigbluebutton

+ Moodle
Presenter: Freddy Dixon, BigBlueButton
Video (24 min)
BigBlueButton is now integrated into the core of Moodle 4.0.  This presentation dives into teaching and learning theory in the virtual classroom and how BigBlueButton enables the instructor to apply this theory to deliver effective online classes.   We'll talk about the future of BigBlueButton and future enhancements planned for the BigBlueButton + Moodle integration. 
---
10:00 AM
Using

S

ocial

A

nnotation in Moodle
Presenter: Eryn Barker, Hypothesis
Video  (29 min)
Eryn will discuss how collaborative annotation with Hypothesis can be used to make student reading visible, active, and social. She will also demonstrate how teachers are using annotation-powered reading to empower student writing, helping students develop these foundational academic skills. In addition to sharing pedagogical best practices for collaborative annotation, Eryn will demonstrate how Hypothesis can be used with course readings in Moodle. After presenting, Eryn will lead participants in a discussion about how Hypothesis collaborative annotation can be used in their specific disciplines and with their specific teaching and learning objectives. Participants can expect to come away from this session with a clear idea about how they can start incorporating collaborative annotation into their courses to improve student success. 
---
10:30 – 10:45 AM : Break
---
10:45 AM
A Moodle-based, Open-source English Bridge Course for Access, Equity and Success
Presenter: Chloé Collins & Rebecca Peters, Cégep Édouard-Montpetit

Video  (19 min)
Equitable access to success in English formation générale courses for students in French cegeps province-wide, through an open-source Moodle course, built bottom-up around student needs, with both asynchronous and synchronous potential. 
---
11:15 AM
What's New in Moodle 4.0
Presenter: Rafael Scapin, Coordinator of Ed. Tech., Dawson College
Video  (33 min)
Moodle has a new personality, with an improved new version. Moodle 4.0 introduces a new design language, a better user experience, visual styling and is responsive and consistent between devices. The new navigation hierarchy is simplified and shows what is contextually relevant. Access to the most used items is delivered through tabbed navigation, which is consistent sitewide. These improvements reduce cognitive load and allow educators and learners to easily find what they want, when they need it. Come and see all the new features of your new and improved Moodle!