All events are free. Please register for an activity by either clicking on the Registration Link. Events such as our collaboration with Dawson Dinin' and Daphne Boyer's art exhibition at the MAI do not require registration. They are free & open to the entire Dawson Community.
---
COMMUNITY EVENTS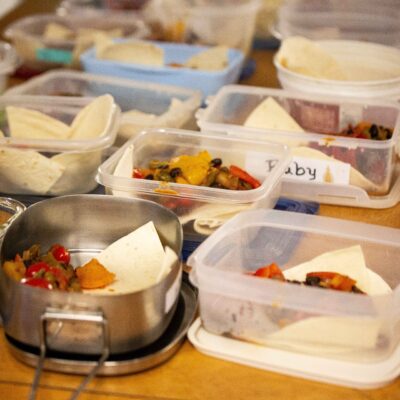 Join the Peace Centre & the Dawson Student Union in the return of Dawson Dinin' Peace Week Edition. From September 13th -16th the Dawson Community will be invited to drop off their reusable containers at the Conrod's kitchen prior to 11:30 am. Pick up will start as of 1:00 pm. All meals will be vegan. If you are interested in volunteering for Dawson Dinin' during Peace Week please contact Karina D'Ermo. Kdermo@dawsoncollege.qc.ca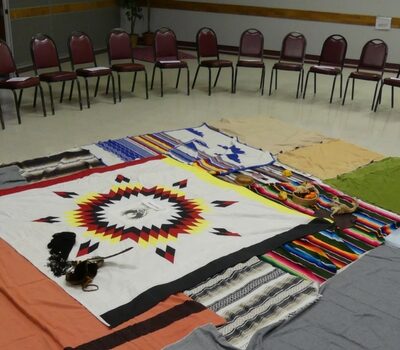 September 13th – 21st: Blanket Exercises
Interested in engaging your students or department mates with the history of Indigenous peoples' as told by Indigenous facilitators? The Blanket exercise is an interactive activity which brings the group through the history of Indigenous peoples in Canada. It is an activity that enables an active reflection of our own history as well as our obligations as settlers within that history. When fully engaged with, it can be a truly transformative experience. This activity can work effectively within the context of the classroom with your students as well as your own department (faculty or other areas of service). If you are interested, please contact Diana Rice to book a Blanket Exercise time with your class or your department, drice@dawsoncollege.qc.ca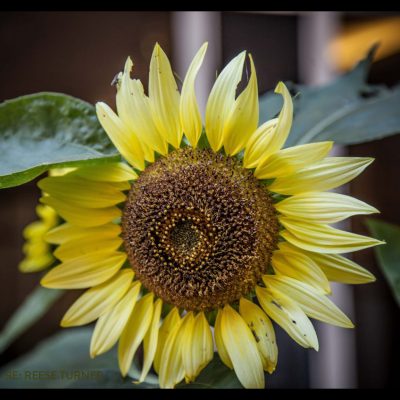 September 13 – September 21: Urban Gardening with Sustainable Dawson. Open to the Dawson Community.
Before the frost comes get your hands dirty with us! Book your class now to spend time in the gardens during Peace Week. Not only will they get a crash course in urban gardening & biodiversity but you and your students will experience the calming and anti-stress effects that the natural world offers. This is an activity that brings together positive action for mental health and learning simultaneously. To book a class please click on the link to fill out the registration form.    If you want to book your space & you are an employee or a student club please contact Diana Rice or Jen de Vera.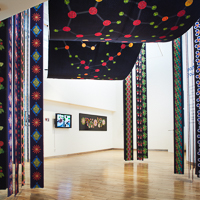 Launching September 8th: The Peace Centre is collaborating with Métis artist Daphne Boyer who will be exhibiting her art at the MAI (Montreal, Arts Interculturels). Her iterative art practice combines plant material, high-resolution digital tools, and women's traditional handwork. Boyer transforms the natural world into brilliant art pieces that enable deep conversations on our obligations to the land, her people, and our need to build relationships to revolutionize our thinking from the individual to the collective. The MAI is a free cultural institution that is open to the public.  
---
SPEAKERS
PROFESSIONAL DEVELOPMENT, EMPLOYEES ONLY. Dr. Sabrina Jafralie, date //time // venue TBD. Join Dr. Jafralie for a two part series that will examine what is a Brave Space, as well as, how do we create one in the classroom that enables us to engage our students in meaningful, powerful, and unsettling difficult conversations ? What are the ways we can practice dialogue that is brave, respectful, and opens minds? Dr. Jafralie will present the work of Brave Spaces, and then in a hands on approach show you how to implement it in the classroom. Dr. Jafralie is an EDI education specialist, a teacher at Westmount Highschool and at McGill University in the Faculty of Education. REGISTRATION LINK WILL BE FORTHCOMING
OPEN TO ALL. September 14, 3:00 pm: Virtual panel with Métis Artist Daphne Boyer, Elaine Humphries, and Métis scientist Dr. Warren Cardinal McTeague.  Are you curious to know what Indigenous science, scanning electron microscopy (SEM) and contemporary art have in common? Join plant scientist Warren Cardinal-McTeague, SEM expert Elaine Humphries, and visual artist Daphne Boyer for a virtual presentation about cedar and sweetgrass – two of Turtle Island's four Indigenous sacred medicines. Dr. Warren Cardinal-McTeague his research program weaves together three main themes: integrative plant systematics, spectroscopy, and Indigenous science. These themes complement each other to address questions about how plant biodiversity has evolved, and how we might use that information for trait improvement and environmental sustainability. Daphne Boyer is visual artist and plant scientist who is known for combining plant material, high-resolution digital tools and women's traditional handwork to create art that showcases her family's Métis heritage and honours plants as the basis of life on earth. CLIC ON THE LINK to register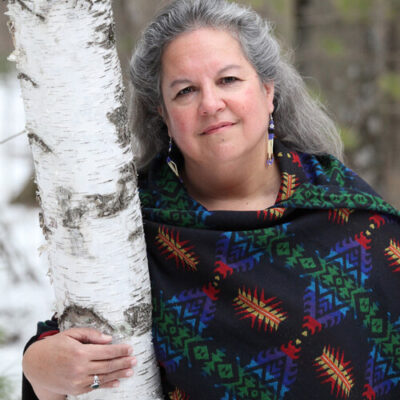 OPEN TO ALL. September 15th, 2:00 Pm EST: Keynote Speaker Dr. Robin Wall Kimmerer (Virtual Event).  Dr. Kimmerer will offer perspectives on Indigenous sciences and western science. Dr. Wall Kimmerer, in her publications and her speaking engagements, proposes a revolutionary way to rethink how we approach the land and the natural sciences. Dr. Robin Wall Kimmerer is a mother, scientist, decorated professor, and enrolled member of the Citizen Potawatomi Nation. She is a SUNY Distinguished Teaching Professor of Environmental Biology, and the founder and director of the Center for Native Peoples and the Environment, whose mission is to create programs which draw on the wisdom of both indigenous and scientific knowledge for our shared goals of sustainability. Her interests in restoration include not only restoration of ecological communities, but restoration of our relationships to land. She holds a BS in Botany from SUNY ESF, an MS and PhD in Botany from the University of Wisconsin and is the author of numerous scientific papers on plant ecology, bryophyte ecology, traditional knowledge and restoration ecology. CLIC ON THE LINK to register
PROFESSIONAL DEVELOPMENT, EMPLOYEES ONLY.
September 16th, 9 am –11 am, room 3F.43: An introduction to Inclusive and anti-racist pedagogies in post-secondary education with Mel Riley Case.  Anti-oppressive education encompasses multiple approaches to learning that actively challenge forms of oppression. It recognizes the impact of power, inequality and oppression on people, and takes action to redress these inequalities. To address the many ways that racism, classism, sexism, heterosexism, and other forms of oppression play out in schools, educators must understand the dynamics of oppression and actively work towards dismantling it. In this workshop participants will identify various forms of oppression at play in the education system and uncover strategies for redress thus creating a sense of belonging for students in the classroom.  Mel Riley Case (she/they) is an Instructional Designer with Concordia's Centre for Teaching and Learning, focusing on Inclusive Pedagogies. Mel spent 12 years as an educator, and 3 years as the Instructional Coordinator for Black Student Flourishing at the Peel District School Board (PDSB) in Ontario. Mel supported and trained faculty on embedding racial, gender, sexuality, ability, and class justice in their pedagogies and practices at all levels in the PDSB. Mel completed their Master of Education at York University where their research considered abolition and reform, and how Blackness is taken up in the education system. Mel's approach is student-centred considering the ways in which classroom environments, curricula and assessments reflect experiential knowledge, access to education, justice, and collective action. CLIC ON THE LINK to register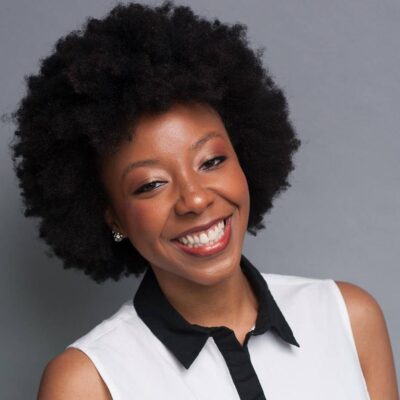 OPEN TO ALL. September 21st , 4 pm –7 pm: Ayvaunn Penn (virtual event). In collaboration with the Creative Collective For Change, we bring you a reading and a moderated discussion with Ayvaunn Penn. Her play For Bo: A Play Inspired by the Murder of Botham Jean by Police Officer Amber Guyger, has initiated the #ForBoInitiative, which utilizes the play as an entry point for further community discussion around issues of racism, systemic racism and justice. Prof. Ayvaunn Penn will moderate a discussion virtually and to give a talk about the practices that are important when working creatively to addressing challenging topics of social inequalities. Prof. Ayvaunn Penn (Columbia University Playwriting Dean's Fellow, Eugene O'Neill National Playwrights Conference Finalist) is all things art and education. She is named by Playbill.com and Black Theatre Coalition as a Next Generation of Black Theatre Professionals honoree. Penn is a playwright-director and lyricist-composer passionate about theatre for social change, applied theatre, and nurturing future generations of theatre artists. She has founded various community projects including most recently: Stethoscope Stage and the #forboinitiative, both using theatre to encourage dialogue and awareness in the face of challenging issues. CLIC ON THE LINK to register