Welcome to Peace Week 2020
Continuing the Conversation: Reimagining, Rebuilding, Reconnecting
Thank you! Merci! Thank you for making Peace Week 2020 such a success and for continuing the conversation.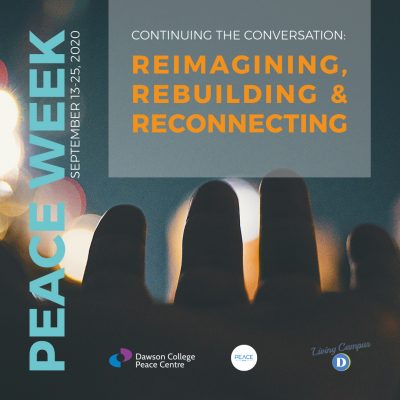 The 5th Annual Dawson College Peace Week, presented by the Dawson College Peace Centre, offers you a variety of activities, speakers, workshops and projects based on the Peace Centre theme this year, Continuing the Conversation: Reimagining, Rebuilding, Reconnecting.
Take a look at our calendar of virtual events, and make sure you register here!
All activities, unless otherwise stated, will be held online.

Why Continuing the Conversation?
It seems like it was only yesterday that the world came to a shuddering stop. It also feels like this pandemic has been going on for over 600 years. In this strange too-short-too-long span of time, we have witnessed and lived through an entire history book of events, movements, and phenomena. Though they may seem to be divisive on the surface, the past 6 months has forced us to stop and listen to the under-heard voices and to see the inequities that need to be addressed. In short, the past 6 months has told us that we need to change, and we need to change our society. We have an opportunity to not only do better, but to be better.
This year's Peace Week will focus on exactly that. It is through Continuing the Conversation that we can Reimagine the paths of healing, Rebuild our societies, and Reconnect through justice, sustainability, and peace. Each strand is tightly woven together: we cannot distinguish one path from the other. It is only by working together, hearing each others' stories, and learning from each other that we can move forward stronger than before.
Each event in this year's Peace Week touches upon one of the three ways we can continue the conversation. It is my hope that by joining us, you too will add your voice, and help us carry our conversations into creating a just, sustainable, and peaceful community.