Welcome to Peace Week 2021
Legacies & Futures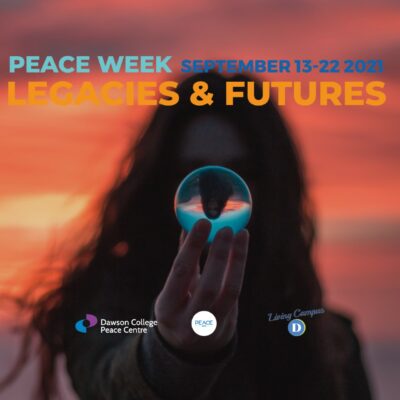 The 6th Annual Peace Week starts September 13th running until September 22nd. Events will range from in-person at the Dawson College urban gardens to virtual & hybrid speakers, and workshops focused on the theme of Legacies and Futures.
How do we look at our legacies? Political, social, legal, educational? What does it say about who we are today? What does it mean for tomorrow? Can we shape a future without looking to the legacy of what has come before us? How do we teach about justice without looking at it's lack in our institutions?
Significant social movements like #BlackLivesMatter, #ClimateJustice, and #IdleNoMore, #EveryChildMatters show us that we cannot move forward without a reckoning of our past, reconciling that legacy with where we are today, and how we move forward in light of our legacies. Our futures depend on bringing together Legacies & Futures. Come and explore these ideas with our speakers, professional development workshops & in-person on campus activities.
Take a look at our calendar of our events, and make sure you register!