Dawson College is proud to offer the Preferred Names Program to its students – a program that offers students' a greater sense of safety and self-determination.
Dawson College recognizes that as a community many of its students use first names other than their legal first names to identify themselves.  A preferred first name is a name that you commonly use that is different from your legal first name.
To acknowledge this reality, Academic Systems and IST have developed an online form that will allow students to request a modification to their first name through their MyDawson portal.
Once the Academic Systems department processes a student's request, all teachers of that given student will receive an email advising them of a change to their class list.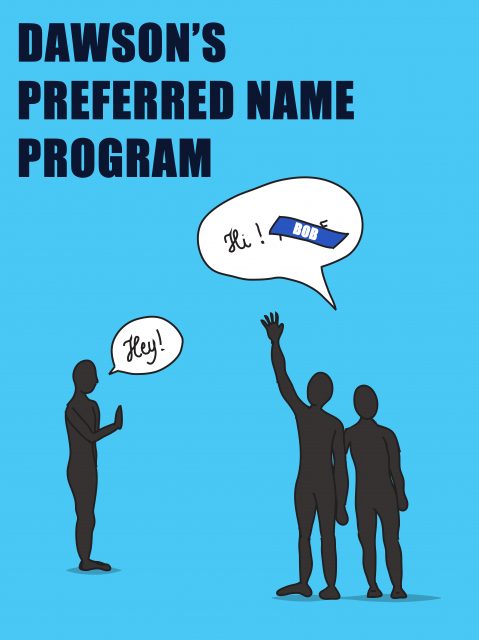 The preferred name will be used in all internal systems, such as:
Moodle
Lea
Student ID card
any future correspondences with the student
See below instructions on how to apply for a preferred first name request.
Questions about this process? Check out our FAQ section below.
For more information, please do not hesitate to contact records@dawsoncollege.qc.ca.
Students may request a modification to their first name through the MyDawson portal. After logging in, click on Preferred First Name Request which is found in the left-hand menu, under My College Services.
1. Read the instructions and confirm your agreement.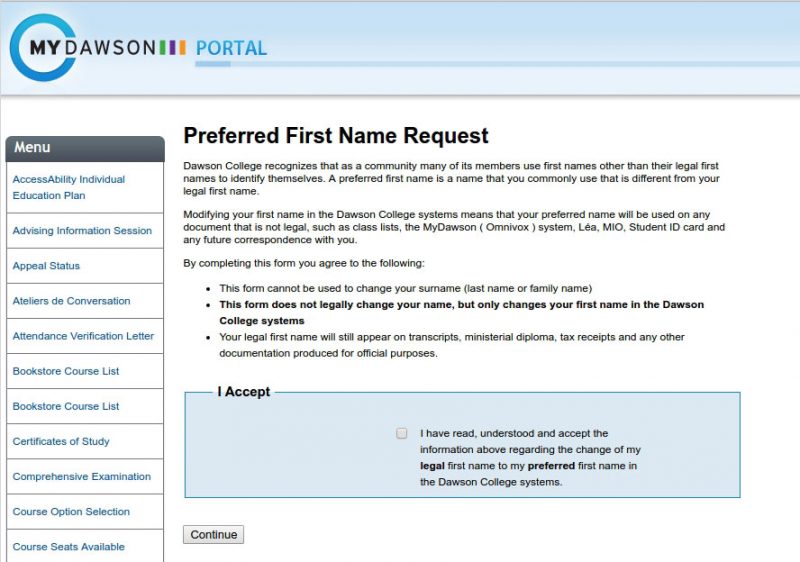 2. Enter your preferred name as well as the reason for changing your current name.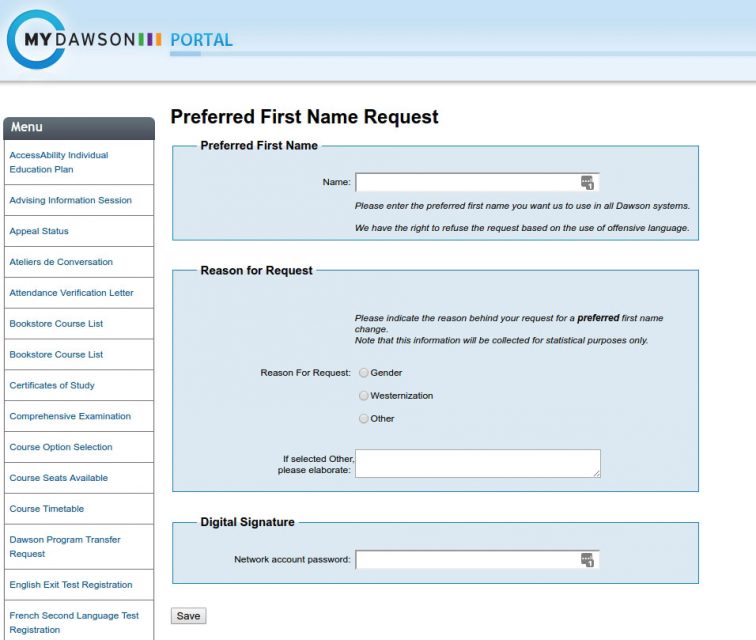 The Preferred Name Request page will now show the status of your request. You must return to the page within 3 business days to see the response from the Records department of the Registrar's Office.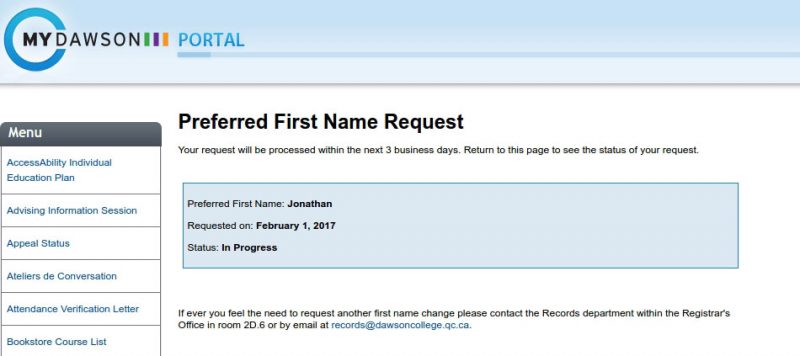 Anyone who feels the need to use a name that is different from their legal name.
We do not get to choose our name at birth, and yet our identity revolves around names. Names carry tremendous baggage and power, and it is only fair to have a choice to decide how we are known. Reasons might include:
Your name does not reflect your gender identity
You have two names, but use only one of them
You go by a nickname by which you are already known
You want to avoid microaggressions associated with having an "unusual" name
You feel uncomfortable with your given name for any reason
And many, many more.
Your name was given to you when you were born, before your sense of identity developed. Even if a student is not yet 18, they are still better placed to make a choice than they were at birth.
College is an environment where students learn to be more independent, and being given the choice to go by a name one is more comfortable with is a way to exercise that independence
Your preferred name will appear on any document that is not legal (e.g. MIO, Student ID, class lists, etc.)
If someone uses the program to give themselves an inappropriate name, the chosen name will show on all non-legal documents. The risk of widespread embarrassment is a strong deterrent for misusing the program.
According to both Concordia and McGill Universities, who already have a similar program in place, there have been no misuses since the program was put in place, that is to say, 2011 and 2012 respectively.