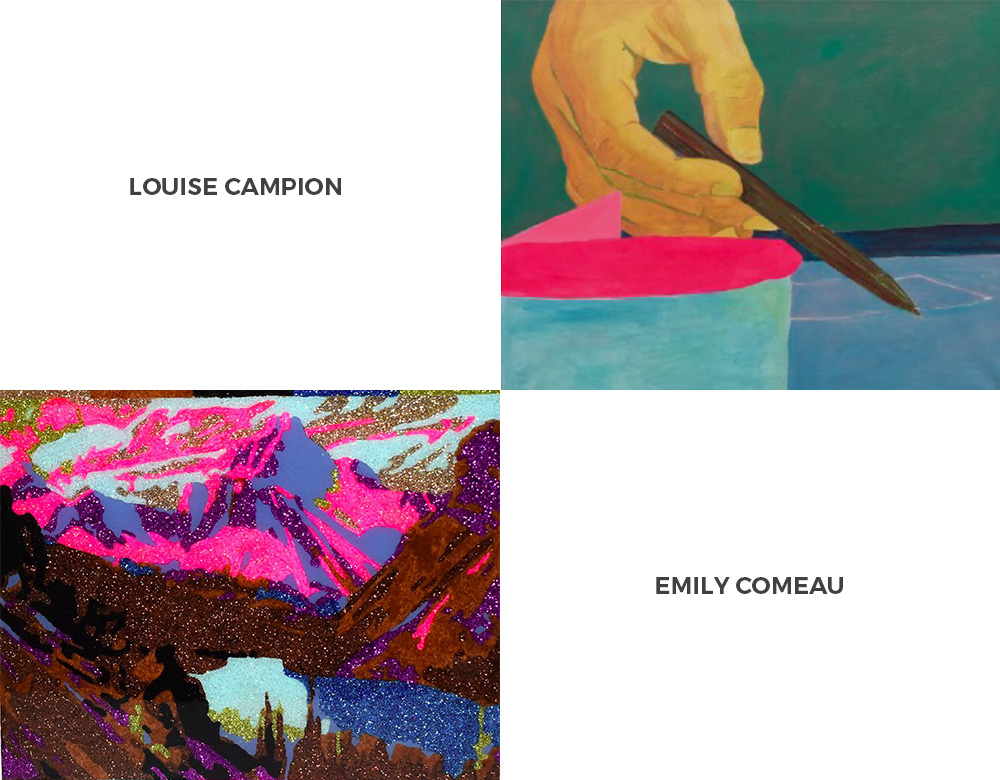 Louise Campion and Emily Comeau: Student Curatorial Incubator
In partnership with Dawson's Department of Fine Arts, the Warren G. Flowers Art Gallery is offering an innovative pedagogical experience for students enrolled in Art Now, the third and final art history course offered in the Visual Art program, currently taught by Gwen Baddeley. Students will be guided and supported in the work of curating an exhibition to be installed by them, and opened to the public from May 2, to May 11, 2022.
The in-class component will consist of research on the work of artists Emily Comeau and Louise Campion, conceptualizing a curatorial vision and writing an exhibition proposal, as well as interpretive labels for the artworks. Experimenting curatorial approaches and working closely with these two practising visual artists will allow students to better understand the complexities of exhibition creation. This experience-based learning will no doubt constitute a transformative experience for the students, and present to the public two artists' work in dialogue around issues of gender and representation in the art historical canon.
Louise Campion is a French artist living and working in Tiohtiá:ke/Montreal (Canada). She attended the Fine Arts School of Lyon (Fr), and completed her Bachelor of Fine Arts in Studio Arts at Concordia University in 2019. Primarily interested by painting and drawing, her current practice focuses on the exploration of awareness and emotional survival in a context of global violence. This year especially, she got really intrigued by the corporate world, its very own codes and dynamics. Her work has been exhibited at the Rialto Theatre (Montreal), la Salle Vasse (Nantes, Fr), the FOFA Gallery (Montreal) and others. She curated shows at Eastern Bloc and for the Art Matters Festival at Espace 8 (Montreal), and was part of the 2020 selection of ARTCH – Emerging Art Market.
Emily Comeau is a Montreal-based conceptual artist. Her body of work is diverse, frequently utilizing materials such as glitter, plaster, canvas and string. Primarily process-driven, her work is often meticulously crafted, from the precise arrangement of millions of grains of iridescent plastic to obsessive collections of colourful string, engaging the senses in unexpected ways and challenging people's expectations of textile art. Originally from Nova Scotia, she attended NSCAD before completing her BFA with a specialization in Fibre Arts at Concordia University, she also holds a diploma in Costume Studies from Dalhousie University. She is a recipient of an Awesome Ottawa grant, the Prix Diagonale and exhibits regularly across Canada and the United States.
This pilot project made possible by the generous support of Dawson's Dean of Creative and Applied Arts, the Department of Fine Arts, and the SSAP.