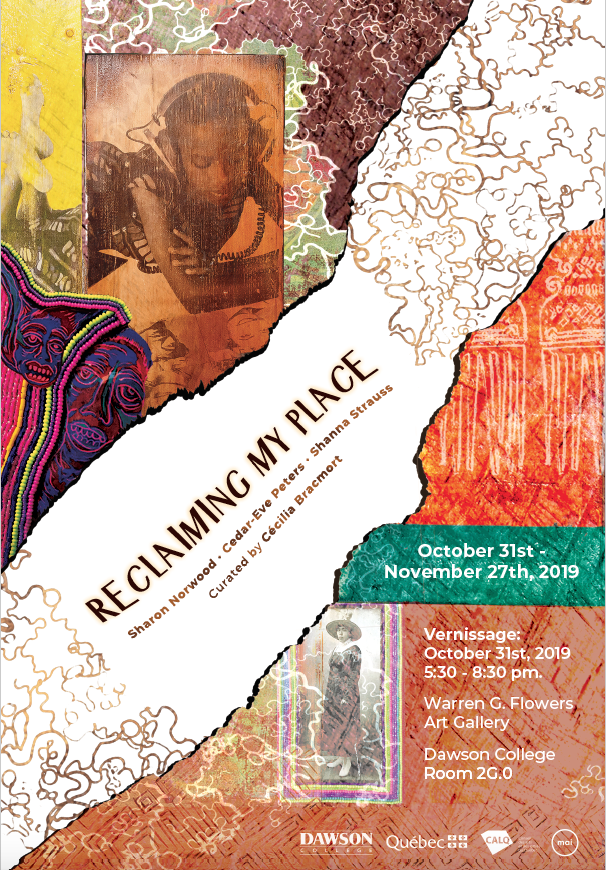 Reclaiming My Place
Curated by:
Cécilia Bracmort
Reclaiming My Place is a group exhibition featuring the work of Sharon Norwood (Toronto/Savannah), Shanna Strauss (Montreal/Bay Area,CA) and Cedar-Eve (Tiohtià:ke/Toronto). Curated by Cécilia Bracmort, their works present strategies to combat structural oppression from a feminist and decolonial perspective. A blend of resistance and resilience, the works of these artists push back representational boundaries and decompartmentalize the imaginary landscape. Heeding the call of this inner voice, they intercept the messages of their ancestors, transmitting them to future generations through their artistic practices. Through this reclaiming of their stories outside of a stifling Eurocentric view, they redress past injustices, initiating a regenerative process that ensures their continuity and future unfolding.
A collaboration with the Dawson Peace Centre, and the support of Entente Canada-Québec, le conseil des arts et des lettres du Québec, and the MAI (Montréal arts interculturels).
Sharon Norwood is a Canadian interdisciplinary artist whose work spans several media to include painting and ceramics. Born in Jamaica, she grew up in Toronto. Her practice often explores issues of identity, speaking about race, gender and our perceptions of beauty. In her work the curly line takes on special importance as a metaphor for the black body and a decorative, ornate mark that speaks to drawing. Norwood's exhibition record includes solo exhibitions, group collaborations, and site-specific installations. Her work has been exhibited at the Atlanta Contemporary, The National Gallery of Jamaica, The Museum of Fine Arts – St Petersburg, Florida, and the Florida State Museum of Fine Arts. She currently maintains her practice in Savannah, Georgia.
Cedar-Eve is an Anishinabae (Ojibway) visual artist currently based in Montreal. Born and raised in Toronto, she graduated from Concordia University in 2012 from Studio Arts, where her focus was primarily on painting and fibre based work. Through her series of beaded family photographs, she honours family members who have passed onto the spirit world, breaking down stereotypes while reclaiming her ancestors' identities (Saugeen First Nation and Wikwemikong Unceded Reserve). She writes, 'My work is meant to question the viewer about what they know about First Nations culture. The language of art allows for communication by non-verbal means and is integral to keeping First
Nations cultures alive.'
Shanna Strauss is a Tanzanian-American artist living and working in Montreal. She has exhibited in
solo and group shows in Tanzania, Canada, the U.S and Senegal. In 2018, Strauss was one of three Montreal based artists selected to show work in Here we are Here: Black Canadian Contemporary Art exhibited at the Montreal Museum of Fine Arts. Other recent exhibitions include Multiples at Atelier Circulaire in Montreal, The Black Woman is God at SomArts in San Francisco, and When She Rises at SPARC Gallery in Los Angeles. Strauss has also produced public commissioned works in
several North American cities including Montreal, San Francisco, Tucson and Sacramento.
Cécilia Bracmort is a French/Canadian artist and curator with an interest in cross-disciplinarity, the mixing of genres, and experimentation. Born in Creil, France, she has roots in the islands of
Martinique and Guadeloupe, and has lived in Montreal since 2012. Her artistic and curatorial practice draws on the notions of identities (both individual and collective), memory, and history in order to underline other viewpoints and give other ways to perceive the world we live in. She holds a master's degree in cultural mediation and communication from Paris III Sorbonne Nouvelle, a
bachelor's in the philosophy of art from Paris I Panthéon Sorbonne, and a bachelor of fine arts from Bishops University. She has participated in numerous theatre and visual arts projects both in Paris
and Montreal.
Featured artists:
Cedar-Eve, Sharon Norwood, Shanna Strauss