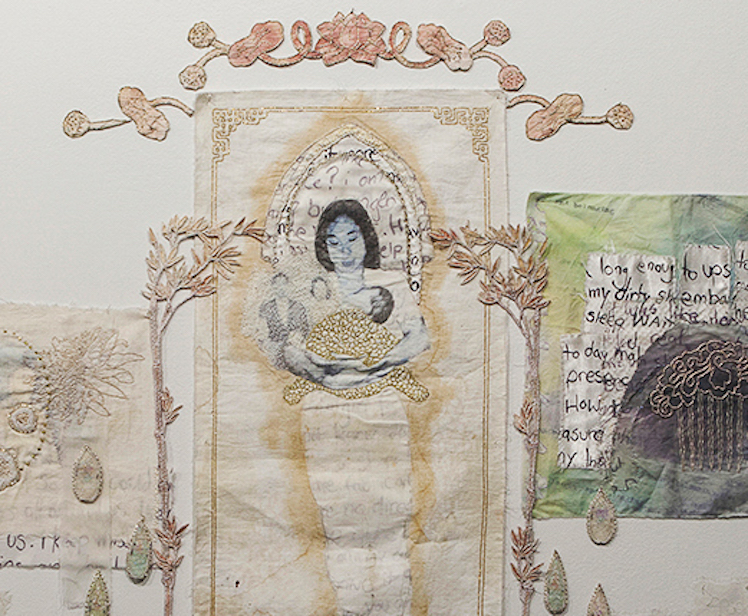 Resistance and Resilience: An online exhibition
Curated by:
Rhonda L. Meier
Twelve artists from first or second generation migrant/immigrant racialized communities of colour present work exploring  the  racism and systemic oppression they have experienced.   At times poetic, at times harrowing, their work in video, sculpture, installation and textiles seeks to open up dialogue and complexify discussions surrounding migration and narratives of nationalism, benevolence, and fear.
Initially proposed by Diana Rice of the Dawson College Centre for Peace, the exhibition was also conceived to include student, or emerging artists, who were selected by a jury following an open call for submissions.   Three of the five selected are Dawson students–Dallas  Karonhia'nó:ron Canady Binette, Asia Mason, and Ya-Nan Song.
A collaboration with the Dawson Peace Centre, generously supported by Dawson College and the Entente Canada-Québec.
Featured artists:
Dallas Karonhia'nó:ron Canady Binette, Chun Hua Catherine Dong, Pilar Escobar, Soheila Esfahani, Lux Habrich, Joyce Joumaa, Asia Mason, Kosisochukwu Nnebe, Michaëlle Sergile, Ya-Nan Song, Winnie Wu, Xiaojing Yan