General Information
Note
The College reserves the right to restrict or reduce access to the building at any time to ensure compliance with all Health Protocols and Directives as required by DRSP.
Important
Bookstore is located at the lower Atrium (Metro level)

Hours of operation
Monday to Thursday: 10:00am – 4:00pm (closed for lunch from 1:00pm to 2:00pm)
Friday: Closed
** If you are a student, you should have received a MIO with instructions for placing your book order.
** When you come to pick up your book order, please have your Order# & Student# on hand.
---
Online orders for textbooks, lab manuals and coursepacks
For the safety of our students and employees, we have set up an online system for students to order textbooks, lab manuals and coursepacks. The materials will be prepared and students will then be provided with instructions for pick-up and payment.
To order, log in to the Omnivox My Dawson Portal on a laptop or computer. Under My College Services on the left, select Bookstore Course List. Click the "Order" button for each item you wish to purchase and fill in your phone number and e-mail address. For items and materials that don't appear on the list, enter the information manually in the "Other materials or supplies needed" box at the bottom.
Please note that your teachers will continue adding required books during the first weeks of classes, so the Bookstore Course List is not all-inclusive at this time.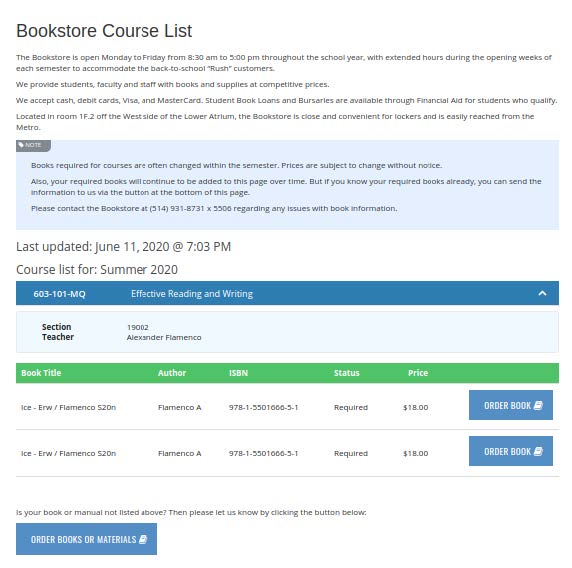 ---
Contact Information
Administrative Support Agent
Coordinator of Auxiliary Services
Bookstore provides students, faculty, and staff with books and supplies at competitive prices.
Ordering procedures are constantly fine-tuned to ensure that appropriate quantities of books are kept in stock within a time frame that coincides with course requirements.