New Books by Dawson Faculty
Joss Whedon Vs. The Horror Tradition: The Production of Genre in Buffy and Beyond
Edited by Kristopher Karl Woofter and Lorna Jowett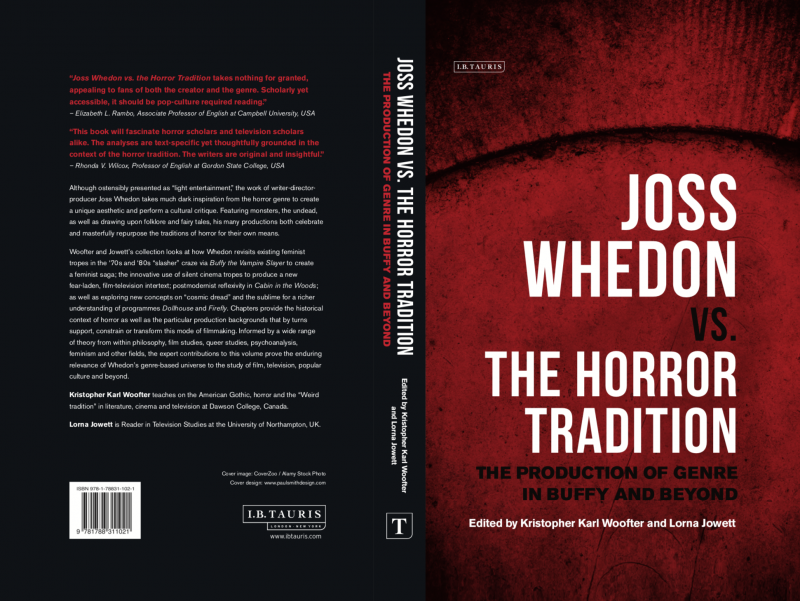 This book examines the work of writer-director-producer Joss Whedon within a horror tradition that has formed its main source of inspiration and critique. The collection's 15 chapters situate Whedon's productions and critical pretensions within key generic, industrial, and scholarly contexts relating to horror, including horror's generic hybridity and reflexivity; its various spectatorships; its conceptualizations of monstrosity; and its drawing upon folklore and fairy tales. Contributors handle Whedon theoretically from a variety of approaches, including affect and embodiment; uncanniness and abjection; queerness, and alterity. Several chapters feature illuminating comparisons to prior and recent production and aesthetic trends in cinematic and televisual horror, such as the silent era, the musical, and the Weird tradition. The collection concludes with a comprehensive bibliography of scholarship on Whedon and the horror tradition. (Published in London and New York by Bloomsbury / I.B. Tauris (December 2018 UK; 10 January 2019 North America)
Mars Matters: Exploring the Red Planet by Richard Soare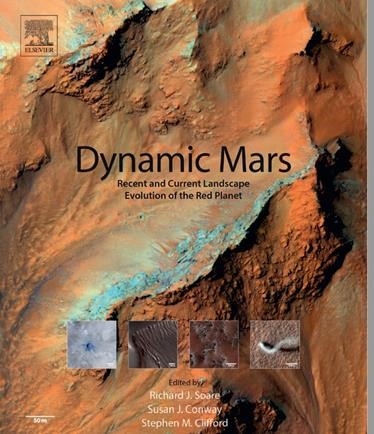 Richard Soare (Geography) has been fascinated by Mars for many, many years. His fascination is shared by millions, but in his case, he has intimate familiarity with the planet through research and study, and is now an editor of Dynamic Mars: Recent Landscape Evolution on the Red Planet along with Susan J. Conway, Coleman J. Gallagher, Stephen M. Clifford. Dynamic Mars will serve as a state-of-the-art reference on the history and implications of the geology and geomorphology of Mars, with contributions from a wide variety of experts. It is included in Elsevier's Earth and Planetary Science portfolio.
Interest in Mars has peaked in recent years, and as recently as a few weeks ago, everyone was talking about the Italian Space Agency's purported finding of a lake of liquid water beneath the southern polar ice cap of Mars which had been detected by radar. Dynamic Mars: Recent Landscape Evolution on the Red Planet could not be more timely. The compilation presents the latest observations, interpretations and explanations of geological change at the surface of near-surface of Mars. As the book jacket describes, "these changes raise questions about a decades-old paradigm, formed largely in the aftermath of very coarse Mariner-mission imagery in the 1960s, suggesting that much of the interesting geological activity occurred deep in its past, eons ago."
The book includes discussions of Mars' ever-changing atmosphere and its impact on the planet's surface, the possible presence of water and the identification of a broad suite of agents and processes that are actively revising surface, near-surface landscapes, landforms and features on a local, regional and hemispheric scale.
The book is available through https://www.elsevier.com/books/dynamic-mars/soare/978-0-12-813018-6
Against Nihilism: Nietzsche Meets Dostoevsky by Maia Johnson-Stepenberg
Humanities faculty member Maia Johnson-Stepenberg has written a book titled Against Nihilism: Nietzsche Meets Dostoevsky which has been published by Black Rose Books. She says it is a book inspired by and written for her students at the College.  It is an accessible new introduction to philosophers Nietzsche and Dostoevsky that compares their writings on key topics such as criminality, Christianity, and the figure of the "outsider" to reveal the urgency and contemporary resonance of their shared struggle against nihilism. More information about the book is available on the publisher's website: http://blackrosebooks.net/products/view/Against+Nihilism:+Nietzsche+Meets+Dostoevsky/83464