Artificial Intelligence @ Dawson
Artificial Intelligence (AI) and related technologies are spreading rapidly, impacting the labour market and generating major transformations in the workforce. Along with these changes come ethical and social issues that will need to be tackled, sooner or later. According to a recent report released by the World Economic Forum on The Future of Jobs, technological breakthroughs such as high-speed mobile internet, machine learning, augmented and virtual reality, big-data analytics, and cloud technology will be spearheading companies' adoption of new technologies between 2018 and 2022.  Furthermore, according to the same report, "in purely quantitative terms, 75 million current job roles may be displaced by the shift in the division of labour between humans, machines and algorithms, while 133 million new job roles may emerge at the same time."
The education sector is mobilizing to identify the many challenges and opportunities that the proliferation of AI presents. Dawson College is well-positioned to make substantive contributions to this enterprise and to fill an important role in the burgeoning AI ecosystem. Regardless of program of study, all of our students will graduate into a rapidly evolving economy driven by powerful, pervasive and somewhat nebulous technologies The pace and scale of change makes the exact future that awaits them is difficult to predict.
However, as a community and through a variety of approaches and a wide range of initiatives, Dawson College aims to revolutionize college education and better prepare the leaders of tomorrow. We will not delegate this responsibility to undergraduate or graduate studies. Groundbreaking technologies offer great rewards to those who learn to master them, but equally dire consequences to those swept along in the tide of change without a basic understanding of the landscape. Dawson College is in a unique position to influence how the CEGEP network ultimately decides to address this turning point in economic history.
How to get involved
The AI initiative at Dawson is cross-disciplinary and multi-faceted and there is a myriad of ways to get involved.  If you are faculty, there will be regular calls for proposals for research and teaching fellowships.  There is also a Community of Practice that meets a couple of times per month that is open to all.  For those looking to influence the direction of the initiative itself, there is an AI task force composed of members of the Dawson community, which aims to have representation from across the college.  For more information, contact the DawsonAI Project Lead, Joel Trudeau, at jtrudeau@dawsoncollege.qc.ca.
There will also be AI Events often organized and hosted by the AI Teaching and Research Fellows.  The calendar of events will display below when there are upcoming events scheduled.
Attention all #AI thrill-seekers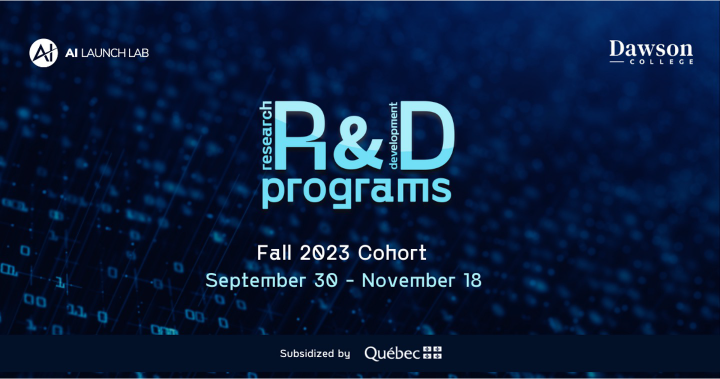 DawsonAI and AI Launch Lab are proud to announce an amazing opportunity for Dawson students to learn AI through hands-on workshops that take place on Saturdays this fall! This is your opportunity to start gaining the skills to become an AI master.
The 8-week program will have a cohort in Fall 2023, starting Saturday, September 30, 2023. We are now accepting applications — Dawson students get free access!
ORIENTATION SESSION : September 23, 2023
Applied AI Institute Internships for Students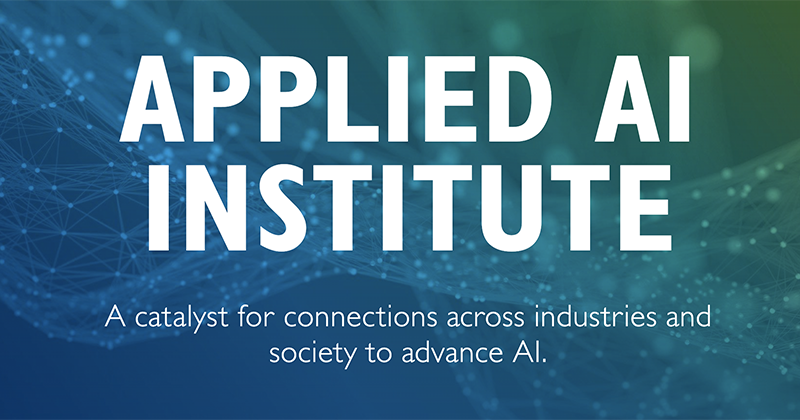 The Applied AI Institute is supporting a collaborative project between Concordia University Continuing Education and Dawson College to develop experiential learning opportunities for students interested in AI. This call is to recruit Dawson College students for experiential learning (EL) opportunities offered as internships that will take place from March 1 to May 5, 2023.
Call for Research Fellows
The call for fellows to join the second cohort of the AI-Themed Research Community of Practice is now open!  Interested faculty are invited to apply by filling out the following form by 11:59 on Friday, October 1st, 2021:
http://bit.ly/AI-ResearchFellow2022.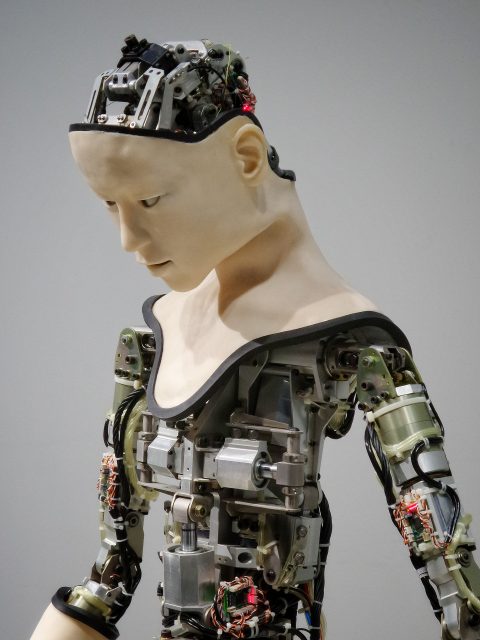 Dawson College has instituted a multidisciplinary AI-themed Teaching Community of Practice consisting of faculty members who are committed to developing pedagogical material on AI-related themes and vulgarizing new AI developments to the larger Dawson community. The fellowships are running in Fall 2021.
The AI-themed Research Community of Practice is affiliated and shares similar mandates. The selected fellows attend regular meetings, mentor each other, share readings, discuss their research and present progress reports/updates regarding their projects. In addition to creating a portfolio of their work for the DawsonAI website, each fellow will share their AI-related research in at least two venues, by way of a talk, workshop or demonstration, at events or conferences open to the Dawson community during the academic year. Finally, accepted fellows, who do not currently have alternative sources of funding, will be asked to make at least one grant proposal for additional funds to support their projects beyond Winter 2022.
THE CALL FOR FELLOWS IS NOW CLOSED.

To learn more, follow this link to the Call for Proposals: http://bit.ly/AI-ResearchFellow2022 or contact Robert Stephens rstephens@dawsoncollege.qc.ca and/or Joel Trudeau at jtrudeau@dawsoncollege.qc.ca.
All faculty are invited to explore and, if desired, make use of the teaching material that has been developed by the first two cohorts of fellows of the AI-themed Teaching Community of Practice. Their portfolios can be found at:  https://www.dawsoncollege.qc.ca/ai/portfolios/. Portfolios from the first cohort of research fellows will be added this academic year. A drop-in session to learn more about the research fellowships will be announced.
To learn more about DawsonAI:
Joel Trudeau: jtrudeau@dawsoncollege.qc.ca