Internal Approval
Grants awarded to Dawson researchers are administered by Dawson College, as the signatory of the Tri-Council Agreement on the Administration of Agency Grants and Awards by Research Institutions. By accepting research funds, Dawson agrees to comply with all rules and regulations set out by the granting agency. The Academic Dean at Dawson reviews and approves all grant proposals submitted with Dawson as the administering institution.
To track the approval process and manage data relating to grants submitted by Dawson affiliated researchers, we use a Grants Management System in SharePoint. If you are a Dawson researcher, please submit your proposal following the steps below in order for the Academic Dean to review your grant. You must submit details of your project to the GMS before Dawson will forward it to the appropriate agency; please submit by the deadline posted on the Research website to ensure there is sufficient time to get institutional approvals. Please consult the Home Page for internal submission deadlines.
Guide to the submission process
ONE
Navigate to the SharePoint Grants Management System homepage and enter your Dawson Credentials (email and Dawson password) to login. If you are not on campus, you will need to include the string "dawsoncollege\" before your username: dawsoncollege\username
TWO
Enter the title of your proposal in the "Title" box; read the agreement form, and click "Agree" if you agree to comply with the terms and conditions.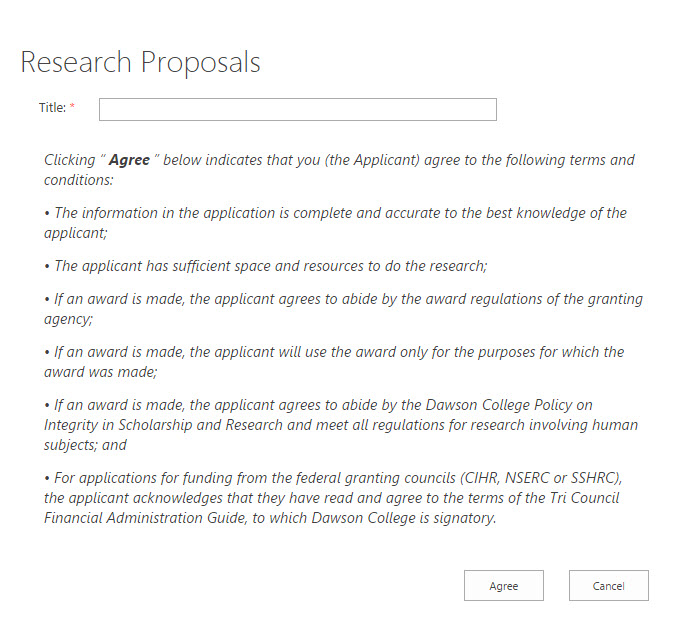 THREE
Using the tabs, enter as much relevant information as possible. If you're requesting release time from Dawson, please write a brief justification (including the amount of release requested per year) in the "Justification" box.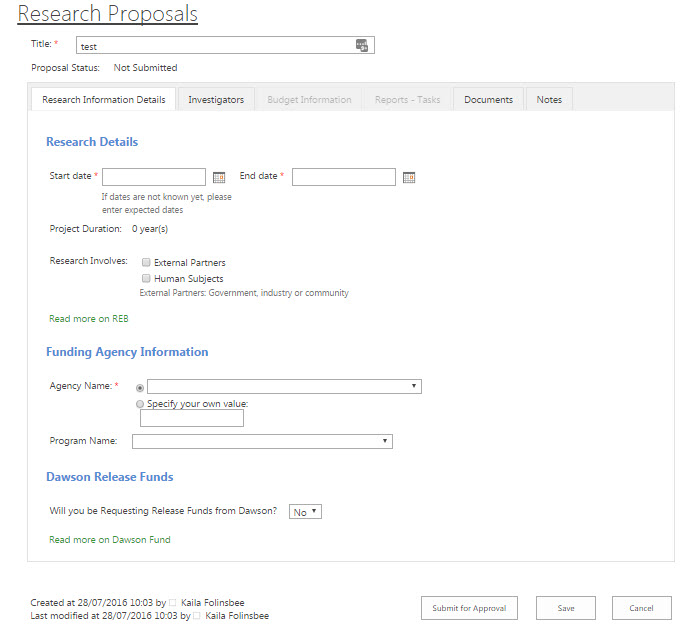 You can save your proposal without submitting it and return at a later time by clicking "Save"
FOUR
When you're satisfied with the information entered, please click on "Submit for Approval" in the lower left corner.
After you submit, the Research Coordinator receives an email indicating that a new proposal is awaiting approval; the Coordinator then reviews the proposal, uploads any additional documents and forwards the proposal to the Academic Dean for review. The Academic Dean may approve, reject or request more information. After the Academic Dean has approved the proposal, the Research Coordinator will forward it to the agency.
If you have any questions, or encounter difficulties during the submission process, please contact the Research Office at ext. 1374 or research@dawsoncollege.qc.ca
Will you need Release Time? Follow the link to apply.  Would you like Helpful Grant Writing Tips ?