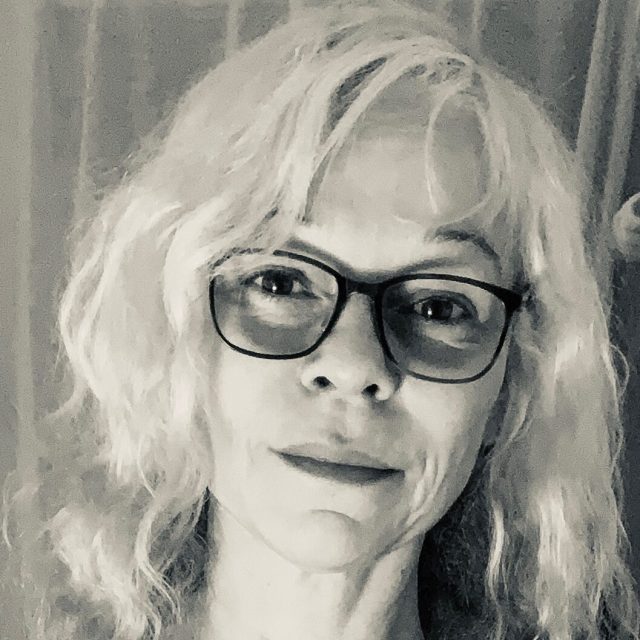 Interactive Media Arts
AI from the Perspective of Media Archeology
By Bérengère L. Marin-Dubuard
INTRODUCTION
The following elements were presented in courses such as Interactive Arts – Local to Global, The Networked World, and to some extent The Interactive Experience in which we explored the relationship between art and technology and how they have informed each other in history. We do this by looking at how and why artists and designers of various geographical, temporal, and cultural backgrounds push the limits of emerging technologies in their practices.
Looking at Artificial Intelligence from the perspective of media archeology, and exploring the relationship between the brain as inspiration, model for A.I. and conversely A.I. and technology as metaphors by which we attempt to understand the functioning of our minds, I presented the cybernetic prototypes that are the analog ancestors of the software-based neural networks which form today's narrow A.I. that has become ubiquitous in recent years. We explored how and why artists are experimenting, deconstructing, and commenting on these technologies in various ways in their contemporary practices.
SANTIAGO RAMÓN Y CAJAL'S DRAWINGS OF NEURONS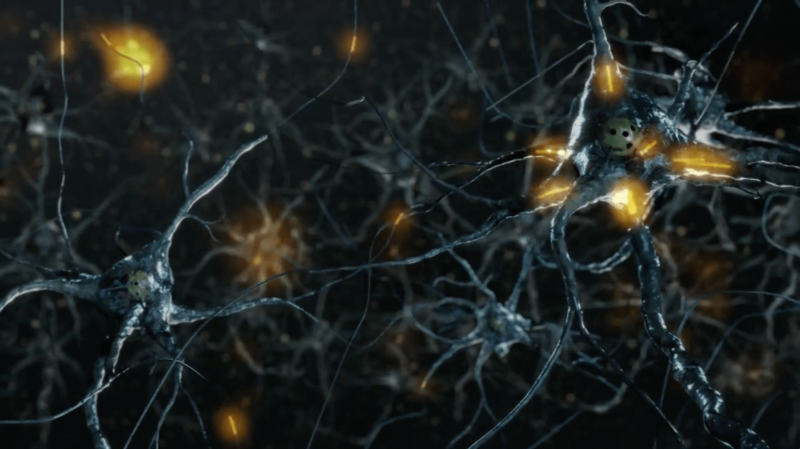 To introduce the cybernetic prototypes, a short video clip describing the 1st drawing of neurons by Santiago Ramón y Cajal who produced about 3000 beautifully detailed sketches of the microscopic brain that continue to shape our understanding was presented to students.
Source:
Santiago Ramón y Cajal: Biography of a Great Thinker | History of Science, 2014.
Play from 1:54 to 3:24 to show a 3D simulation of threshold neurons work.
BRAIN IN A BAG: PERFORMING THRESHOLD NEURONS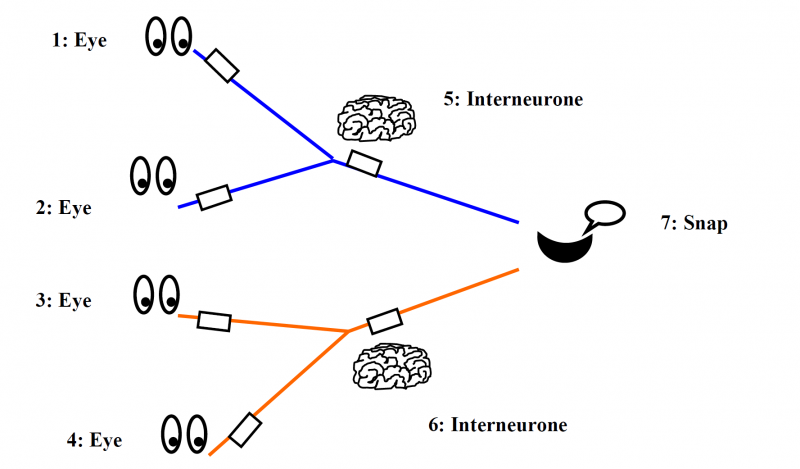 Threshold neurons are a key component of many prototypes created by cyberneticians in the 50s. Nothing works better than to involve the (volunteers) students in an awkward yet humourous embodied performance to make them understand and remember what they are.
The Brain in a Bag activity is just that. It involves 1, 2, 3 or more groups of 7 volunteers
Source:
"The Brain-in-a-Bag Activity," Teaching London Computing: A RESOURCE HUB from CAS LONDON & CS4FN (blog), November 21, 2014, https://teachinglondoncomputing.org/resources/inspiring-unplugged-classroom-activities/the-brain-in-a-bag-activity/.
BIRTH OF A.I. IN CYBERNETICS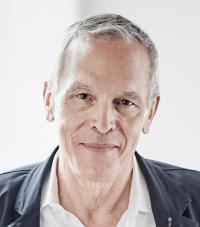 Today's relatively recent developments in A.I. are strongly rooted in cybernetics. Explaining how the 2 domains are at once linked and distinct can be done by studying the work of Prof Paul Pangaro a teacher of HCI (Human-Computer Interfaces) design. His website contains many essays, texts, diagrams, video recordings of lectures, conferences, shorter video clips and interviews in which he compares and contrasts the 2 fields.
Prof Pangaro also recently created a reproduction of an early prototype by Gordon Pask visible here.
CYBERNETIC PROTOTYPES OF THE 50'S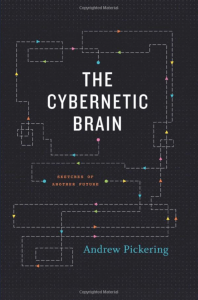 Andrew Pickering's essays, interviews, conferences and his book "The Cybernetic Brain: Sketches of Another Future" describe what he has coined as an "Ontological Theatre" where threshold neurons form the bases of prototypes the 1st and second wave of British cyberneticians experimented with. In this book, Pickering describes prototypes that give very distinct analog interpretations of these threshold neurons and show how quickly they display seemingly autonomous complex behaviors as they interact with their surroundings. I presented 2 of them: William Grey Walter's Tortoises (1948) and Gordon Pask's Musicolor Machine (1953).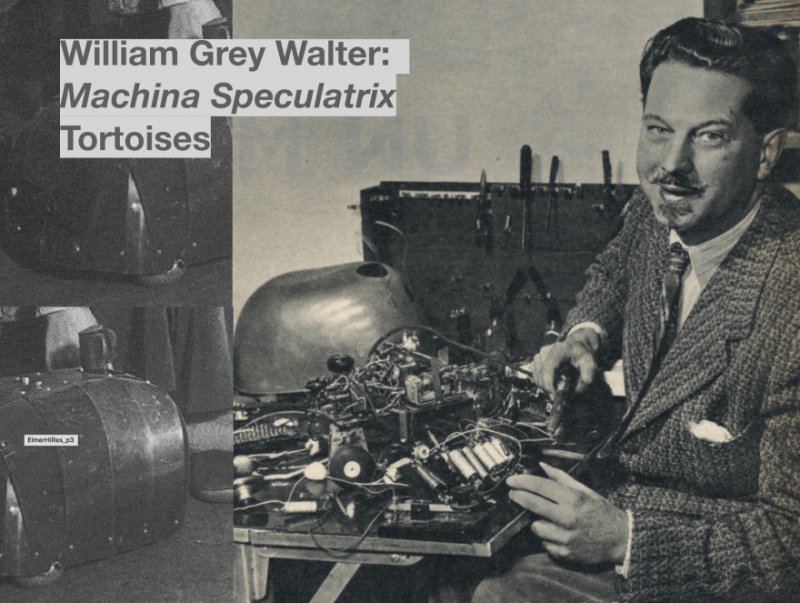 Wiliam Grey Walter who was one of the 1st neuroscientists to use EEG machines in his day job at a hospital created the famous Tortoises Elsy and Elmer he names "machine speculatrix" presented as a new species in this BBC TV program.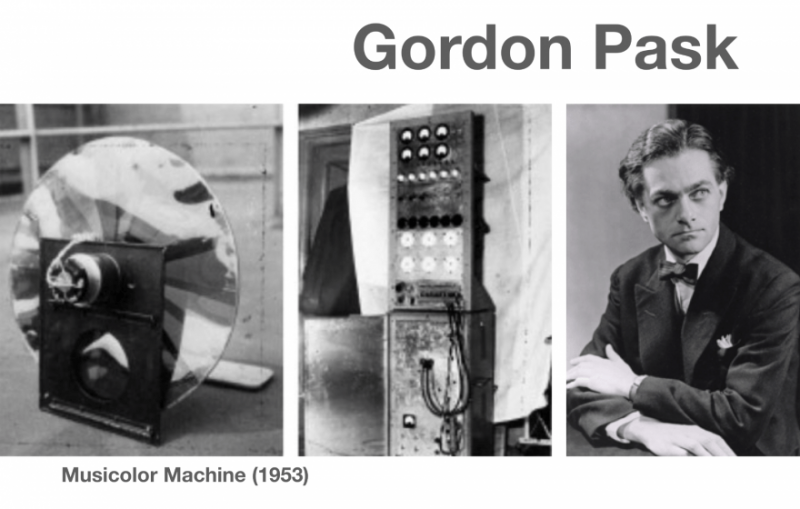 Gordon Pask, the inventor of "Conversation Theory" also used threshold neurons to create the "Musicolor Machine" that projected lights that responded to the inputs of a musician. The threshold neurons were used to modify the response of the machine to a given melody creating the sense that the machine could get bored if the musician's melody was too repetitive, thus encouraging variations. This is described as giving the musician a sense that the machine he interacted with had agency. Musicians reported losing a sense of time and entering a state that Mihaly Csikszentmihalyi has described as flow a pleasurable immersion into a creative activity.
A.I. AND ARTISTS AS CRITICS, RESEARCHERS, INVENTORS, ACTIVISTS, ETC.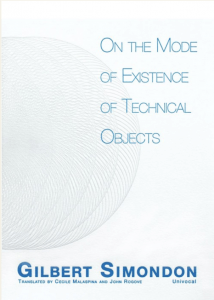 In his book On the Mode of Existence of Technical Objects, Gilbert Simondon warns against our tendency to anthropomorphize and present technical objects as antagonistic. He emphasizes the alienation that results in the loss of knowledge about and control of the tools workers have to deal with as craft are industrialized and automation become the prevalent mode of production. but for him (contrasting with Marx's understanding of alienation) it is the lack of understanding of the workings of technical objects that is at the core of this alienation and loss of agency.
As the curator Natalia Fuchs has pointed out in her recent presentation at Mutek Montreal, artists working with A.I. take on the role of activists, inventors, researchers as well. (Fuchs 2019) I presented a selection of artworks that display a range of postures towards A.I.
KEN FEINGOLD'S ARTIFICIAL STUPIDITY
Ken Feingold's work explores the artistic potential and limitations of Chatbots. His approach is critical and self-reflexive as describes in many texts and talks published about his work.
MIKE TYKA EXPLAINS CONVOLUTIONAL AND SUPERVISED NEURAL NETWORKS IN DEEP DREAM AND STYLE TRANSFER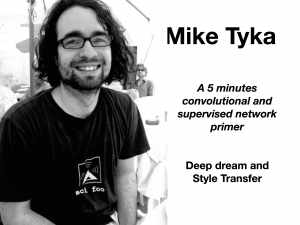 The artist Mike Tyka who studied neural networks at Google is a great source to help demystify computer vision and explain the main ideas that current neural nets are based on. His Ted Talk contains useful diagrams and thoughts on art and automation. He explains convolutional and supervised neural networks in Deep Dream and Style Transfer. Style Transfer Assignment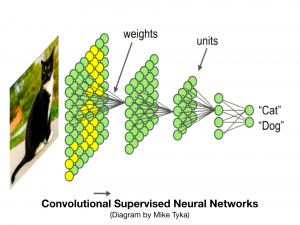 ANNA RIDLER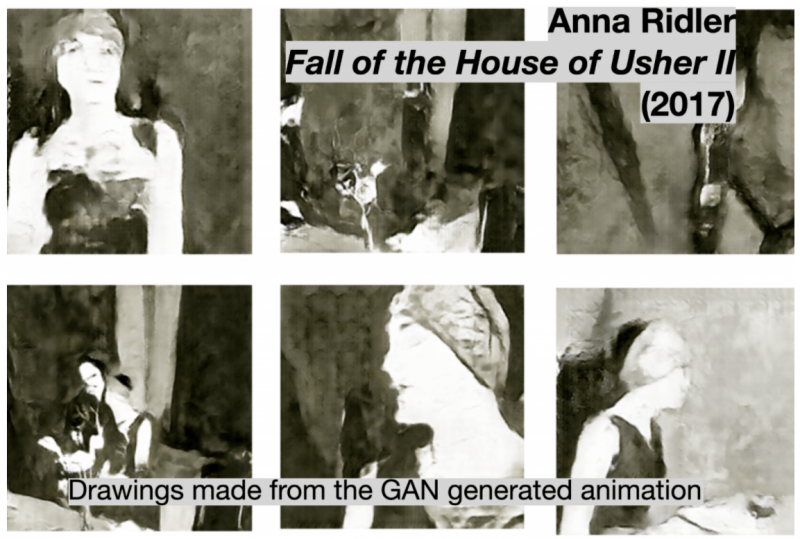 Anna Ridler is a great example of an artist who explores how A.I. is influencing her practice. She describes this process in detail here, here, and here. Her areas of research involving A.I. are described here.
MARIO KLINGEMANN
Mario Klingemann is a very prolific A.I. artist from Germany.
He "desires to understand, question and subvert the inner workings of systems of any kind".
One of the earliest deepfakes, "Alternative Face v1.1" (Fev. 2017) Is one of my favorites because it's use of the Generative Adversarial Networks aka GANs technique comments on how A.I can be used to undermine trust when people cannot distinguish truth from falsehood such as in our current post-truth area. (Though fakes aren't entirely new.)
Some of his work, in the glitch tradition, is reminiscent of Francis Bacon's paintings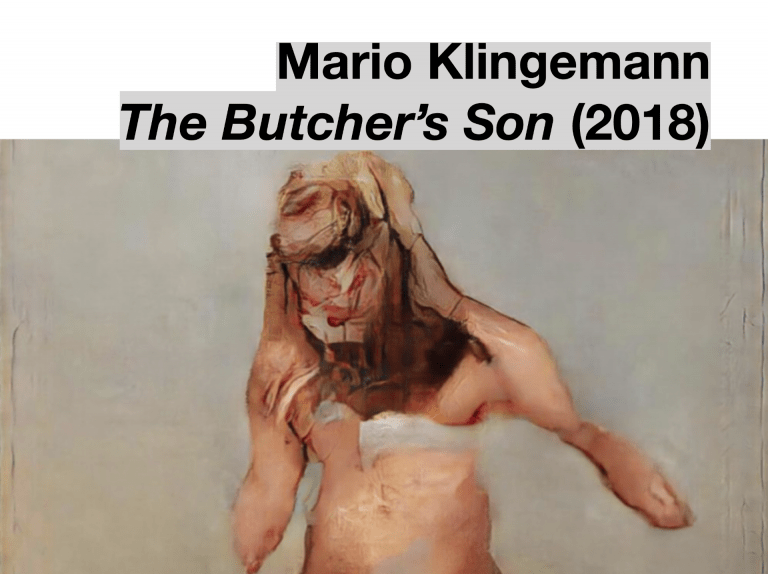 MAKING KIN WITH THE MACHINE ESSAY A.I. AND INDIGENOUS ONTOLOGIES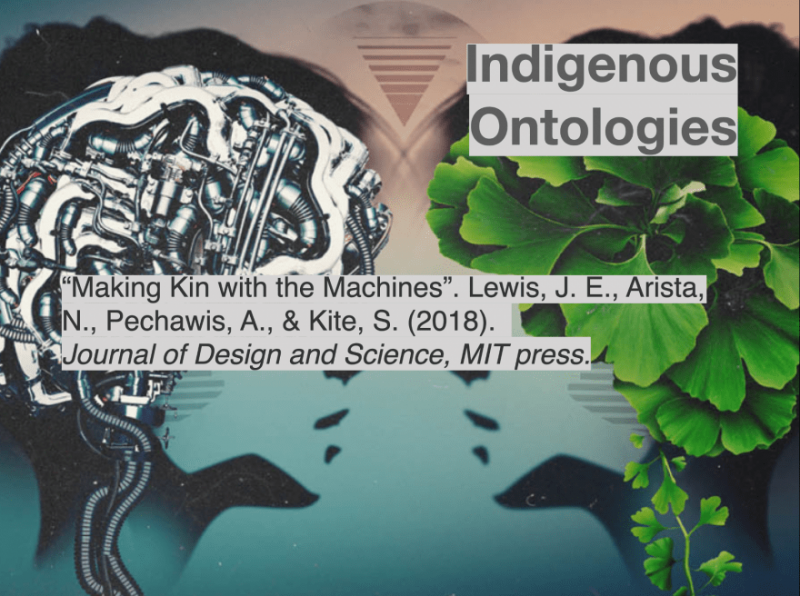 Lewis, J. E., Arista, N., Pechawis, A., & Kite, S. (2018). Making Kin with the Machines. Journal of Design and Science. https://doi.org/10.21428/bfafd97b
"Man is neither height nor centre of creation. This belief is core to many Indigenous epistemologies." is the opening sentence of this essay that presents new ways of thinking about A.I. as the authors challenge the hard distinctions between humans and everything else. Multiplicities are privileged over singularities and the emphasis is placed on figuring out how to treat this new non-human kin respectfully and reciprocally because they are "one nodal point in a number of different relations that you are enmeshed in" as Kite puts it.
Concept maps are sometimes described as fitting the structure of our minds better than the linear nature of written text, providing an alternative way of revealing connections and helping students see how individual ideas form a larger whole. Leveraging the grasping potential of groups, students are guided through the process of creating a collaborative map that presents the key concepts and ideas articulated in the text using post-it notes, colors, shapes, and arrows on a large piece of paper. The conversations that the creative process necessitates is the focal point of the exercise, not the end result. Maps are then presented and discussed by each group with the class.
Suzanne Kite and Jason Edward Lewis also presented their work on A.I. during a keynote at MUTEK Montreal in September 2019
KATE CRAWFORD & TREVOR PAGLEN
Co-founder of the AI Now Institute with Meredith Wittaker, Kate Crawford also works with the investigative artist Trevor Paglen on many projects including Excavating AI –The Politics of Images in Machine Learning Training Sets.
They created artworks such as ImageNet Roulette and the exhibition TRAINING HUMANS visible (12 Sep 2019 – 24 Feb 2020) at Fondazione Prada in Paris. In this video, Kate Crawford and Trevor Palgen explain how they explore how "humans are represented, interpreted", and "codified and how technological systems harvest, label, and use this material".
In 2018, Crawford also worked with Vladan Joler on the "anatomical case study of the Amazon echo as an artificial intelligence system made of human labor" https://anatomyof.ai/ part of a series of "Exploitation Forensics" maps. This map uncovers the physical and tangible yet invisible aspects of A.I. production as well.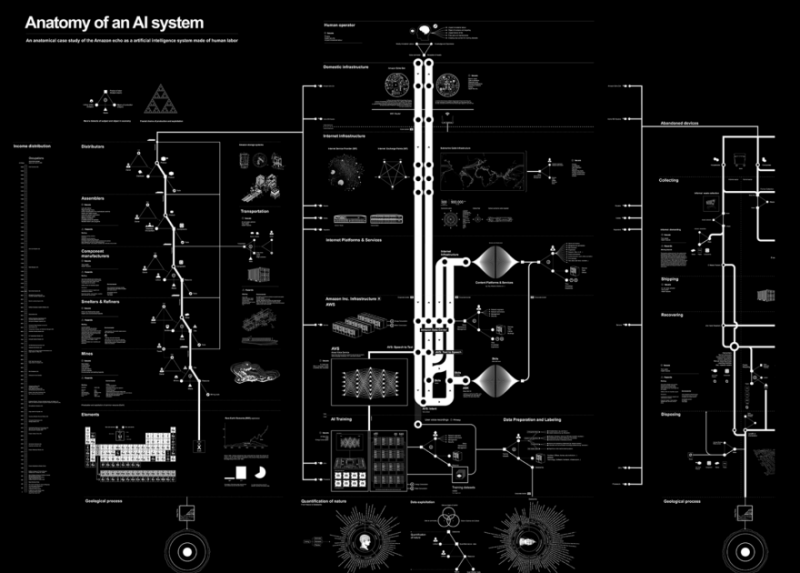 [MULTI'VOCAL] SYSTEM EXPERIMENT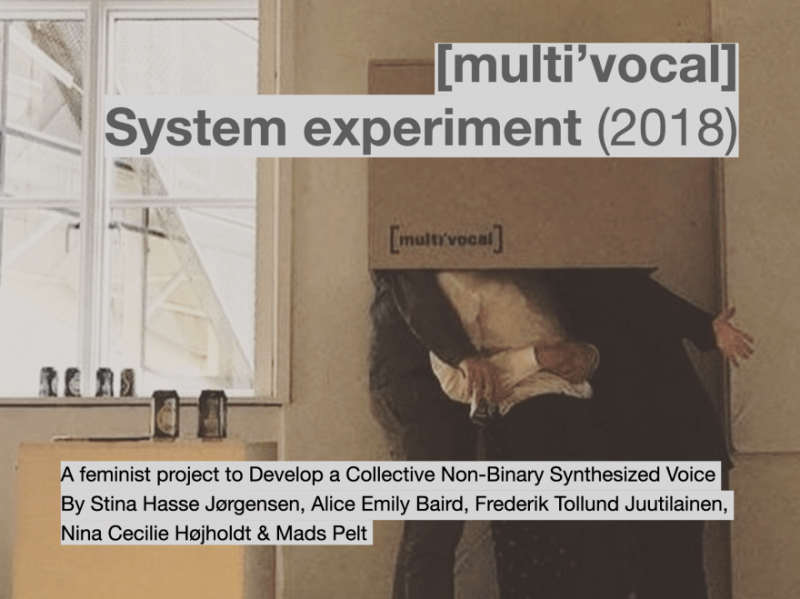 [multi'vocal]  is a feminist project to Develop a Collective Non-Binary Synthesized Voice By Stina Hasse Jørgensen, Alice Emily Baird, Frederik Tollund Juutilainen, Nina Cecilie Højholdt & Mads Pelt.
The project is described in detail in this paper presented at EVA Copenhagen- POLITICS OF THE MACHINES – ART AND AFTER in 2018: Jørgensen et al. – 2018 – [multi'vocal] Reflections on Engaging Everyday People
This project demonstrates the use of readily available open-source tools as well as affordable materials that give students an example of work within their reach.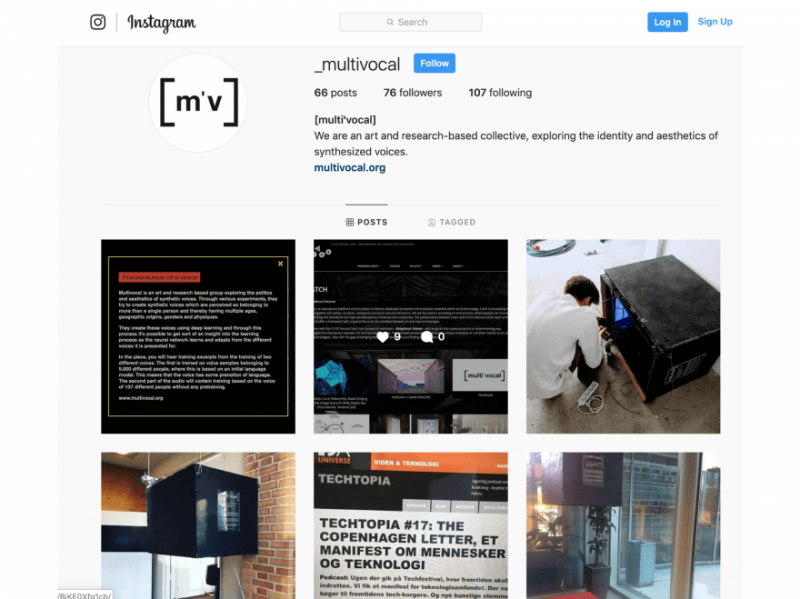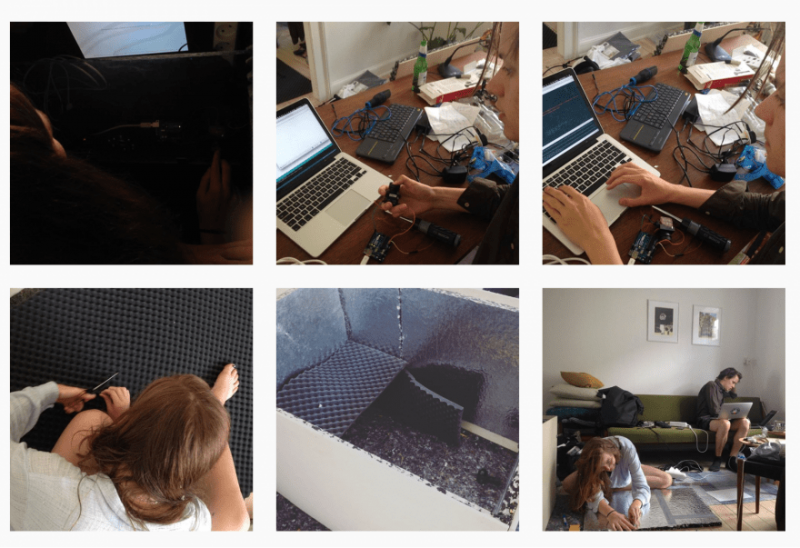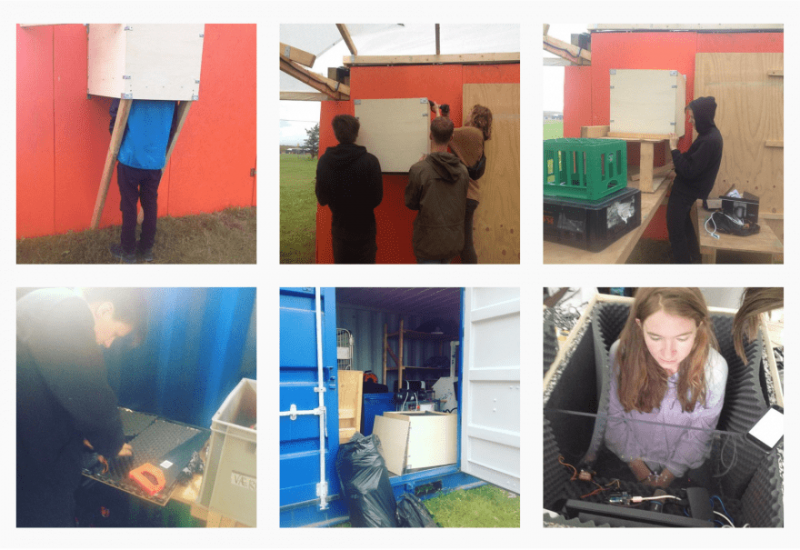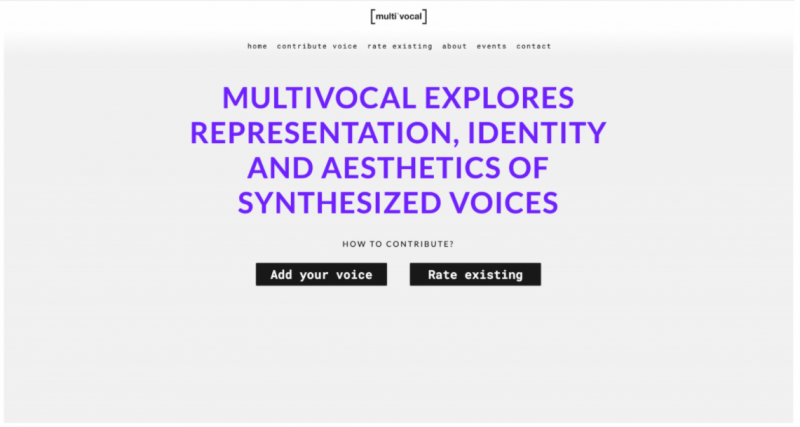 LIST OF SOURCES AND PRESENTATION PDF'S
During my time as a Dawson AI fellow,
I presented a keynote at the Humanities and Public Life Conference:
Bérengère L. Marin-Dubuard _Intelligence_Everywhere
I took part in the round table Bérengère L.Marin-Dubuard_RoundTable-ArtandAI
participated in the Ped Day and presented to the CoP group Bérengère L. Marin-Dubuard_Presentation DAWSON_AI_CoP
Sam Charrington's podcast TWIML has been very helpful during my research. His team created a great playlist in solidarity with the Black Lives Matter movement accessible here:
Here are more sources:
>ect 4 Technology Post Heidegger." >ect Podcast (blog), January 28, 2016. https://ectpodcast.wordpress.com/2016/01/28/technology-post-heidegger/
"Alleys of Your Mind: Augmented Intelligence and Its Traumas." Accessed February 7, 2020. http://matteopasquinelli.com/augmented-intelligence-traumas/.
Brain in a Bag (Higher Quality). Accessed February 7, 2020. https://www.youtube.com/watch?v=lux_ybamClU&feature=emb_title.
Campbell-Dollaghan, Kelsey, Kelsey Campbell-Dollaghan, and Kelsey Campbell-Dollaghan. "This AI Dreams in Tulips." Fast Company, September 17, 2018. https://www.fastcompany.com/90237233/this-ai-dreams-in-tulips.
"CV Dazzle: Camouflage from Face Detection." Accessed February 7, 2020. https://cvdazzle.com/.
-. "Excavating AI." Accessed February 7, 2020. https://www.excavating.ai.
McCorduck, Pamela. Machines Who Think: A Personal Inquiry into the History and Prospects of Artificial Intelligence. 2 edition. Natick, Mass: A K Peters/CRC Press, 2004.
Meyer, Story by Robinson. "Anti-Surveillance Camouflage for Your Face." The Atlantic. Accessed February 7, 2020. https://www.theatlantic.com/technology/archive/2014/07/makeup/374929/.
ANNA RIDLER. "Mosaic Virus." Accessed February 7, 2020. http://annaridler.com/mosaic-virus.
Pangaro, Paul. "Paul Pangaro, PhD." Accessed February 7, 2020. http://pangaro.com/index.html.
Pasquinelli, Matteo. "Three Thousand Years of Algorithmic Rituals: The Emergence of AI from the Computation of Space," n.d., 12.
Pickering, Andrew. The Cybernetic Brain: Sketches of Another Future. Chicago, Ill: University of Chicago Press, 2011.
Prada, Fondazione. KATE CRAWFORD | TREVOR PAGLEN: TRAINING HUMANS | Osservatorio Fondazione Prada, 2019. https://vimeo.com/368565224.
Press, The MIT. "Architectural Intelligence | The MIT Press." Accessed February 7, 2020. https://mitpress.mit.edu/books/architectural-intelligence.
Santiago Ramón y Cajal: Biography of a Great Thinker | History of Science, 2014. https://www.youtube.com/watch?v=pBd7AJk1drY.
The Art of Neural Networks | Mike Tyka | TEDxTUM. Accessed February 7, 2020. https://www.youtube.com/watch?v=0qVOUD76JOg.
Teaching London Computing: A RESOURCE HUB from CAS LONDON & CS4FN. "The Brain-in-a-Bag Activity," November 21, 2014. https://teachinglondoncomputing.org/resources/inspiring-unplugged-classroom-activities/the-brain-in-a-bag-activity/.
The Future of Cybernetics | Paul Pangaro. Accessed February 7, 2020. https://www.youtube.com/watch?v=fGTZU6bh2cc.
What Is DeepDream? – With Mike Tyka. Accessed February 7, 2020. https://www.youtube.com/watch?v=4P9p8hfHy9Y.