Humanities and Public Life Conference
Reconsiderations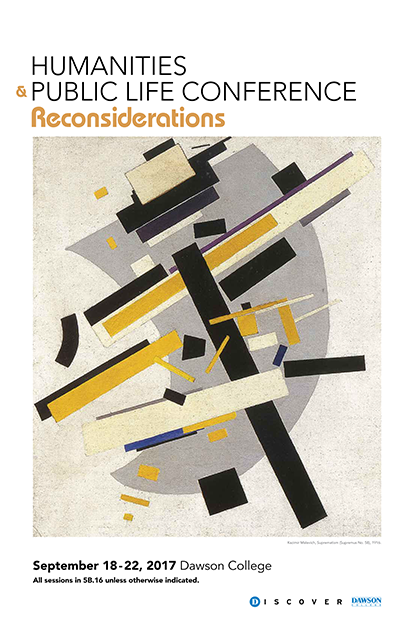 Join us for the annual Humanities and Public Life Conference, which will take place from Monday, September 18 to Friday September, 22, 2017! This year's conference theme is "Reconsiderations."
Please consult our program and schedule for all the details!
Here are just a few of the highlights from this year's program. Waneek Horn-Miller, Olympic athlete, ambassador for the Assembly of First Nations, and fierce advocate for rights of the Mohawk nation and Indigenous people across the land, will give a talk on "Beyond Words: Reconciliation in Practice." William Clare Roberts, McGill University Political Science Professor, whose work on Marx and Dante has garnered international attention, will connect his research to contemporary struggles over capitalism. Finally, our keynote speaker, anthropologist Homa Hoodfar, will analyze the politics of veiling and sports in the Islamic Republic of Iran. This is just a small sample of the many exciting talks at this year's event!
Talks are open to all students, faculty, and staff at Dawson College as well as to the general public. If you are a teacher and plan to bring a class, please let us know. Any inquiries can be directed to jnemeth@dawsoncollege.qc.ca.
We look forward to seeing you at the conference!