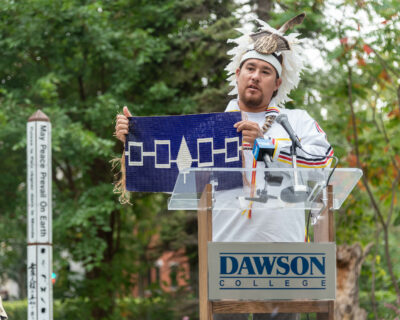 Dawson's White Pine – A Symbol of the Five Nations of the Haudenosaunee Confederacy
Originally published in D News – April 20, 2021
Most students and employees are probably not familiar with Dawson's white pine tree or its significance.
The white pine, described as the Great Tree of Peace, is a symbol of the unity of the five nations of the Haudenosaunee Confederacy — also known as the Iroquois Confederacy or the League of Five Nations — which includes the Kanien'kehá:ka people.
For almost two years, Dawson's white pine has stood near the Peace Garden just west of the main entrance at 3040 Sherbrooke Street West. Since 2008, Dawson has planted about 30 trees on its heritage property, which is also an urban biodiversity zone and Monarch butterfly corridor. This tree planting will increase in the next few years as part of a climate action strategy.
In recent years, white pine trees have been planted as a symbol of reconciliation with Canada's Indigenous peoples.
Kanien'kehá:ka storyteller and Sub Chief Aronhiaies Herne gave an outdoor lecture on the occasion of the white pine planting in September 2019 at Dawson College. He spoke about the welcome of visitors to the Kanien'kehá:ka territory, elements of the Kanien'kehá:ka tradition and culture and the white pine. We are happy to share this 14-minute video segment of his lecture for the first time on the occasion of Earth Weeks 2021.
Dawson College is located on traditional Indigenous land. The island called Montreal is known as Tiotia:ke in the language of the Kanien'kehá:ka. Historically, it has been a meeting place for other Indigenous nations. Today, it is home to a diverse population of Indigenous and other peoples. We respect the continued connections with the past, present and future in our ongoing relationships with Indigenous and other peoples within the Montreal community.